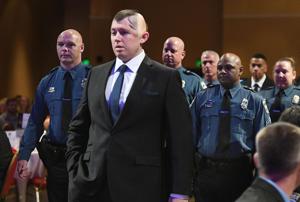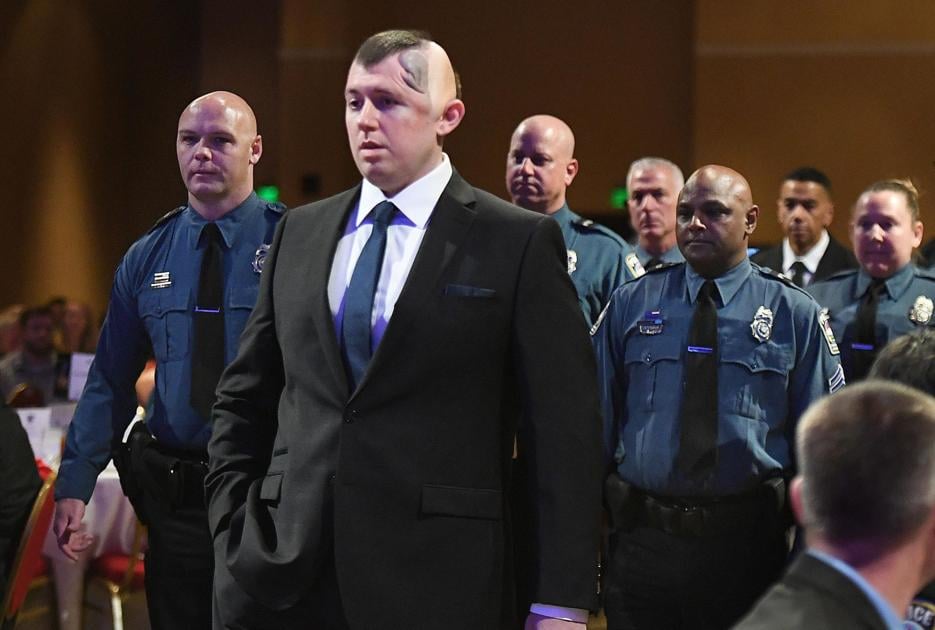 Nearly 15 months after he was shot in the head while on duty, Colorado Springs Police Officer Cem Duzel steadily marched across the stage at The Broadmoor Monday to accept awards for his "extraordinary heroism."
Tears in his eyes, Duzel bowed his head as Chief Vince Niski awarded the five-year-veteran of the force with a Medal of Honor — the highest award given by the Colorado Springs Police Department.
His trek across the stage at the Medal of Valor luncheon Monday marked a milestone in the officer's recovery, which began in August 2018 after a man who reportedly became belligerent with an Uber driver shot Duzel east of the Olympic Training Center.
Duzel led a procession of 31 fellow award recipients down the banquet hall and sat next to his parents and girlfriend at the front of the room. Many in the room were astonished to see Duzel, who is still obviously suffering from the effects of major spinal and brain injuries.
Chief Vince Niski commended Duzel for his personal drive to recover after the traumatic injury: "He is truly an inspiration to us all."
In September, Duzel left Craig Hospital in Englewood after treatment to continue recovery in his New York home. He also received a Purple Heart, an award given to any police officer who is seriously wounded in the line of duty by an assailant.
The gunman, Karrar Noaman Al Khammasi, 31, has pleaded not guilty to charges that include attempted murder of a police officer.
In a video presented to the attendees, Corporal Ronnie Carter remembered seeing Duzel exchange gunfire with Al Khammasi before both fell. Carter jumped from his patrol car and saw Al Khammasi moving, pistol in hand. Fearing he could fire again, Carter shot at Al Khammasi and directed comrades to help Duzel, he said.
"It was the loneliest feeling I have felt in my life. I think about it every day," said Carter, who received a medal of valor for his actions. "It was difficult at first to see another officer injured like that. It definitely affects you more than I thought it would."
Now, Carter uses what he learned that day to coach fellow officers on safety, he said.
"The most rewarding thing is knowing that we're making a difference, even in a little way, in people's lives. We may not change every thing and we may not change everyone, but we may have a little impact on somebody," Carter said.
Thirty other officers were honored for courageous acts.
Detective Alexander Colborn, another honoree, recounted the moment he realized a gunman fired shots at him in November 2016, as he responded to a robbery.
After suspects carjacked two cars from a home, Colborn found one of the vehicles backed up to a nearby gun store, he said in a video. The truck fled and as Colborn chased it, he started to hear "pops."
"I'll never forget seeing those clouds of dust and the debris kicking up from where the bullets were hitting," said the five-year-veteran who was awarded with a medal of valor.
Sgt. Keith Wrede and retired Officer Steven Pugsley recounted the moments before shots were fired at them on July 31, 2017. After they arrived at a shooting, they applied tourniquets to the legs of two gunshot victims. Moments later, they heard more gunfire. Corporal Phil Strevett, Officers Kenneth Gatewood, Matt Graham, Matt Waldera, Pete Tomitsch and former Officer Nick Lesnansky received Distinguished Service Awards for actions that day.
Officer Chris Fernandes and Officer Tracy Toth faced gunfire Dec. 2, 2017 while approaching a wanted man.
"It very instantly went from a conversation to, 'We're definitely fighting for our lives," Toth recounted in a video.
Fernandes pushed both the suspect and Toth to try to get distance between the two, Toth said. As she tumbled to the ground, she heard gunshots. To her right, she saw the suspect 10 feet away with a handgun. She fired and dropped her gun when he stopped shooting, she said.
"I guess I didn't feel as much about the actual shooting of him, as I much as I was angry that he made me make that choice," Toth said of the fatal shooting.
Officer Vijay Seenath remembered donning a ballistic vest and helmet on Feb. 8, 2018, as he mounted a multistory building to look for a domestic-disturbance suspect armed with an AK-47.
From the roof, he saw the gunman aim at the officers and pulled the trigger.
"I've got a fraction of a second to make that decision," said the officer, who fired twice, wounding the gunman.
Officer Emily McBride was lauded for responding to a child attempting to stab his mother with a butcher knife through a door in July 2018. McBride said she felt the knife through the door as she positioned herself against it, blocking the child from the room that concealed the woman and a friend. The child surrendered.
Several officers were recognized for rescuing a hostage held at gunpoint inside a motel south of downtown in March 2018. Through a reflection in a piece of glass, officers saw the suspect, later identified as Corky Oliver, holding a gun his wife's head.
"At the end of the day, the hostage was rescued, and the officers were all safe," Officer Brian Kelly said, calling it a successful operation, though Oliver was killed.
Sgt. Robert Wolf said officers train for years to prepare for hostage rescues.
"But when the time comes and you can see the team actually perform, no one hesitates and everyone goes in and handles business the way they trained for years. It makes you very proud of what you're a part of," Wolf said.
Medals of Valor went to Wolf, Sgt. William Wingert and Officers Kelly, Jeremy Campbell, Christopher Laabs, Andrew Leeper, Frederick Sunderlin, Teresa Tomczyk, Kyle Vanderlinden, Michael Walker and retired Officer Armando Newel. Distinguised Service Awards went to. Sgt. Christopher and Officers Ryan Blank and Jeremy Sheldon.
Medal of Valor and Purple Heart recipient Officer Patrick Taylor broke his arm responding to a protective order in November 2018. His partner, Officer Sean Media, also received a Medal of Valor.
Medal of Valor recipient Officer Troy Kananen saw a business burglary suspect pull a gun and aim at an apartment building in April 2018. Kananen fatally shot him, he said in a video.
"Emotions flooded in like a freight train," Kananen said. "When you come close to having it all taken away and being killed, for me, it allowed me to take a step back, not just in my law enforcement life, but personal life as well, and (look at) how precious things are."
Reach Olivia at olivia.prentzel@gazette.com. Twitter: @oliviaprentzel