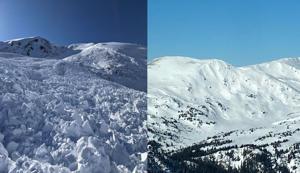 The Colorado Avalanche Information Center (CAIC) reported that two separate avalanches prompted search-and-rescue efforts for two people.
The first avalanche happened near Loveland Pass. CAIC believes this avalanche was human-caused. The other occurred near Jones Pass and was caused by a large snowmobile.
No serious injuries have been reported.
"The chance of triggering an avalanche is not going down, but the consequences of getting caught in one are going up," CAIC said Friday in a Facebook post.
CAIC reminds Coloradans to pay attention to the avalanche forecast and always choose terrain carefully.