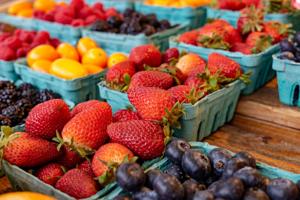 The U.S. Department of Agriculture has awarded more than $600,000 to two Colorado groups working to improve access to locally-sourced foods through the Farmers Market Promotion Program and the Local Food Promotion Program.
The San Luis Valley Local Foods Coalition in Alamosa received $246,000 to support the activities of the "MoKi," a mobile kitchen used in a "How Local Why Local" campaign to provide locally sourced food to consumers. The MoKi accepts federal food assistance dollars and ensures farmers can feed their own communities.
Liza Marron, executive director of the San Luis Valley Local Foods Coalition, said the grant will "strengthen three existing farmers markets in Alamosa, Monte Vista and South Fork, two of which have previously been run by volunteers. This funding will also help us establish a new farm stand at the Rio Grande Farm Park."
Separately, Bytable Inc. of Colorado Springs received nearly $438,000 to improve meat producers' access to online markets and promote greater consumer understanding of the regional food market.
The Farmers Market and Local Food Promotion programs began with the 2002 Farm Bill and originally was meant for direct-to-consumer marketing grants. U.S. Sen. Michael Bennet congratulated the recipients in a statement.
"Colorado is fortunate to have many organizations focused on increasing access to local and regional food systems, including San Luis Valley Local Foods Coalition and Bytable," he wrote. "I strongly supported increasing funding in the 2018 Farm Bill for these innovative efforts, and I'm pleased to see these grants go to work here in Colorado."