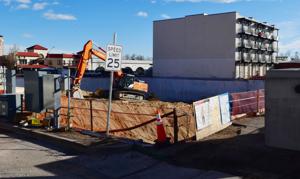 Last week, the YMCA of the Pikes Peak Region unveiled plans to overhaul its city block in downtown Colorado Springs, where a new recreation and wellness center, apartments, offices and even a grocery will be built.
The U.S. Olympic & Paralympic Museum's construction on downtown's southwest side has nearly finished, while construction of a multiuse stadium a few blocks away has just started.
Downtown's first newly built hotel in nearly a half-century opened in September; two more broke ground this year and a third will start construction in early 2020. Two new apartment projects totaling more than 200 units also are scheduled to open next year and more are on the way.
It's been decades since city officials and civic leaders have witnessed the kind of building boom now underway in downtown Colorado Springs — a renaissance that Denver has enjoyed for years, but one that's been slow to arrive in the Springs' urban core.
"We still have a lot of room to grow, but we definitely have momentum as a community, and in particular in downtown, that is really contagious," said Jeff Finn, a vice president with Nor'wood Development Group, the Colorado Springs real estate giant that has several high-profile downtown projects underway and on the drawing board.
What's behind the wave of downtown development and redevelopment projects?
No single factor is driving the spate of construction, say downtown boosters and commercial real estate industry members.
Instead, they say, a perfect storm of a surging economy, government financial incentives, below-the-radar zoning changes and an increasingly strong desire on the part of young people, business people and others to live and work in urban areas are among factors combining to spur hundreds of millions of dollars in investment in Colorado Springs' downtown.
"Many of these things that have been worked on for years suddenly all coalesced, as well as with where we are in society that people understand the value of a compact, walkable community," said Susan Edmondson, president and CEO of the Downtown Partnership. The advocacy group has estimated that spending on downtown development has totaled more than $860 million over the last five years — a figure that doesn't include more recent projects.
"So we've had pent-up demand for years," Edmondson said, "and now are just beginning to meet that demand for people who want the kind of lifestyle that an urban area provides."
Underscoring the construction and redevelopment projects taking shape in downtown is an evolution in the institutions and key players that decades ago dominated the downtown landscape, said Gary Feffer, who heads commercial brokerage Fountain Colony in Colorado Springs and specializes in downtown properties.
Downtown once was dominated by retailers, attorneys, banks and government offices, Feffer said.
But downtown long ago lost well-known department stores and other major retailers, which closed or fled to the suburbs, Feffer said. Faxes, and later the internet, meant some attorneys no longer needed to have offices a short walk from the downtown courthouse, he said.
After a change in state law almost 30 years ago, banks opened branches and downsized their corporate-like downtown operations, Feffer said. And while El Paso County government still has offices downtown, it moved major services to the city's northwest side nearly a decade ago.
Now restaurants, bars and smaller retailers rule; they're being joined by apartments, new hotels and upcoming attractions such as the Olympic Museum and the multiuse stadium that will be home to the Switchbacks soccer team.
Among the factors driving downtown development:
• Better economic times in Colorado Springs, whose quality of life has garnered the attention of national publications.
The Colorado Springs-area unemployment rate in October was at a two-year low of 3.2%, slightly better than the national rate of 3.5% in November. The Springs' housing market, with recent record highs for home prices, has been rated by national online real estate services as one of the country's best.
And interest rates are low for developers looking to borrow.
"It's a robust real estate market and a very robust overall economy, whether it's local, state or national," Feffer said.
Colorado Springs also is on the radar of developers and investors after the buzz it's received from publications such as U.S. News & World Report, which rated the city as the nation's most desirable place to live.
"Not to sound like some marketing speak, but we think what we have downtown is unique across the country," Edmondson said.
"We can have a great city life and the great outdoors that Colorado Springs is uniquely known for. That ability to live in a cool downtown apartment and then steps outside your door, you're connected to a great trail system taking you to all the beautiful places that we have in this area. Other urban areas don't have that."
• Pent-up demand after a decades-long dearth of major commercial development in downtown.
When a 168-room Hilton Garden Inn opened at Bijou Street and Cascade Avenue in September, it was the first newly constructed downtown hotel since 1972 (although businessman and attorney Perry Sanders remodeled the Mining Exchange building into a boutique hotel that opened in 2012 and the Springs-based Jarosz Family Partnership remodeled another office building, just west of Interstate 25, into a Holiday Inn Express & Suites that opened in 2014).
Downtown's last newly built office tower came in 2001 when the Plaza of the Rockies south tower opened southeast of Tejon Street and Colorado Avenue. And apartment projects only recently have started to fill a housing void that downtown supporters identified at least 30 years ago.
"Once the Great Recession hit, there were a lot of plans for multifamily development that were stalled or stopped and a lot didn't happen for several years," said Scott Henry, executive vice president of development with White Lotus Group of Omaha, Neb. The firm will partner with the YMCA of the Pikes Peak Region on the nonprofit's redevelopment of its downtown city block, which includes 100 to 200 apartments.
"But the population growth in Colorado Springs has been fairly dramatic and the construction of housing hasn't really kept up," Henry said. "What we're seeing now is an opportunity to kind of catch up and that's a lot of the activity you're seeing today."
• Who wants to live and work downtown? Plenty of people — and developers who've noticed are willing to invest in apartments, hotels and the like to attract them.
Nor'wood and Griffis/Blessing of Colorado Springs opened the 171-unit 333 ECO Apartments last year at Colorado and Wahsatch avenues and next year will open a 178-unit project on South Cascade Avenue. Nor'wood also recently submitted a proposal to city planners for a 154-unit project on South Wahsatch.
Darsey Nicklasson of DHN Planning & Development in the Springs co-developed the 33-unit Blue Dot Place that opened in 2016 on South Nevada; her 27-unit Casa Mundi apartments on South Tejon Street is planned for a mid-January opening. And Nicklasson said she has a third project in the works.
Jim DiBiase of commercial brokerage Olive Real Estate Group in the Springs, a partner in a 261-room, dual-branded Marriott hotel under construction on South Tejon and next to Casa Mundi, said there's a genuine desire on the part of young people — and even older adults — who want a short walk or bike ride to a coffee shop, restaurant or bar.
"People are starting to gravitate toward more urban environments," DiBiase said. "They want walkability, they want convenience. They want access to culture and to restaurants and sporting events."
Employers, such as those at the Catalyst Campus business park on downtown's east edge and others moving to the heart of downtown, also want places to eat, drink and shop for their workers and the suppliers and vendors with whom they do business.
Bluestaq, a Colorado Springs-based defense technology contractor that started at Catalyst Campus, is moving to new offices in the First Bank Building at Pikes Peak and Cascade avenues in downtown, said DiBiase, who represented the company in its move.
"They're going to be bringing people to stay at my hotel and eat at restaurants," DiBiase said. "They're in Palmer Center (home to the First Bank Building) and they're out at Phantom Canyon and doing all these restaurants up and down Tejon Street all the time.
"Activity just creates more activity," DiBiase added. "It brings credibility. It brings a sense of energy to the market and people want to be part of that energy."
• Follow the money; financial incentives play a role.
As part of the federal government's 2017 Tax Cuts and Jobs Act, eight opportunity zones were created in Colorado Springs — including downtown — that are designed to encourage investment in depressed and low-incomes areas. As an incentive, opportunity zone investors can delay paying federal income taxes on capital gains from their investments.
Downtown Colorado Springs is hardly a struggling area, and opportunity zone critics in general have labeled them a giveaway to wealthy investors.
Nevertheless, the chance to put money into a thriving area such as downtown, and reap a tax break on top of that, is something many investors and developers can't pass up, Feffer said.
DiBiase, however, said opportunity zone projects still must make economic sense and be worthy of an investment to begin with, and they face hurdles such as rising construction costs that don't make them a sure thing. His Marriott hotel is making use of opportunity zone incentives.
Meanwhile, the state's Economic Development Commission provided $120.5 million in funding over 30 years to help finance the Springs' four City for Champions projects, which are designed to boost tourism. Those projects include the Olympic & Paralympic Museum that's expected to open in the spring and the nearby stadium that will open in 2021.
The Downtown Development Authority, a quasi-governmental agency, was created in 2006 by downtown property owners and business people who agreed to tax themselves to generate funding for programs and financial incentives that foster development in the area.
The authority's incentives are on a smaller scale, but they're nevertheless critical for some developers.
Nicklasson said the property tax revenue that the authority committed to give her upon completion of her $8.5 million Casa Mundi project helped attract investors, who wanted an assurance they'd get a return on their money.
"That put me just over the line for my investors and my debt financing," she said. "I will have enough revenue coming in to be able to meet my agreements, to pay my investors the amount I committed to them. That does matter."
• The right regulations make a difference.
It's not very sexy, Nicklasson said, but the city's form-based code for downtown has made a big difference in her ability to develop apartment projects.
The city established the form-based code several years ago to encourage an urban look and feel for downtown development; it focuses on regulating the form or appearance of property and not the land use.
In Nicklasson's case, the form-based code allowed her to build her Blue Dot Place and Casa Mundi projects up to her property line, instead of setting them back several feet as would be required in a typical commercial zone.
"Imagine if we did that with Blue Dot?" she said. "I would have had a much smaller building and you would be set back from the property line 10, 15 or 20 feet. It wouldn't have that feel like urban needs to be — up front, right on the sidewalk."
The form-based code also allows a mix of uses within the same downtown properties, which helps encourage development and promotes a more dense, urban environment, Nicklasson said. As a result, Blue Dot Place has Loyal Coffee as a first-floor user, while the Paris Crepe restaurant will open on the first floor of the Casa Mundi building.
Something else that's taken place behind the scenes over the years and is now paying off for downtown: efforts to promote the area and draw people downtown. The Downtown Partnership has marketed the area extensively, she said, while programs such as First Friday and ice skating at Acacia Park provide reasons to come downtown.
"All of that programming continues to drive people downtown, drives shoppers downtown, drives restaurantgoers downtown, drives residential downtown," Nicklasson said. "That stuff takes time. It takes time to not just put it in place, but it takes time to get that on people's radar screens and get it into their schedules to come down and do those things.
"What we're seeing right now," she said, "is a culmination of a lot of really hard work that people have been doing over the last 10 to 15 years, laying the groundwork that all of a sudden makes it appear that it's suddenly happening now, when it's actually been happening for a long time."