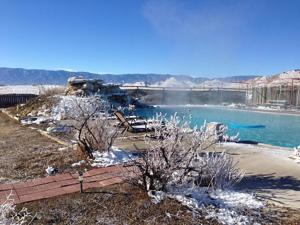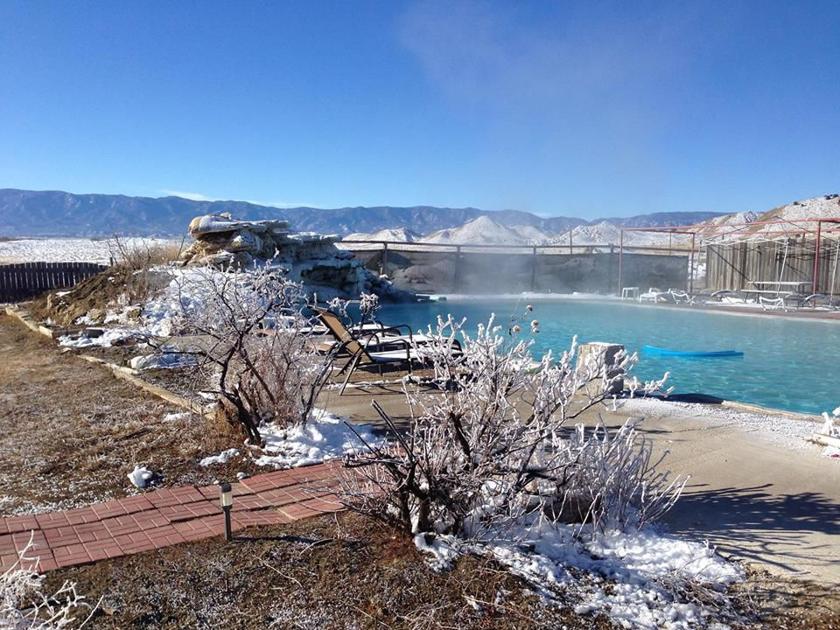 Desert Reef. It's an oxymoron. And it's the perfect name for the 36-by-50-foot pool on the barren outskirts of Florence, a town that, to outside Coloradans, calls to mind the gray picture of the prison system. But here is a sunny spot not so unlike a neighboring Penrose pool, but quite unlike any other in the state.
Among public hot springs, it's unique for how clothing is optional, except it's required on Fridays. Desert Reef reports the majority of its clientele prefers to soak in the nude and promises a welcoming atmosphere for all, including kids, who are not allowed to run or jump in the water. Prized by locals and 45-minute commuters from Colorado Springs, the serene oasis demands respect.
Drilled by accident during an oil exploration in the 1940s, a deep well spouts 132-degree water to the surface, sending up earthly minerals with it. Travertine content is said to be the reason for the pool's bluish hue. No sulphur means no stench. The water in the summer is kept around 90 degrees, around 100 in the winter, a season that is usually mild here in the "banana belt" east of the Rockies.
The Sangre de Cristo mountains loom in view. A waterfall boosts the aesthetic. A sunbathing deck surrounds the pool, and a greenhouse with tables and chairs is the picnic hangout.
Rules: Alcohol allowed but can be limited. No pets. Cameras, cellphones or recording device not allowed. No drugs. No glass.
Address: 1194 Fremont County Road, Florence, 81226
Hours: Closed for cleaning Monday and Tuesday. 10 a.m.-6 p.m. Wednesday, Thursday and Sunday, 10 a.m.-10 p.m. Friday and Saturday
Contact: 719-784-6134
Getting there: Go south on Colorado 115 toward Florence, turning east onto County Road 120. Go 1 mile to turn for County Road 110 and go another mile to the spring.
– Colorado's 16 most sizzling hot springs.