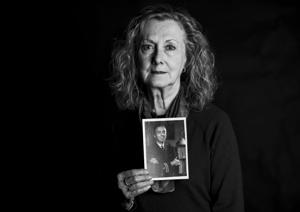 "The day was August 21st, a day I would long remember," Richard Wilson wrote of his time as a sailor during WWII. "I remember it as if it was yesterday."
He was officer on deck aboard LST 398 during an amphibious assault on Vella Lavella island in the Solomons during the Navy's island-hopping campaign in 1943. The object was to tighten the noose around Japan island by island.
An LST "is a landing ship that plows onto a beach, opens its big front doors and disgorges troops and all kinds of equipment on to the beach so that they can capture that island," explained Linda Madden, Wilson's daughter, during an interview at the Gazette. Her father was more succinct. He called LST's Large Slow Targets.
Wilson's craft was unloading when Japanese bombers struck. And struck hard.
"At 1500 we were just about completed unloading when the P.A. announced, "Condition Red. Fifteen bogies approaching. … I felt tense and tight over my whole body like a swimmer getting ready to race the 100-yard freestyle. The pit of my stomach ached and my eyes burned. Our guns started shooting on the main deck over us and the noise in our small compartment was deafening.
"WHAM! WHAM! WHAM! Three terrific explosions went off.
"'I'm hit,' said the Marine next to me. I looked down and saw his arm was bleeding. … The sudden silence was eerie. When I reached the main deck and broke out into the open, I saw complete devastation. The gun crew of three men on the bow 40 mm were stretched out in grotesque positions. They were not moving and there was blood everywhere. … At the same time I saw smoke coming out of the starboard hatch and realized in a flash that the ammunition storage locker was one deck below and could blow up the whole forward end of the ship, if the fire wasn't put out."
Wilson only shared these details years afterward in a self-published historical novel that he called "Condition Red."
Paradoxically, Madden said, her father never shared such vivid detail with his family. "My father really never talked about the war to us."
It wasn't until after he had died, and after his wife died five years ago, that his children, going through their mom's things, found his logbooks, commendations, his mother's scrapbook, his discharge papers and nearly 80 Vmail letters he sent to his parents during the war.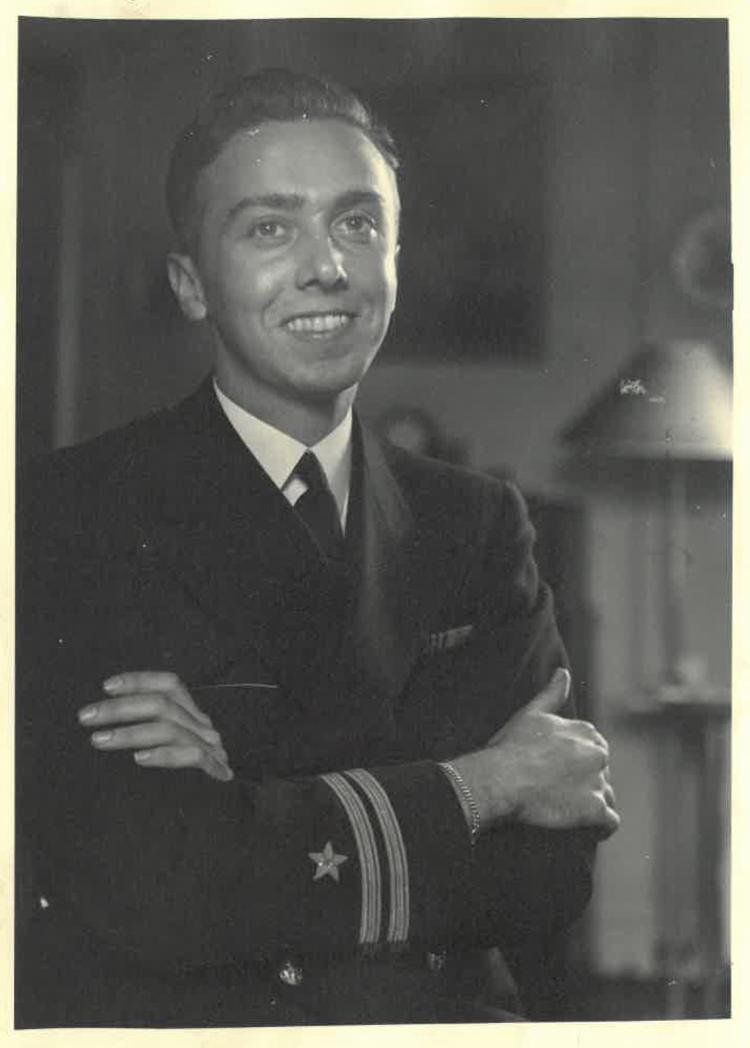 "I didn't even know all of it existed," Madden exclaimed. "I'd never seen any of this. He never shared. He never shared. I was sort of amazed that it had been around all that time, and not shared at all with us."
Compared to what he was actually going through, his Vmails home are remarkable for what's not in them.
Sept. 14, 1943: Dear Mother and Dad, Don't worry. I think I still have my sense of humor and we are making great gains against the enemy down here – that's what counts. … I just polished off a piece of cherry pie and cup of coffee; think I'll turn in.
During that same time frame, Wilson describes in his "novel" how their flotilla was attacked again and again on their harrowing "milk runs' among the Solomons. "Just then the first string of bombs hit the beach," Wilson wrote. "It sounded like the whole world exploded in our faces. The casualties were horrendous. Trucks smashed and burning; bodies strewn over the sand; palm trees shattered sticking out of the sand like huge toothpicks."
Around that same time, another Vmail home: "Sorry it has been so long since I've written but have been awfully busy. Everything is fine. I'm feeling good, and sleeping good. Went to the dentist yesterday and he is using some medicine to harden up my gums."
A journalist covering the final battle for the island on Oct. 6 wrote: "History will never capture the 'night of horrors' at Vella Lavella." U.S. troops endured twenty-two hours of bombing in 14 separate air raids by the Japanese.
Just days later, on Oct. 16, Williams wrote. "Dear folks, just a line to let you know I'm okay. The news sure sounds good these days. I'm awfully busy and in a hurry to get this in the mail. Will say more later."
"He spent a lot of time trying to reassure his parents that he was OK," said Madden. "Which is just kind of beautiful."
Looking back 75 years, we can't help wonder: Why were these great men so close-mouthed about it all? Why, in some cases like Wilson, are we just hearing about their exploits now, as the Last of the Greatest Generation pass?
"Maybe it was the way what we now call PTSD happened with them," said Madden. It seems a whole generation suppressed their memories of the great war to spare their families, and probably themselves.
"They did not dwell upon the danger or the fear or anything like that," says Madden. "They dwelt upon how they were doing this for their country and for freedom."
Linda's mother kept an elaborate scrapbook of newspaper articles and maps during that time. "He wasn't telling her anything about the military maneuvers, but she could find out a lot from the newspaper. And she tracked him that way."
We asked Linda how those years impacted her life.
"It seemed to play such a little part in my life. But now that I'm an older adult, I can see how it did actually come into our lives. Throughout his life he used a lot of Navy jargon around the home: hit the sack for going to bed and something about mess for eating dinner. "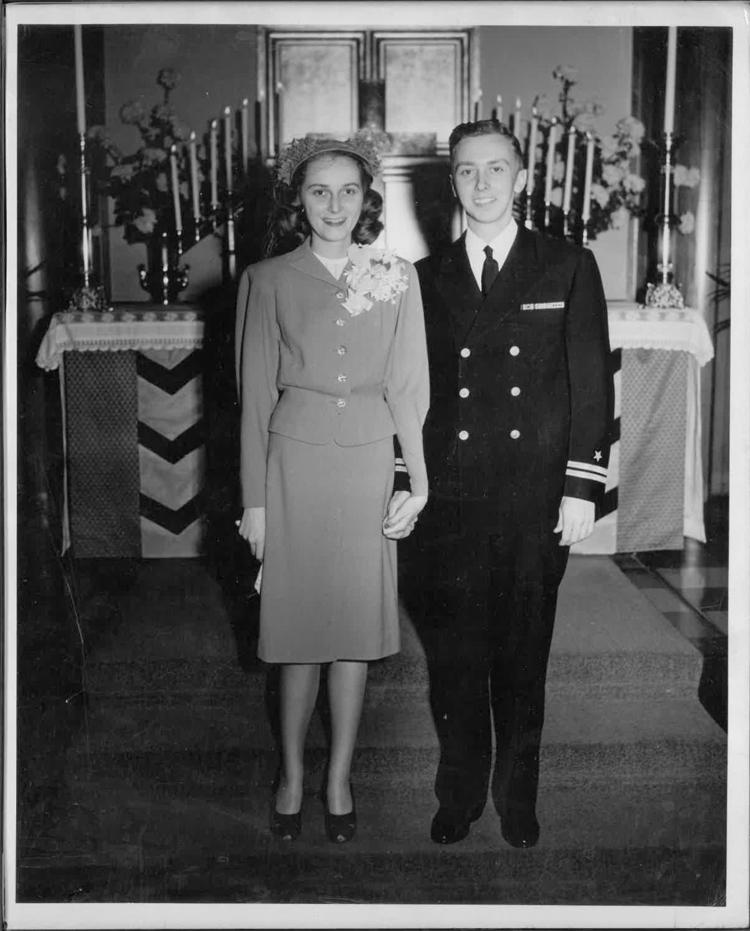 In 1982, when Madden's children were in grade school and junior high, her dad and father-in-law were over for Thanksgiving dinner. Her father-in-law had been a pilot stationed in Italy, and he flew raids over Germany. For the first time ever, "we asked them and our mothers to talk about what was important in their lives," Madden recalls.
"When they were talking to their grandchildren about their whole lives up to that point, and they were in their 60s, both men focused on their service in the war as the thing they wanted to tell us about."
"I learned late in his life he was really very proud of it and it was foundational to his life."
Madden said her father got together with his LST shipmates every year for a reunion.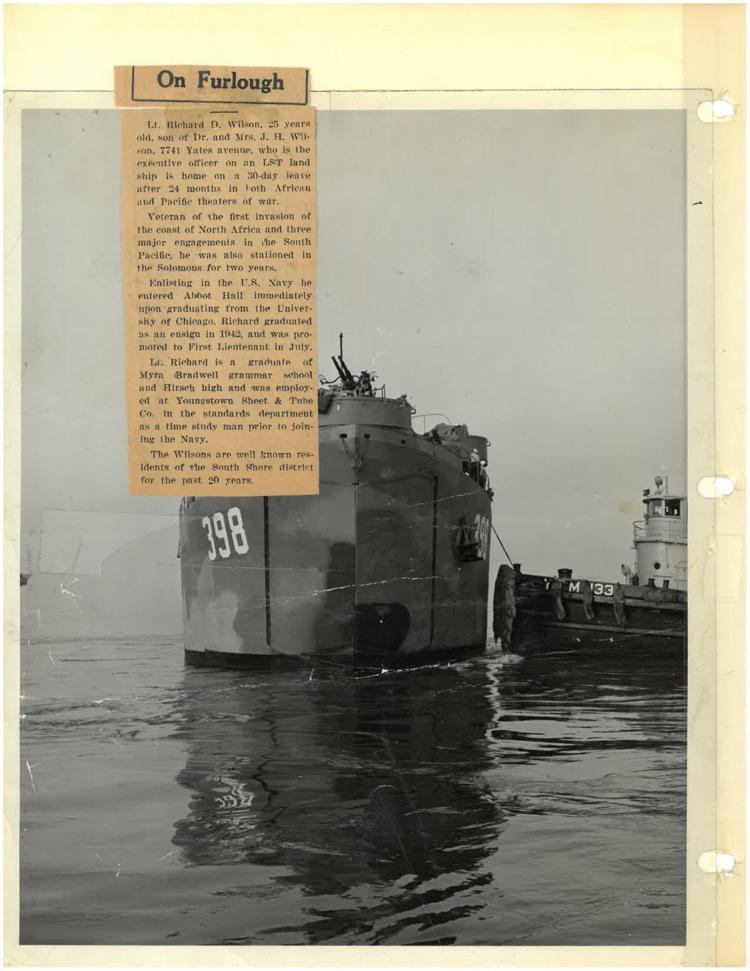 "And he wrote this book partly because he wanted to share his memories, you know, in this way with all those others. So after he got this written, he took a carton of these books to the annual ship reunion."
One of the most vivid memories in the book, which he never boasted about in person, was that day in August during the bombing raid when he saved the lives of all his crewmates.
As a fire raged below decks where the ammo was, "there was no time to string out firehoses but there was a sprinkler system in the ammo locker …" Wilson wrote in his "novel." "And the valve was right on the bulkhead by the hatch leading down. I quickly turned and found it, smashed the glass protective shield around the valve and turned it open with all the strength I could muster.
"It would flood the compartments and destroy the ammunition and perhaps the electrical system forward. But it would save the ship."
He got promoted to skipper shortly after that.
Miller's LST 398 crew won a Presidential Citation and the Navy Unit Commendation ribbon for "outstanding heroism in action."
Secretary of the Navy James Forrestal said it pretty well in a letter to Wilson after his service was complete.
"You have served in the greatest Navy in the world.
"It crushed two enemy fleets at once, receiving their surrenders only four months apart.
"No other Navy at any time has done so much.
"For your part in these achievements you deserve to be proud as long as you live."
And longer, thanks to the pride of a daughter named Linda.