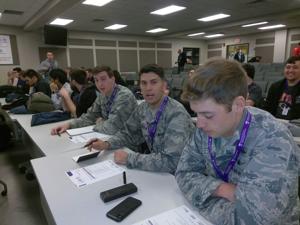 For the first time, a team of cadets from the Air Force Academy has qualified for a premier cybersecurity competition and earned the distinction of being "one of the top 10 college hacker teams in the world," according to organizers of the Collegiate Penetration Testing Competition.
Six cadets — two seniors, three juniors and one sophomore — will face off this weekend at Rochester Institute of Technology in the offensive-based collegiate challenge. They'll be competing against a field of teams including Penn State, Stanford University, California State Polytechnic University Pomona and the University of Virginia.
Air Force Academy cadets don't usually participate in strictly collegiate challenges, said team captain and Wing IT Officer Sears K. Schulz.
Teams qualified for the finals at six regional events across the globe in October, during which 300 students competed.
"We were surprised but ecstatic to have won the central region competition at Tennessee Tech last month," Schulz said. "We worked for about 20 hours straight until 3 a.m. during the regional competition, and our team's hard work paid off."
During this weekend's finals, students will adopt the hat of an independent contractor and perform a penetration test of the fictional DinoBank's computer network. Teams are tasked with identifying vulnerabilities and mitigation techniques.
The work starts Saturday morning and continues for 12 hours.
"We'll be on our computers, trying to find vulnerabilities in their systems," Schulz said. "After that time period, we'll work through the night to write a 15-page report on our findings. On Sunday morning, we'll present our findings in person to the company executives."
It can be challenging to "simplify technical terms into something meaningful for an executive," Schulz said.
Each of the six cadets on the AFA team has "a passion for cybersecurity," he said. "So we enjoy practicing and using the technical skills needed for the competition."
The team is part of the larger AFA Cyber Competition Team, which has about 25 members across all four classes.
The collegiate competition, which began five years ago, is sponsored by some of the most well-known companies in the cybersecurity industry, including IBM Security, Google Cloud, Eaton, FireEye and Uber.
Contact the writer: 719-476-1656.