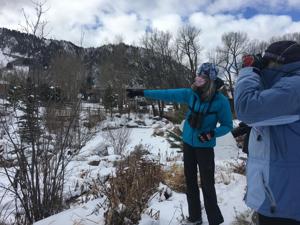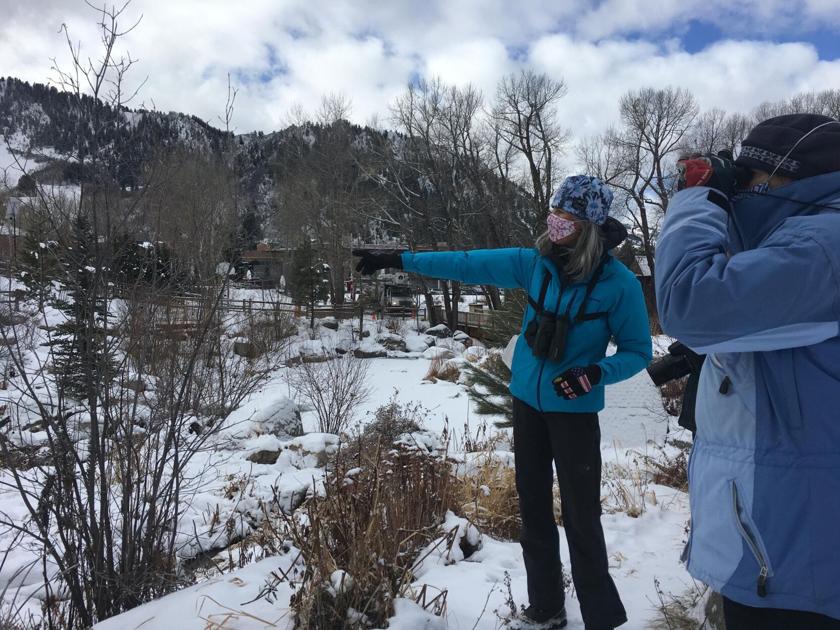 ASPEN — On a recent morning, local naturalist Rebecca Weiss led a small group of amateur birders through the frozen cattails near the John Denver Sanctuary in Aspen. Donning binoculars and masks, they stood at the edge of the Roaring Fork River to get a closer look at an American Dipper bobbing in and out of the frigid water as it foraged.
"We heard this gorgeous singing and we were all looking and listening as hard as we could to try to pinpoint the sound and who was making it," Weiss said. "And finally, we got a line of sight on the dipper."
The outing was part of the Aspen Center for Environmental Studies' winter birding program offered the first Tuesday of the winter months.
"We look through wetlands, where cattails meet the open water, all those sort of edge habitats are wonderful places to look for the birds," Weiss said. "We're listening for the tap taps of woodpeckers or we're listening for the contact calls of a flock of chickadees."
Weiss leads similar outings with ACES year-round, but she said there's a certain kind of "serenity" that comes with birding amidst the snow.
"Without all the foliage in the way, you have a more stark landscape and the birds really stand out there," she said.
The group keeps track of the birds they see using an app called eBird developed by the Cornell Lab of Ornithology. The species they recorded that day will go into the university's database, which is used by scientists and researchers who study birds.
"We saw or heard seven species in just one hour this morning: the American dipper, mallard duck, Canada goose, wood duck, belted kingfisher, mountain chickadee and a magpie," Weiss said.
Keeping track of the birds they spot is great practice for the Audubon Society's Christmas Bird Count. Every year around this time, Roaring Fork Valley locals join tens of thousands of people to record all the birds they see or hear in a 15-mile radius. The Christmas Bird Count has been conducted for 121 years.
"It's the longest running citizen science program in the world. And it takes place literally across the entire Western Hemisphere," Weiss said.
Dec. 23 was the last day of ACES' weeklong Christmas Bird Count in Aspen and the Roaring Fork Audubon Society held theirs in Carbondale on Dec. 19.
The annual population count helps scientists, researchers and local naturalists like Weiss get a better picture of how birds in their backyard and around the world are doing in the face of events including climate change.
"Birds are the most watchable form of wildlife around us here. And as such, they are a really good reflection of the condition of our environment," Weiss said.
A lot of the changes Weiss has observed while birding have to do with warming temperatures in the valley. Over the years, she has seen some species like the black phoebe and the black-chinned hummingbird expand their range into the Aspen area.
"You know, eight years ago, 10 years ago, it would have been extremely unusual to even see one up here, let alone have them nesting here," Weiss explained.
Despite seeing more of some species, overall she has noticed a decline in local bird populations.
"When we see their numbers drop like this, that needs to be seen as a pretty strong red flag to us that something's not right," Weiss said.
It is observations like Weiss' that drove a group of scientists to conduct a study in 2019 that found that nearly 3 billion birds have been lost from North America over the last 50 years.
Avian conservation scientist Arvind Panjabi works at the Bird Conservancy of the Rockies in Fort Collins and he was one of the co-authors of the study. Published in the journal Science in September 2019, their research was based out of the Cornell Lab of Ornithology and looked at 529 bird species using data collected since 1970.
Panjabi said that habitat loss driven by things like human development and climate change play an important role in this.
"One thing that we have seen over the years and that I think all Coloradans recognize is an increase in wildfires, which are directly a result of a drying climate in our region with longer periods of drought," Panjabi said.
Another example is the cold front that we had in early September this year right during peak migration through the Rockies and inner Mountain West.
"Those birds hit an unprecedented cold snap, which killed millions of birds," Panjabi said. "Literally they were found dead on the ground along the front as far from Nebraska down through Colorado and into Arizona and New Mexico."
Extreme weather events are just one way that climate change is having an immediate impact on birds, but Panjabi said the effects are far reaching and not always obvious. For example, if average temperatures and rainfall change in Colorado, that will change the type of plants that grow here, which support the insects and the birds that feed on them.
"We really are living within a narrow window of perfect climate conditions that allow our ecosystems to thrive," Panjabi said.
According to Panjabi, more than 25% of the birds in the southern Rockies and the Colorado Plateau are "species of conservation importance." That number includes 18 species that only exist in this region because they depend on the unique habitat
"If we can put politics aside and focus on birds and talk about how much we love birds and how much we want these birds to stay around, you know, I think we can find common ground," Panjabi said.
That is just what the Christmas bird counters are doing as they head out into the frozen wetlands looking for that ever elusive American Dipper.