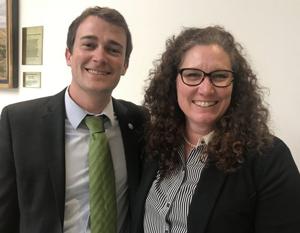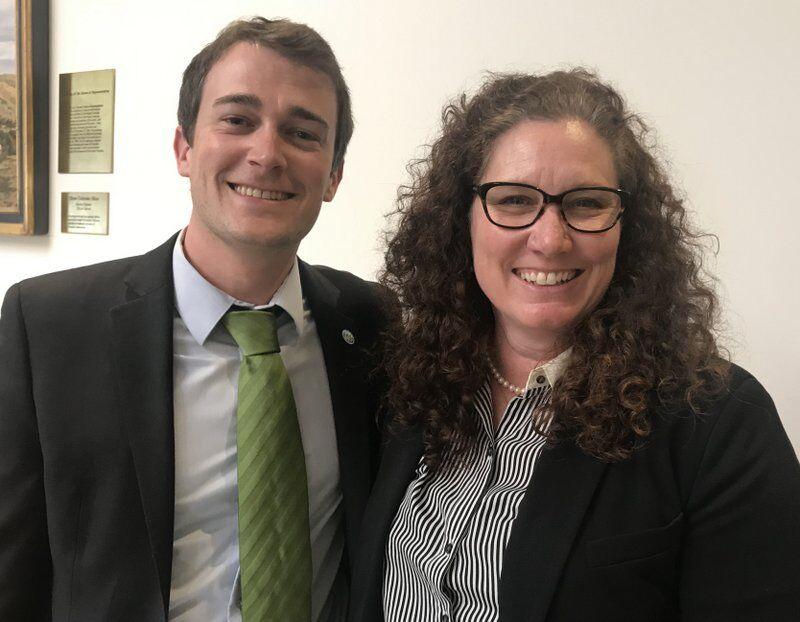 Here's to a true public servant: Pam Anderson.
She worked as the municipal clerk in Wheat Ridge before being elected Jefferson County clerk and recorder. She served as president-elect of the Colorado County Clerks Association in 2013 when the group worked with the Legislature to pass a bill requiring mail ballots be sent to all active voters.
After she was term limited in Jeffco, she became executive director of the clerks association, a post she will leave in January after serving for five years.
"It is with a lot of mixed feelings that I have made the professional decision to resign to focus more on my consultant work in elections policy and administration," Anderson wrote in her resignation email Nov. 13. "It has been so rewarding seeing the work with the election model we pioneered flourish and become a model for the entire country."
Colorado's 64 clerks responded with love, dismay and plenty of exclamation marks.
"Pam, this is very sad for our association! Your knowledge, friendship and expertise have been successful in moving this organization forward! You will definitely be missed! Thank you for your unwavering dedication to our organizations and to all of us clerks! Thank you!!!!!!!"
— Yuma County Clerk Beverly Wenger
"What??? This is horrible news! If this is how Friday the 13th is starting, I am going back to bed!!!"
— Crowley County Clerk Melinda Carter
Anderson, a Republican, was first elected clerk in 2006 despite the Democrats' first blue wave in Colorado since Watergate. She was reelected in 2010.
During her second term, she and other members of the clerks association tangled with Republican Secretary of State Scott Gessler over several issues, including his claims of voter fraud.
At a goodbye party for outgoing Jeffco officials in 2015, Anderson reflected on the two presidential elections she oversaw during her tenure in Jeffco; Democrat Barack Obama won both. As the association director, she helped clerks through the presidential election in 2016 that saw Republican Donald Trump win and the 2020 election that saw him lose to Joe Biden.
Anderson is fond of telling rookie county clerks that there's nothing like a presidential election, and she's right.
I covered Anderson when I worked for the Rocky Mountain News and The Denver Post, but I had another connection with her. I first reported on her mother-in-law, Norma Anderson of Lakewood, who served 19 years in the Legislature.
Norma Anderson was the first woman elected by her Republican peers to serve as the House majority leader and then the Senate majority leader.
At one point in the Senate, there were 18 Republicans: Anderson and the 17 "boys," as she liked to call her male colleagues. "We think one-to-17 is a fair fight," former Sen. Ken Chlouber, R-Leadville, once joked.
Most folks put their money on Norma Anderson.
Her daughter-in-law also has her share of admirers.
"Pam — this is unbelievably sad news for us! You have done a remarkable job and your shoes will be super hard to fill."
— Montrose County Clerk Tressa Guynes
"I am in total shock! And also at a loss for words. Pam, I hope your next adventure is wonderful! You deserve it! I would personally like to say thank you for being an amazing mentor to me! I am grateful for everything you have done for me personally and for our association."
— Teller County Clerk Krystal Brown
In 2014, Gessler opted to run for governor instead of a second term, and there were questions of who would run for secretary of state.
"Pam Anderson is a proven war horse," Jefferson County Republican Rick Enstrom said at the time. "God, I hope she runs."
Anderson didn't run, but El Paso County Clerk Wayne Williams did, beating popular Democrat Joe Neguse. Williams hired me as his communications director and we worked closely with the Colorado County Clerks Association, which had chosen Anderson as its executive director.
One day when I came back to my office, I found an email from my coworker Ben Schler, who said I might need to talk to HR. I knew it had to be a joke, but I didn't get it.
Anderson was at an elections meeting at Massachusetts Institute of Technology, and I was tweeting about her participation. But it turns out I wasn't using her handle, @PamAndJeffco, but @PamelaAnderson, the Baywatch queen whose tweets included plenty of cleavage shots.
Williams lost his reelection to Democrat Jena Griswold in 2018 in the next blue wave — a tsunami-sized one, that hit Colorado.
The clerks association hired me to handle communications the next spring because the secretary of state was pushing a substantial election reform bill without much input from the clerks — you know, the ones who actually run elections. Three county clerks — a Democrat, Republican and unaffiliated — were the first set of clerks to testify that the measure as written was costly and unworkable. Changes eventually were made that brought some clerks, but not all, on board.
Former Denver City Councilwoman Susan Barnes-Gelt recently ripped Griswold in an opinion piece in the Colorado Springs Gazette.
"It's nonsense for Griswold and her supporters to complain she's being criticized because she's a woman," Barnes-Gelt wrote. "She is under fire for some of the same reasons one of her predecessors, Republican Scott Gessler, took heat. Ego. Arrogance. And a failure to work well with the people who run elections: Colorado's 64 county clerks."
Anderson helped organize the Western States Election Conference last year where Colorado, Oregon and Washington officials talked about their experience with mail ballots. Who could have known then that the topic of mail ballots would dominate the 2020 general election as states grappled with COVID-19?
In a recent video from the clerks association, Anderson called county clerks the hardest working people in government.
Clerk and recorders handle so many duties besides elections. They record real estate transactions and marriage licenses. They renew motor vehicle registrations, and some additionally issue driver's licenses. Some take minutes at the county commissioners' board meetings.
"My support of you as the county clerk and the jobs that you do will never waver. I am your biggest fan," Anderson said in her resignation letter. "Thank you for your dedication to what values the association brings to you and your constituents. You are my compatriots and my friends. Thank you so much for everything."
The search for a new association director is underway.
"Pam's leadership — here in Colorado and nationally — has been a major asset to the Colorado County Clerks Association. I am so grateful for all of the help she has given to our members to ensure that Colorado continues to lead the nation in election administration."
— Jefferson County Clerk George Stern
"Pam has brought a tremendous amount of knowledge, strength and guidance to us, and she will be greatly missed."
— La Plata County Clerk Tiffany Parker