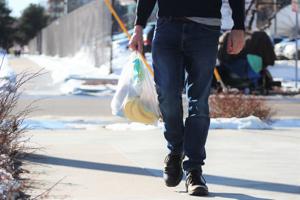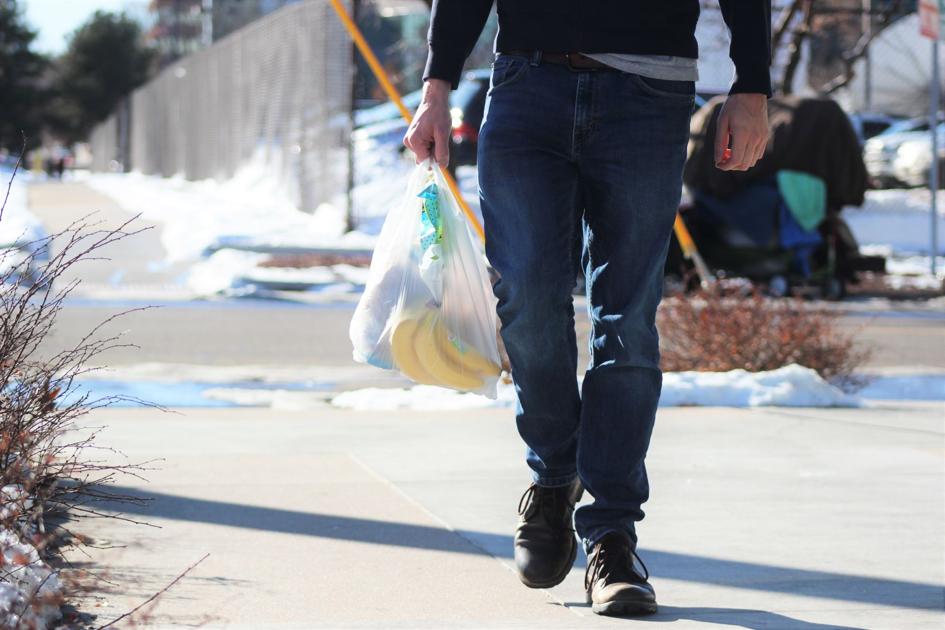 After a decade-long abstinence, Democrats in the General Assembly are taking another swing at banning or allowing local communities to decide if they want to outlaw plastic bags, straws or Styrofoam containers.
Three bills have been introduced in the session's first weeks that take different swats at plastic bags and other single-use plastics, as well as polystyrene containers.
Eight states have laws to cut down on single-use plastic bags and other plastics used in grocery and other retail stores, according to the National Conference of State Legislatures. All of those states are controlled by Democrats. Five of those states have adopted laws in the last year, including New York, whose law goes into effect in March.
Among those eight states, however, only Vermont prohibits the use of plastic carryout bags, polystyrene and single-use plastic straws. It allows retailers to use paper bags, an issue all its own.
On the flip side, however, 14 other states have preemption laws, similar to what Colorado has, which forbid local governments from enacting a ban on plastics.
For many Colorado communities, the response to preemption has been a work-around: Instead of a ban, retailers charge customers a fee, usually 10 to 20 cents. A dozen local governments have signed up for the bag fee, beginning with Aspen in 2011. That list has grown to include Avon, Boulder, Breckinridge, Carbondale, Crested Butte, Durango, Nederland, Telluride and Vail. In December, Denver's City Council passed an ordinance that will charge customers 10 cents for a single-use plastic or paper bag, beginning July 1.
On Feb. 4, the Senate Local Government Committee will hear Senate Bill 10, sponsored by Sen. Kerry Donovan, D-Vail, and Reps. Meg Froelich, D-Greenwood Village, and Alex Valdez, D-Denver. SB 10 doesn't ban plastics, but it would strike down the state's preemption law.
What kind of plastics are involved? State law defines plastic as any material made of polymeric organic compounds and additives that can be shaped by flow. A "plastic bottle" in the same section of state law is defined as a "plastic container that has a neck that is smaller than the body of the container, accepts a screw-type, snap-cap, or other closure, and has a capacity of 16 fluid ounces or more but less than 5 gallons." A "rigid plastic container" means "any formed or molded container other than a bottle, intended for single use, composed predominantly of plastic resin, and having a relatively inflexible finite shape or form with a capacity of eight ounces or more but less than 5 gallons."
The General Assembly has been pretty gun-shy about plastic bans — there hasn't been major legislation to attempt it since 2009.
In that session, Sen. Jennifer Veiga, D-Englewood, and Rep. Joe Miklosi, D-Denver, tried a bill — brought to them from students at Kent Country Day School — to ban plastic bags in retail stores of at least 10,000 square feet and with $1 million in gross annual sales.
Despite a lopsided 37-28 Democratic majority in the House and a similarly lopsided 21-14 Democratic majority in the Senate, the bill lost on second reading in the Senate, largely due to opposition from the chemical industry and grocery store chains. Miklosi said he got a lot of hate mail over that bill, including from people who like using bags to clean up dog waste.
With the advantage of time and technology, Miklosi now believes plastic bans aren't a good idea. What he is sure will work is technology and innovation, pointing to Boyan Siat of the Netherlands, who created a machine to pick up plastic garbage from the ocean when he was 18 years old. Last year, his company, Siat, said the machine it developed was successful in picking up items as large as fishing nets to tiny microplastics as small as 1 millimeter. The company is working on plastic removal in a trash site known as the Great Pacific Garbage Patch, between Hawaii and California, the largest accumulation of ocean plastic in the world.
"There's a lot of smart people out there. That's how you solve these things," Miklosi said.
And as Politico reported this week, "plastic bags have lobbyists" and "they're winning."
For SB 10, a dozen lobbyists and lobbying firms have signed up in opposition, representing the American Chemistry Council, biotech company Amgen, McDonald's, MillerCoors, the Colorado Retail Council, the Colorado Beverage Association and Albertsons/Safeway.
Chris Howes, who represents the Colorado Retail Council, told Colorado Politics that it wants that preemption language to remain in state law. "We want uniformity throughout the state so our stores, which operate in every corner of the state, can have one law on plastics."
He acknowledged that isn't exactly the situation, with so many communities already assessing a fee on plastic bags. Those communities claim home-rule powers, which he said can be confusing for stores and their customers. "We would like to see one state law, but we do understand home-rule powers. It's a delicate balance."
Those who support the bill include the cities of Boulder and Northglenn, along with environmental groups such as Conservation Colorado and Colorado Communities for Climate Action. The Colorado Municipal League, which represents cities and towns, also is in favor, largely because of the local control issue.
But some of the biggest users of plastic bags: 7-Eleven, Kum and Go, King Soopers and the International Council of Shopping Centers, are for now taking a "wait and see" (known in lobbying terms as "monitoring") on the bill.
The other two bills were introduced on Tuesday, and outright ban the use of Styrofoam containers for ready-to-eat food (HB 1162) and ban single-use plastic carryout bags, plastic stirrers, single-use plastic straws and Styrofoam food service products (HB 1163).
HB 1162, sponsored by Reps. Lisa Cutter, D-Littleton, and Jonathan Singer, D-Longmont, do allow for exceptions, including paper bags, bags a pharmacy provides for prescriptions, or laundry and dry cleaning bags.
HB 1163, which Valdez also sponsors, along with Rep. Emily Sirota, D-Denver, takes a slightly different tack. It prohibits stores and retail food establishments from providing single-use plastics such as bags, straws, coffee stirrers and Styrofoam containers, although it would allow those retailers to provide recyclable paper bags for a 10-cent fee per customer and to use up existing inventories of plastic bags. But it also prohibits local governments from enacting ordinances that are less strict than the statewide ban. The bill also includes some of the same exceptions contained in HB 1162.
Howes said the Retail Council has not yet taken a position on those two bills. He said the sponsors for HB 1163 held a stakeholder meeting on Tuesday. "We made comments and had some questions, and then the bill came out at 5 p.m."
How those outright bans on plastic bags will comport with home-rule ordinances like Denver's and Boulder's is also an interesting question.
And then there's the issue of paper bags. Howes pointed out that communities that want retailers to use paper bags may find it as difficult as banning plastics. Because of the other Eastern states — including New York — that have taken action on this issue, those who make paper bags can't make them fast enough, he said.
What Howes tells retailers is "don't count on having as many paper bags as you want, and to lawmakers, don't count on our offering paper bags to your constituents. They're bad for the environment, they're heavy, they take a lot of water to produce," and they use trees. Howes recalled that years ago, the mantra was "use plastic, save a tree." The situation is now reversed, he said.
Both bills have been assigned to the House Energy and Environment Committee, although neither has a scheduled hearing date yet.