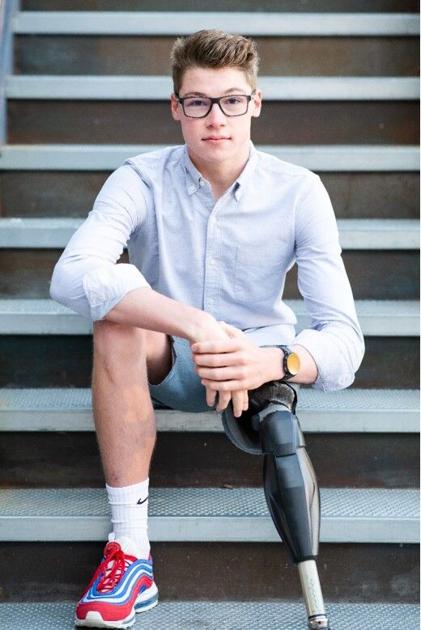 Jack O'Neil has flipped his disability on its head and turned it into an ability.
"Much of what I do every day is geared towards lifting up my community of disabled athletes and fighting for equality," the soon-to-be Village High School graduate said.
As an amputee who has been involved with sports his entire childhood, O'Neil considers himself fortunate to be a part of that community.
At the young age of 9, O'Neil had to make a grownup decision: whether to allow doctors to amputate his left leg above the knee. After numerous operations to try to correct genetic defects, they had run out of surgical options.
O'Neil and his family were optimistic that he'd be able to walk, ride a bike and run while wearing a prosthetic leg. But an infection caused severe pain and led to a poor recovery.
"After months of trying different things for my prosthetic, we started to think that I would never walk again and I would live my life on crutches or in a wheelchair," O'Neil said.
Luckily, he found he could still swim, which he had started to do competitively at age 7.
The water became a safe place where he could escape reality, frolic with friends and forget for a while his crushing problems.
"My daily swims and time with teammates were exactly what I needed to reset physically and emotionally, and remind myself that things would get better," O'Neil said. "It's what saved me from losing hope."
On most teams, O'Neil has been the only athlete with a disability, yet he's always trained and competed alongside able-bodied teammates — "which is exactly what I've always wanted," he said.
But not everyone thinks that youth sports teams should allow athletes with disabilities, including O'Neil's first swim coach, who told his parents he "didn't belong" on his team.
O'Neil's parents didn't agree.
Since that confrontation, O'Neil has advocated for inclusion of youth athletes with disabilities, pushing boundaries and making progress.
He speaks publicly on the issue and personally educates coaches, teammates, competitors, race directors, officials and spectators.
"I feel that I have a responsibility to ensure that the opportunities I have had remain available for future generations of youth athletes with disabilities," O'Neil said.
A turning point in O'Neil's life came five months after the amputation, when he met Melissa Stockwell, a decorated Army veteran who lost her leg while serving in the military.
Since becoming an amputee, Stockwell has competed in triathlons and represented Team USA, winning a bronze medal in the Rio Paralympics.
Stockwell watched O'Neil swim and told him that he had what it took to reach the highest level of sports.
She invited him to a triathlon camp, where he met a prosthetist, who was able to make a prosthetic that was comfortable and eventually helped O'Neil run — for the first time.
"Overcoming the hurdles after my amputation has taught me that things can always get better, if you focus on the positive things that you can control and reach out to others for support and encouragement," he said.
As a senior member of the Pikes Peak Athletics swim team, O'Neil inspires everyone, said Kelsey Floyd, his coach of five years and a manager with Team USA Swimming.
"He has a steadfast work ethic that really sets the tone for the team and creates an environment where the expectation is to give nothing less than your best every day," Floyd said in a nomination letter for the Best and Brightest award.
O'Neil will attend the University of Wyoming's Honor College, where he will focus on journalism and disability studies. He's also secured a spot on the school's Division I swim team, which Floyd said is a significant accomplishment for anyone and an "historical accomplishment" for an athlete with a disability.
His ultimate goal is to become a Team USA paralympic athlete.
"The impact of Jack's future college career is unknown, but certainly he is trailblazing a path for other athletes with disabilities in the collegiate world of sport," Floyd said.