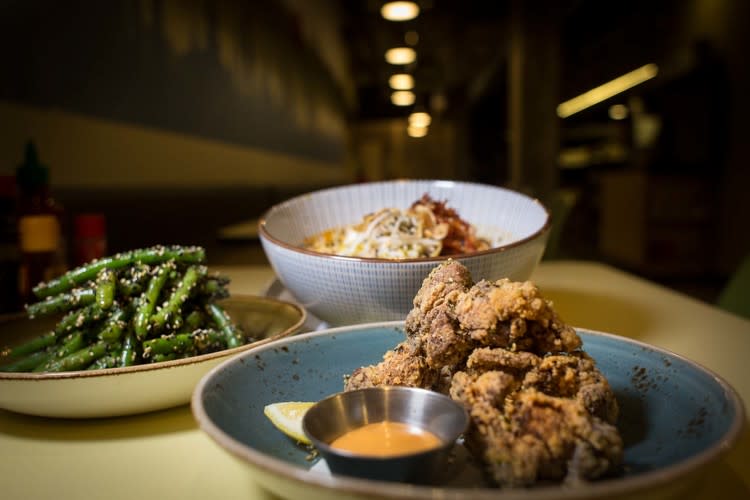 Welton Street Cafe
The family-owned Welton Street Cafe in Five Points has been serving up Southern-style cuisine with a Caribbean twist in The Mile City for more than 20 years, making it the longest-running restaurant in the neighborhood. Bring your appetite (or a friend or two), because their beloved fried chicken entree is a juicy half-bird, seasoned and expertly fried for minimal grease, and served with two sides and cornbread or white bread. For the full Southern experience, order it with fried okra, a sweet tea and peach cobbler or sweet potato pie for dessert. And while we know this is supposed to be all about the fried chicken, we'd be remiss if we didn't mention the pates (island-style fried pastries stuffed with various fillings) and frybread (deep-fried pastry dough rolled into a breadstick).
The Post Chicken & Beer
Winner winner chicken dinner — literally! The Post Chicken & Beer in Rosedale won "Westword's" Best Fried Chicken for 2021, and for good reason. The buttermilk-brine recipe — developed by Chef Brett Smith during a cross-country research tour — is delicious, extra crunchy and gluten-free, making it accessible to almost everyone. Best of all, you can order it up in a variety of dishes, from chicken chicharrones with pinto bean hummus, to deviled eggs topped with crispy chicken skin, to a spread of salads and sandwiches. It shines on its own with chorizo country gravy, but if you prefer yours dressed up, we recommend the Fried Chicken Ranch BLT with tomato jam and paprika ranch or the Chicken & Waffles with pumpkin seed butter, chorizo country gravy, chile-cherry chutney and maple syrup. Wash it all down with one of their in-house brews, such as the Howdy Western Pilsner or the El Corn Amber Lager, both of which have taken home medals at Denver's Great American Beer Festival. And be warned: you'll probably need an extra beer (or two) if you order it Nashville hot!
Okay, so the chicken at Chook isn't technically fried. But it's so delicious we couldn't resist including it for those times when you're all fried out and want something a little different. "Chook" is Australian slang for "chicken," and the chook at this cozy Platt Park eatery (there are also outposts in Denver's Hale neighborhood and in Aurora's Stanley Marketplace) is cooked with care over a charcoal rotisserie, along with the veggies in the Charred Mixed Veg side, another favorite. Order your roasted chook with white or dark meat (or both!) and your choice of sauce: Mum's Gravy, Chimichurri, Piri-piri, Macha (Hot) or Big A's BBQ, or add pulled chicken to a salad or bowl.
6 More to Try
Tupelo Honey – Honey Dusted or Sweet & Spicy Fried Chicken
Work & Class – Sunday Fried Chicken Special
Linger – Korean Fried Chicken with Bonchan
Chicken Rebel – Winner of "Westword's" Best Chicken Sandwich in 2021
Lou's Food Bar – Nashville-style Hot Chicken
Whiskey Tango Foxtrot – Foxtrot Fried Chicken
Vegetarian/vegan options
If you're looking for the next best thing to chicken, try these healthy options.
French 75 – Local legend/pioneering chef Frank Bonanno has a lot of incredibly cool restaurant concepts to choose from, but at this casual French bistro you'll find something unique: whole rotisserie cauliflower served with curried lentils and pistou.
City, O' City – While the entire menu is vegetarian/vegan, the Chicken & Waffles stand out. You get bourbon-brined chicken-fried cauliflower with the incredibly delicious bourbon maple syrup along with chive creme fraiche and carrot bacon. Another great option is having the "chicken" on salad or pizza.
Pictured above: Osaka Ramen's Chicken Kara'Age small plate