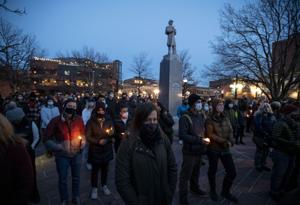 Boulder's upswell of public grief spilled over Wednesday into public vigils, places of worship and a procession for a police officer slain while responding to a southside King Soopers on Monday, where a gunman killed 10.
The 21-year-old suspect in the slayings, Ahmad Al Aliwi Alissa, was in jail and scheduled to make his first court appearance Thursday on murder charges.
Mourners, both resident and visitor, clung to a sense of community wherever they found it. In the afternoon, they flocked to the makeshift memorial at the grocery store on Table Mesa Drive, many carrying flowers, cards and stuffed animals — in such volume that traffic backed up both on northbound Broadway and Table Mesa.
One of those visiting the makeshift memorial was Ana Hernandez-Thallas, mother of shooting victim Isabella Thallas. She tearfully placed a stuffed teddy bear among the flowers and signs.
Isabella Thallas, 21, was gunned down in Denver's Ballpark neighborhood June 10 while walking her dog with her boyfriend, who was severely injured. Police recovered an AR-15 and pistol from alleged gunman Michael Close, 37. He now faces 22 charges, including first-degree murder and using a banned high-capacity magazine. He has pleaded not-guilty by reason of insanity.
One mourner who grew up in Boulder brought her therapy dog, in case anyone needed him for comfort.
Hundreds of people showed up outside Boulder's courthouse on Pearl Street, lit up with purple and blue, for a vigil Wednesday evening. They held lit candles, and some brought flowers. The mourners cried and embraced one another, and the Boulder Star glimmered in the distance.
Eve Booth, a Boulder resident of 53 years, showed a picture of a heart broken into 10 pieces, one to symbolize each victim. She said the drawing "sums up what I'm feeling."
"This is a safe community, full of beautiful people who are full of peace and love of nature and love of life," said resident Laurie Viault. "For something like this to happen here is surprising — but I guess I shouldn't be, because Colorado has a history of it.
"I guess I've got to learn that nowhere is safe, no matter what people want to say. As long as guns exist, we're not safe anywhere."
In midafternoon, hundreds of people gathered along Foothills Parkway to show support as the body of Boulder Police Officer Eric Talley, one of the attack's 10 victims, was transported in a hearse from the coroner's office to an Aurora funeral home.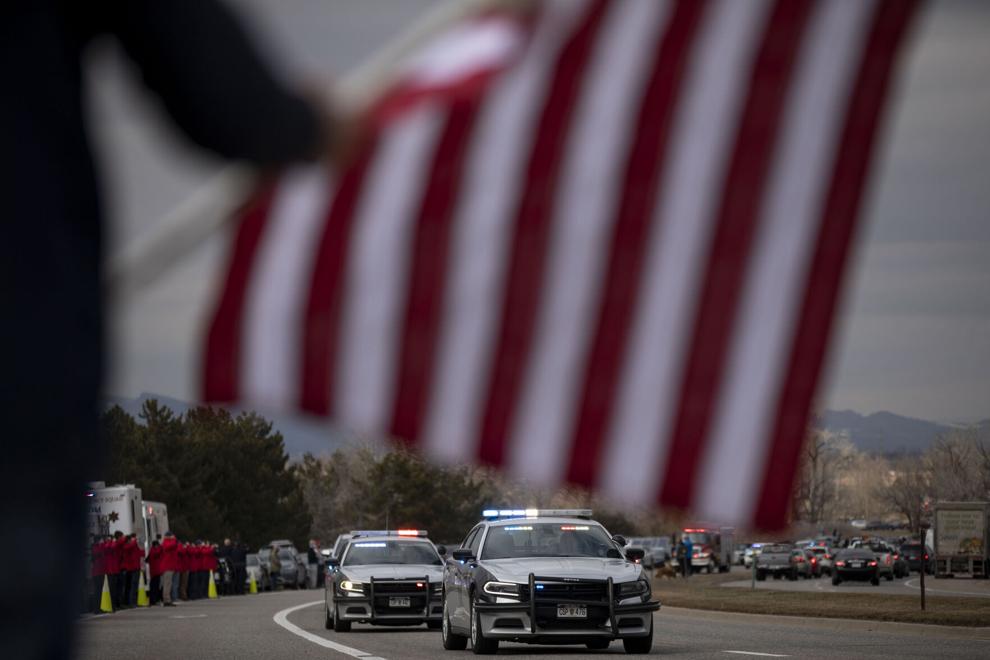 Boulder High School Senior Jai Bergstein said he met Talley a few times and talked with him about becoming a police officer.
"It just breaks my heart to see this happen in Boulder, you know," he said. "Where we are is such a safe place, and I've never really experienced something like this."
Airline pilot Chad Andrews paid homage to Talley's career wish to be a pilot, tweeting a PA system announcement he made Wednesday before his plane took off from Denver to Nashville, Tenn. The night of Talley's death, his sister indicated on Twitter that Talley's colorblindness kept him from pursuing a career as a pilot.
"I am dedicating this evening's takeoff and flight to Officer Talley to help that 'dream' take flight," Andrews wrote. "Tonight we will not only be helped by tailwinds, but by Officer Talley and nine other angels that will guide us eastbound to Nashville."
Though the tone of the memorial at the shooting site remained mostly apolitical at first, by Wednesday anti-gun signs with messages like "ban assault rifles" appeared next to those expressing sorrow, grief and support for victims' families. An illustration of an assault weapon inside a crossed-out circle reading "WHEN?" hung next to a poster reading "Jesus [loves] you" and a pair of teddy bears.
At a special Boulder City Council meeting Wednesday night to honor the attack's victims, members of Colorado's state and federal legislative delegations promised action on gun legislation. Mayor Sam Weaver said he had spoken with President Joe Biden, who offered sympathy and said "he intends to work with us to try and bring change to the laws that govern the weapons that killed the people in our community."
Colorado's Senate Majority Leader Steve Fenberg, a Democrat from Boulder, said the city's legislative delegations are "going to be in lockstep together" to effect change to "make sure that we can prevent the next tragedy from happening."
"Many would say it's too soon to talk about any of that, and I get that and I appreciate that and I respect that perspective," he said.
"Personally — and I said this on the Senate floor yesterday — it's obviously too late. It's not a question about, 'Is it too soon?'"
Meanwhile, in court, the case file for the man accused in Monday's attack shows a judge had already ruled on some of more than a dozen motions filed by the suspect's public defenders within hours of their filing Tuesday, according to documents provided to The Denver Gazette on Wednesday.
Among the motions already denied by Judge Thomas Mulvahill include a request for sequestration of all witnesses the state may have at all hearings and at trial. In his order Wednesday, Mulvahill wrote he would grant sequestration at the time of evidence hearings or trial at the request of one of the parties.
Mulvahill also denied a motion for public defender representatives to attend victims' autopsies, writing the defense does not have a legal right to do so.
A motion for the suspect's defense attorneys requesting access to the crime scene indicates they tried to enter the area Tuesday morning and two Boulder Police Department officers stopped them. They argued they need access to the scene to document it before it opens back up to the public to effectively prepare the defense. That motion hadn't been ruled on as of Wednesday morning. The judge ordered prosecutors to respond by Friday.
Public defenders swiftly objected to requests submitted for expanded media coverage, saying video footage of the suspect in custody is "inherently prejudicial and unnecessary," and calling the extensive public display of his physical appearance "similar in nature to a show up."
Mulvahill approved media photography at the suspect's first schedule court appearance Thursday morning at 8:15 a.m.
The Associated Press contributed to this report.