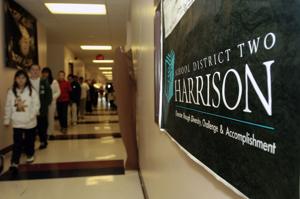 Census Bureau data released last week show the overall poverty rate in El Paso County declined to a 10-year low of 9.9% in 2018, but there continue to be wide gaps between the "haves" and the "have nots," notes a regional economic analyst.
"We are in the longest economic expansion we've ever had, with increases in income not just in the top 1% or 5% tiers but also middle- and lower-income levels. It raises everyone's standard of living," said Tatiana Bailey, director of the University of Colorado at Colorado Springs Economic Forum and an assistant professor in the College of Business.
"But the chasm between the top 5% and the bottom 50% is huge, and we are one of the most unequal developed countries, looking at that metric, of the industrialized world."
As has been the case historically, among the Pikes Peak region's 17 public school districts, those in more affluent areas have the lowest rates of poverty as a percentage of enrollment, and vice versa, according to the new Small Area Income and Poverty Estimates data from the Census Bureau.
Academy D-20 in northern Colorado Springs has the lowest rate, at 5.1% of students ages 5-17 living in poverty. Lewis-Palmer D-38 in Monument has the second lowest, with 5.8%.
At 26.3%, Harrison D-2 has the highest percentage in the region of enrolled students living in poverty. Colorado Springs D-11's student poverty rate is 16.8% of enrollment, but the district has the most students, 6,177 kids, living in poverty.
The Census Bureau uses a set of money income thresholds that vary by family size and composition to determine who is in poverty, said Kristina Barrett, public affairs specialist.
For a family of two adults and two children, the annual income threshold before taxes and not including public housing, food stamps or Medicaid or capital gains was $25,465 for 2018.
The decreasing federal poverty level is "really good news," Bailey said.
El Paso County's overall poverty rate has dropped nearly 4% from a high of 13.4% in 2010, according to the new data, which the agency says provides "the only up-to-date, single-year income and poverty statistics for the nation's 3,141 counties and 13,197 school districts."
But school districts reflect a different story, Bailey said.
Although statewide and regionally, the workforce is robust with an infusion of new employees and those reentering the job market, "The reality is there is still a large chasm between the haves and the have nots in the United States, and the most unfortunate part of that is when you start talking about kids, because it's not their fault," she said.
For all school districts, the median estimated poverty rate for school-age children was 14.9% in 2018.
El Paso and Teller counties fared a little better, with last year's median estimated poverty rate for students ages 5-17 at 12.5%.
Another system of measuring poverty, the federal government's free and reduced lunch program, shows the same pattern of children qualifying for free or low-cost meals at school living in poorer neighborhoods.
Thus, the range of students qualifying for the program runs from 10% in Lewis-Palmer D-38 and 12% in Academy D-20 to 73% in Harrison D-2 and 64% in Cripple Creek RE-1, according to Colorado Department of Education statistics.
"That tells you poverty is geographically highly concentrated, and there's a vicious cycle implicit in that," Bailey said. "When you have poorer people in a region, less is being generated in property taxes, and the schools are getting less money, so you have more teacher turnover, and the schools aren't as good.
"It's one of the many reasons poverty is generational."
Income criteria differ for the free and reduced lunch program, with this school year's threshold being $33,475 for a family of four for free meals and $47,638 for reduced prices. Some school districts, such as Harrison D-2, have such a high rate of students qualifying that every student receives free meals while at school.
The Census Bureau poverty data is used to determine Title 1 funding for schools, a program that funnels additional federal dollars to schools in low-income neighborhoods so they can hire extra staff to help bring struggling students up to grade level.
Teller County's median household income in 2018 was $67,923, according to the new Census Bureau numbers. Teller County's median household income last year was $64,850, where the poverty rate of the population was 7.4%.
Contact the writer: 719-476-1656.