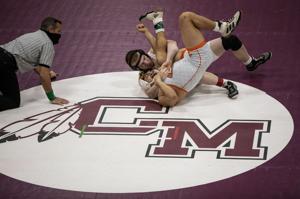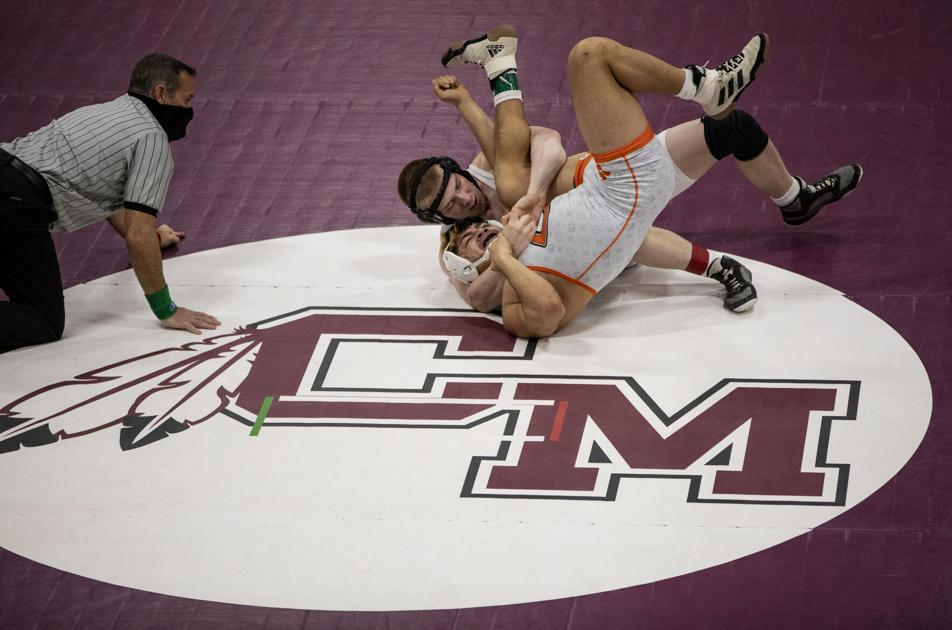 After a strange two-day regional tournament where the lower and upper weight classes were split into one-day tournaments, Cheyenne Mountain came out on top with 253 points for the region championship. Lewis-Palmer placed second in the team standings with 150 pounds, followed by Coronado (131) and Mesa Ridge (123).
Cheyenne Mountain will also send 11 wrestlers to the state tournament next week, a testament to the team's strength and depth in a year where only the top two wrestlers in each weight class qualify.
"The guys are putting it all on the line and leaving it all on the mat," said Cheyenne Mountain coach Tyler Seaney.
Last year Cheyenne Mountain placed sixth in the Class 4A team standings at the state championships with 10 qualifiers.
"We have a great team chemistry and we know there are a lot of tough teams in 4A, and we know we compete in one of the deeper classes in Colorado," Seaney said, "so we know we have to have a repeat weekend in order to make it a state championship."
On day two of region competition, Cheyenne Mountain brought home back-to-back-to-back championships. Soren Herzog pinned his 182-pound opponent in 1:42, followed by a quick 39 second pin by Nico Gagliardi for the 195 pound championship. At 220 pounds Jake Boley followed with a third-period pin for another region title.
"As odd as it is, I always feel like you can build momentum with your team, and I think in that moment kids feed off each other," Seaney said.
Mesa Ridge sophomore Matthew Moore claimed the Region 4 heavyweight title, pinning Cheyenne Mountain's Jesse Boley in 2:45. Moore enters the state tournament as the top-ranked 4A wrestler at 285 pounds.
Boley, who weighs in under 200 pounds has wrestled up to heavyweight all year, and Seaney said he is ready for a run in the state tournament.
Zach Johnson, who lost in the 170-pound quarterfinals, worked his way through the consolation bracket to place third, and won a wrestleback match to qualify for the state tournament.
In addition to Saturday's five qualifiers, Herzog, Gagliardi, Jake Boley, Jesse Boley and Johnson, Cheyenne Mountain's Nicholas Grizales (126), Chase Johnson (132), Grant Kunkel (138) and Raife Manjarriez (145) won region championships Friday. Patrick Ransom (120) placed second to qualify, and Dominick Padilla won a 133-pound wrestle back to punch his ticket to the state championship.
Coronado's Mitchell Nowlan, the top-ranked 170-pound wrestler in Class 4A, won the region championship after a dominant performance through the bracket. Following a first-round bye, Nowlan pinned his quarterfinal opponent, Zach Johnson of Cheyenne Mountain, in just 36 seconds. He then pinned his semifinal opponent in 4:37 before putting Armstrong Zaw on his back in 1:44 for the region championship.
Nowlan leads a deep class of 4A 170-pound wrestlers stacked with Pikes Peak region talent. The senior moved to Colorado from Minnesota and is getting his first taste of Colorado wrestling. He's thankful to finally be competing in tournaments with top talent.
"I'm expecting everybody to come for my head because I am from Minnesota, I'm out of state, and most people don't want to see an out of state kid come in and win," Nowlan said. "But I expect to win state, knock on wood."
Nowlan will compete in the state tournament along with teammate Ben Nagel, who won the 152-pound championship by fall in 3:18 over Zander Alirez of Greeley Central. Nagel, who is undefeated heading to state, had a quarterfinal win in 31 seconds, and pinned his semifinal opponent in 2:48.
Vista Ridge's Max Coddington made it to the 160-pound region final, but fell to Thomas Jefferson's Isaias Estrada.
BOYS' WRESTLING
5A Region 1
At Pomona: Rampart's William Plummer qualified for state at 152 pounds but fell to Maximus Brabson of Fort Collins in the championship 7-0. After a first-round bye Plummer pinned his second-round opponent in 1:53 before earning a third-period pin in the semifinals.
Michael Byers of Pine Creek made his way to the region finals at 160 pounds with a second-round pin in 1:49 and a close 3-2 victory in the regional semifinals. Byers was pinned by undefeated Gage Bernall of Pomona in 2:47 for the championship.
Undefeated Draygan Colonese of Pine Creek retained his undefeated record and collected a region championship at 170 pounds with a close 1-0 victory over Jacob Judd of Pomona for the title. Colonese pinned his first 170-pound regional opponent in just 18 seconds, and earned a semifinal win by fall in 1:05 to punch his ticket to the 5A state tournament. Colonese is a returning state finalist looking for another shot at a 170-pound state title.
Pine Creek's Jace Graves collected two pins on the way to the 182-pound region championship match, where he handed Roman Cruz of Pomona his first loss of the season with a 6-3 decision for the title.
Rampart's Dalcon Slaughter opened the 220-pound region tournament with a bang, pinning his first-round opponent in just 11 seconds. He then earned a pin in two minutes to solidify his place in the region championship and the 5A state tournament next week. Slaughter ultimately fell to top-seeded Franklin Cruz of Pomona in 31 seconds in the championship bout.
4A Region 1
At Pueblo West: Falcon's Aydin Rix McElhinney made it through regional competition with his undefeated record intact and a Region 1 championship in hand. Rix McEelhinney claimed an 11-4 decision over Micah Duran of Pueblo West for the 160-pound championship. Prior, Rix Mcelhinney earned two pins on the way to the region finals.
Josiah Aldinger of Falcon earned a first-round pin in 42 seconds, and followed it with a semifinal win by fall in 1:28 for a spot in the 170-pound region final to face Hayden Crosson of Pueblo West. Aldinger was handed his first loss of the season in a close 2-0 battle with Crosson for the championship. Crosson retained his undefeated record.
Falcon's Ryan Patterson became a region finalists thanks to a pair of decisions in the quarter and semifinal rounds. The 182-pounder faced undefeated Xavier Freeman of Pueblo West, who pinned in him 3:32 in the region championship match.
4A Region 2
At Discovery Canyon: Dylan Ruane of Discovery Canyon went through the 170-pound region bracket 4-for-4 with four pins on his way to a region championship. Ruane, a senior who entered regionals with a 10-1 record, pinned his first-round opponent in 46 seconds. He won his next two tournament matches in 2:51 and 1:36 respectively before taking on undefeated Anythony Sanchez of Battle Mountain, who was undefeated entering regionals. Ruane pinned Sanchez in 1:38 to conclude a dominant regional performance.
3A Region 4
At James Irwin: Emmett Wolfe of Manitou Springs won the 160-pound region championship in sudden victory (12-10) over Kyler Rusin of The Classical Academy. Wolfe entered regionals with just one loss, earned a first-round bye and pinned his next two opponents in 1:01 and 2:24, respectively. Likewise, Rusin dominated through the 160-pound regional tournament with a 10-0 major decision in the first round, followed by a 19-4 tech fall in the region quarterfinals. Rusin, a senior, earned a pin in 2:51 in the semifinal round to qualify for the state tournament before falling to Wolfe in sudden victory for the region final.
At 170 pounds TCA senior Brendan Carroll earned a first-round pin in 59 seconds before winning by major decision (19-5) in the semifinals to earn a spot in the 3A state tournament. Carroll fell to Tanner Baumgartner of Weld Central by major decision (14-4) in the region final.
Top-seeded 182-pounder Jacob Hustoles of James Irwin won the region championship, pinning Anthony Martinez of Lamar in the finals. Hustoles had a pin in 44 seconds in the second round and a 15-2 major decision in the semifinals to punch his ticket to state. James Hustoles, an undefeated heavyweight from James Irwin, also became a region champion at 285 pounds with a close 2-0 decision over Valley's Aidan Trujillo.
Woodland Park's Adam Garner, who entered the tournament with one loss, collected a pair of third-period pins to qualify for the state tournament and battle for the region championship. Ultimately Garner fell in the final match 6-2 to Weld Central's Braden Baumgartner, who also had one loss.
Top-seeded 220-pounder Tanner Eide of TCA earned a last-second pin — literally — for the region championship, pinning Zayne Stam of Weld Central in 5:59. Eide, a sophomore, pinned his semifinal opponent in 1:20 to reach the title match.
2A Region 4
At John Mall: Peyton's James Brown won the Region 4 152-pound championship with an 8-2 decision over Chris DeLuca of Buena Vista. He pinned his first-round opponent in 1:39, and won by fall in 2:51 in the semifinals to punch his ticket to the region title match and the state tournament.
Peyton claimed another region title as Zak Cobb won 8-2 over top-seeded Wyatt Vigil of John Mall in the championship bout. Cobb won his semifinal match by fall in 1:48.
GIRLS' WRESTLING
Region 2
At Coronado: Victoria Guinard of Doherty won the 136-pound region championship, pinning Taylor Miess of Chatfield in 2:44. Guinard defeated top-seeded Samantha Krause-Mahan of Calhan in the region semifinals with a 7-4 decision to qualify for the state tournament and battle for the region championship at 136 pounds.
Krause-Mahan won her first consolation match with a third-period pin to qualify for the state tournament. She faced Jemima Miranda of Dolores Huerta in the third-place bout, where she lost 6-2 to finish fourth in the region.
Aspen Barber, who had one loss entering the region tournament, collected three pins on the way to the 147-pound region final, but she fell to undefeated Kierstin Myers of Olathe in the region championship.
Alison Evans, a 147-pound freshman from Mesa Ridge, lost in the quarterfinal round, but won her next consolation match with a pin in 1:22 before defeating Molli Pinello of Douglas County in the third-place match. Evans pinned Pinello in 4:08 to take third and qualify for the state tournament.
Calhan's Taylor Knox upset top-seeded Blythe Cayko of Eaglecrest with a third-period pin in the region semifinals on the way to claiming a 185-pound region championship. Knox defeated Chatfield's Isabel Garcia, who was undefeated by a 14-5 major decision.
The 215-pound region championship featured two Pikes Peak region wrestlers, with Calhan's Ciara Monger claiming the region title with a pin in 4:42 over Vista Ridge's McKenna Reynolds. Both entered the finals undefeated.
RaeAnna Bristow of Mesa Ridge and Doherty's Marieta Ielu also qualified for state at 215 pounds. Bristow pinned Ielu in 1:14 to take third in the region.