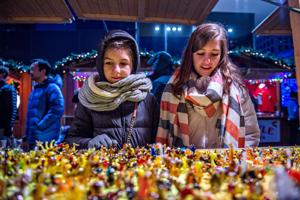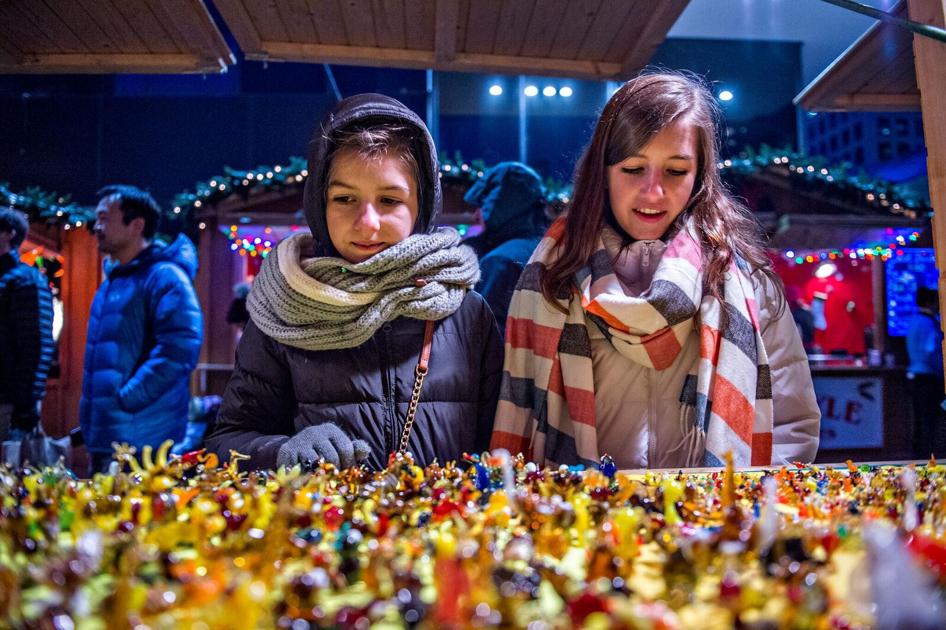 Denver Christkindl Market
When: Opens 11 a.m. Friday, 11 a.m.-7 p.m. Sunday-Tuesday, 11 a.m.-9 p.m. Wednesday- Saturday, through Dec. 15; 11 a.m.-4 p.m. Nov. 28 (Thanksgiving), 11 a.m.-9 p.m. Dec. 16-23
Where: Skyline Park on 16th Street Mall and Arapaphoe Street, downtown Denver
Price: Free; christkindlmarketdenver.com
Picture this: You're sipping on Glühwein (mulled spiced wine) and snacking on Bavarian style pretzels while shopping for something special for someone special in your life. This could easily be you at the Christkindl Market.
There's more than that in store when the traditional European market, put on by the German American Chamber of Commerce Colorado Chapter, returns to downtown Denver for a 19th year. Along with offering Bavarian-style beer, European coffee, hot chocolate and food such as German sausages and dumplings, the market is home to artisans based in Colorado as well as those hailing from Europe selling holiday gifts and treats.
You'll find live entertainment each day at the festival, including performances by The Denver Philharmonic Orchestra, German polka musicians, and a bluegrass band.
Camp Christmas
When: Opens 10 a.m. Thursday, 10 a.m. to 8 p.m. Sundays and Tuesdays-Thursdays, 10 a.m. to 10 p.m. Friday-Saturdays through Jan. 5
Where: The Hangar at Stanley Marketplace, 2501 Dallas Street, Aurora
Price: Tickets, $8, are available at denvercenter.org, 303-893-4100 or at the Helen Bonfils Theatre Complex box office.
If you're easily bored by visits with Santa or annual tours of neighborhood Christmas lights, then you might be ready to take your holiday celebrations up a notch this season.
Cue "Camp Christmas," a 10,000-square-foot indoor and immersive art installation that imagines Christmas in different eras, from ancient Rome to the Victorian era to disco.
The new holiday experience comes from the brain of artist Lonnie Hanzon in collaboration with the Denver Center for the Performing Arts. Hanzon, a Colorado-based installation artist, is behind the sculpture "Evolution of the Ball" at Coors Field.
The theatrical and time-shifting "Camp Christmas" will show patrons what it would be like for Marie Antoinette to command a Rococo sleigh and what pink would look like if it was a place. Oh, and there's also a Santa-themed tiki bar.
Winter Lights Celebration at Seven Falls
When: 10 a.m. to 8 p.m. Saturday
Where: The Broadmoor Seven Falls, 1045 Gold Camp Road
Price: Tickets are $15.50 for ages 13 and up, $12.75 for seniors and military, $9.50 for kids ages 2-12 and free for kids under 2. Tickets available at The Broadmoor Seven Falls ticket booth.
Parking: Patrons must park at 1045 Lower Gold Camp Road.
When the winter lights come back to Seven Falls, you know what that means. It's officially the holiday season. During the fifth annual event, festivities include visits with Santa and Mrs. Claus and Santa's reindeer, plus holiday treats and hot chocolate. Kids can write letters to Santa and participate in the Elf Scavenger hunt. Stick around until 5:30 p.m., when the multicolored Seven Falls lights will be illuminated. Some of the proceeds will go toward The El Pomar Empty Stocking Fund and the Springs Rescue Mission.
Other events
• Own Your Own Art Sale and Holiday Exhibit, 4-6 p.m. Wednesday preview for Arts Center members; opens to the public at 11 a.m. Nov. 29, 11 a.m.-4 p.m. Wednesdays-Saturdays and noon-4 p.m. Sundays through Dec. 29, Sangre de Cristo Arts Center, 210 N Santa Fe Ave., Pueblo, $8-$10 and children 2 and under get in free; sdc-arts.org
• Winter Gift Market Denver Botanic Gardens, Denver, 4-8 p.m. Thursday, 9 a.m. to 6 p.m. Friday-Saturday, Denver Botanical Gardens, 1007 York St., Denver. Free; botanicgardens.org