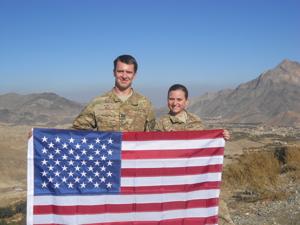 Dana Lyon sought a place to hide.
She picked the wrong destination.
In 2017, Dana departed her house near Austin Bluffs and Rangewood to move to a freshly built home in The Farm development near Interquest and Voyager. She was a widow in deep and constant mourning. Her husband, David, was killed in Afghanistan in a suicide bombing Dec. 27, 2013.
"I was kind of moving away to hide in the shadows," Dana says. "Not that I could start a new life, but so single widow was not in my face all the time."
Her new neighbors refused to cooperate. They asked her to dinner. They drank wine with her. They shared leftovers. They demanded to share, and lessen, her agony and confusion. They cried with her. They laughed with her.
"The hiding was over," she says. "It's been the most amazing gift of friendship."
Her story is a complicated one, full of romance, surprise, triumph and pain. She's one of the most decorated athletes in Air Force Academy history. She arrived at the academy hoping to play point guard for the basketball team but struggled to escape the bench.
She turned her immense will to the track and field program, where she worked with throwing coach Scott Irving.
"I told her after two weeks she would be an All-American," Irving says from retirement in New Mexico. "You could just see it. You could just feel it."
She became a 5-foot-1 powerhouse who twice won NCAA titles in the javelin and missed qualifying for the 2008 Olympics by 2 inches. She serves as throwing coach for Air Force's track and field team.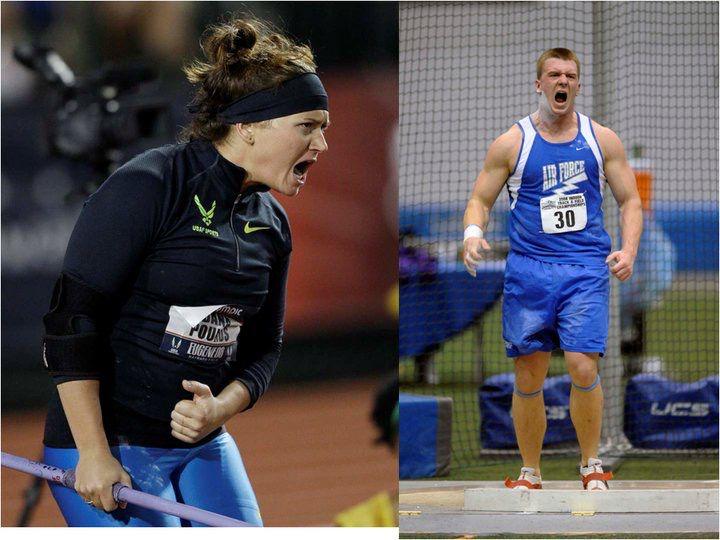 While competing for the Falcons, she met David Lyon, a shot putter who won a Mountain West title. She was talkative. "He was a man of not a lot of words," she says, laughing. She was short. He was a hulking 6-foot-4, 240 pounds.
They formed an intense bond. They loved to shoot guns together, to go on four-wheel-drive adventures, to talk of God's will.
"He let me be me, and he made me a better me," she says.
They married in 2009. Though often separated while serving in the Air Force, they were together in Afghanistan at Camp Phoenix for Christmas 2013. Dana remembers the day clearly. The Lyons worked out together. They ate a Christmas feast of Cornish hen, mashed potatoes and cheesecake. They posed for a photo at the dinner table. They watched Will Farrell prance through "Elf."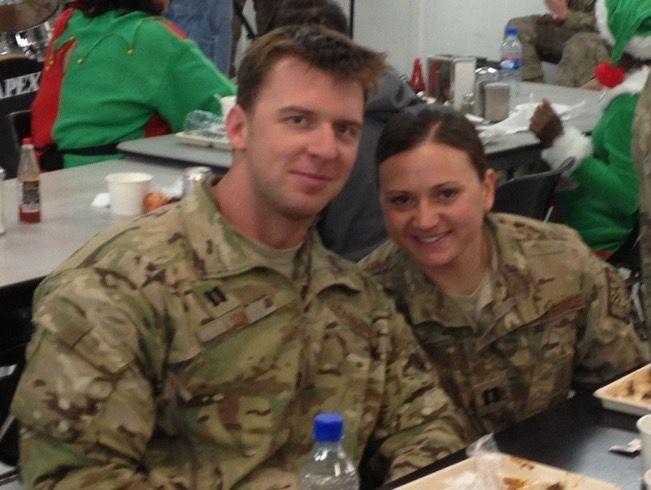 Dana departed the next afternoon. David believed he would return by helicopter to Camp Morehead, his base, but Afghan night fires left the sky black with smoke. He spent the night of Dec. 26 in Dana's room at Camp Phoenix.
The next day, David departed in a convoy at 1 p.m. He traveled only a few hundred yards before a suicide bomber attacked his vehicle. Capt. David Lyon, only 28, was dead.
David, on his final night, covered Dana's tiny room at Camp Phoenix with love notes. He wrote of the many reasons he loved her. He wrote of how excited he was to someday see her as a mother. He wrote of his forever confidence in her as his wife.
The notes are framed by Dana's bed on Foothills Farm Way.
She's honest. The Christmas season, she says, is draining. She remembers the initial shock of hearing David was gone. She remembers returning to America by plane with David's corpse as she slept with her arm slung over his casket. She remembers the first days of looking into a future without the man she so adored and so needed.
"The dark cloud over Christmas," she says.
"It gets you thinking," she says. "It gets you to realize that a lot of people are getting together with family, and we never got to do that. It just kind of turns the knife, I guess.
"I'm trying to find a good time with family, but I didn't want to be relegated at 35 years old to go back to my family. They want to be helpful, but it's not what you dreamed of having."
She was wandering when she moved from the home she and David shared. She thought The Farm would bring solitude.
On a fall day in the early months at her new home, she was raking the front yard. A neighbor pulled up to say hello and asked — well, virtually demanded — Dana come to dinner. Soon, Dana joined a monthly get-together for women in the neighborhood. She expected to find only happy talk at this happy hour, but the conversations were deep and real. The women listened to Dana's story of loss, and nothing was phony in the listening. They wanted to offer aid.
Megan McDonnell and husband John live next door. Their sons Jake and Kyle often play baseball with "Aunt Dana," and whenever Megan prepares homemade chicken and noodles, a big portion goes to Dana.
"You know, Dana takes everything to heart," Megan says. "This is her path and although it might be horrible at the moment, she rises to the occasion and pushes through."
Dana often ends her visits with the McDonnells by saying, "God bless you. I love you."
On Dec. 14, Dana sat with Lisa and Jim Bear and Leith and Aaron McHugh for a long dinner at Big Daddy's, a burger restaurant at the Shops of Briargate. Dana would depart the next day for Christmas break, and the friends talked for two hours.
Dana spoke of the first time she met David, and the last time she saw David. She told her friends, for the first time, of the love notes from her room in Afghanistan.
Soon, her friends were weeping.
"Dana's got that tough exterior, and I love that, but at the same time Dana has this mushy, soft heart that is all about relationship and commitment to the people she loves," Lisa says. "I have an extra special care for her because I know she's still hurting from Dave's loss."
Six years ago this week, a bomb exploded near Kabul and robbed Dana of what she loved the most. She still wonders why a helicopter didn't safely carry her David to his base. She still ponders a future that never will be.
But she thinks, too, of her new friends at The Farm and how they encourage and challenge her.
"They know how to be OK with grief and emotion," Dana says. "They don't tell you the things you should be doing. They know you can live in this mess. They let me know that we're OK in this emotion and we're going to love you for who you are, not because you're the poor little widow. It's like they celebrate who I am, not who I was. They love me for me."
She drives David's massive 2007 Chevy diesel truck, with its 8-foot bed. She used his clothes and military uniform for seat covers, and in the truck's cab she hears his laugh and glimpses the man he would have become, a big guy with a bushy beard laughing as he walks toward her in a battered Carhartt jacket. It's almost as if he's sitting beside her, but it's only almost.
"Life seems to be a constant of highest of highs and lowest of lows," she says.
Ah, so many highs. She drove David's truck 5,000 miles this summer while exploring American wilderness in the West. She savors teaching cadets the secrets of throwing. She's blessed with so many fresh and deep friendships.
In the midst of this complicated joy, she often thinks:
"Dang, I wish David were here.'"