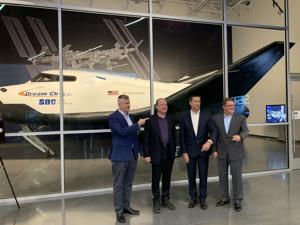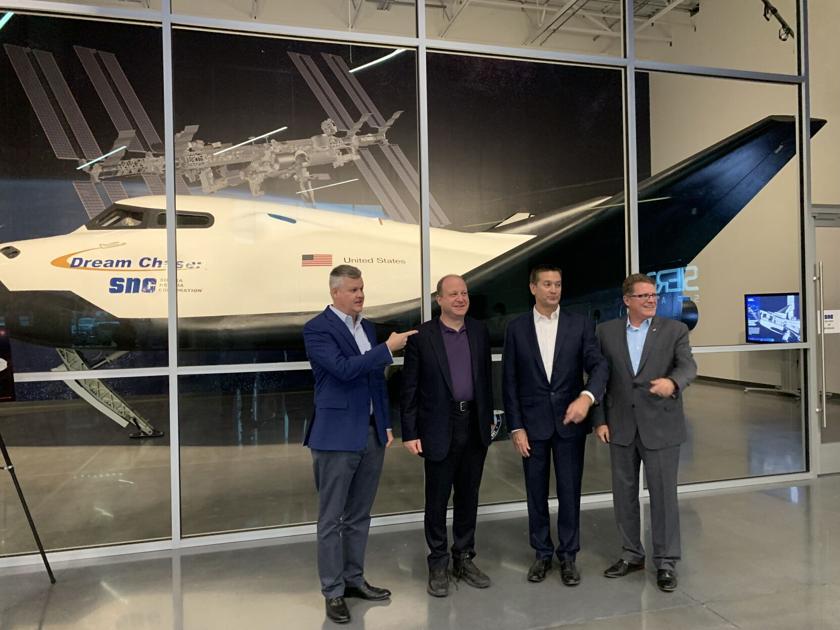 Turns out the service industry isn't the only one experiencing a labor shortage.
Two Colorado aerospace companies Gov. Jared Polis toured Monday are each looking to hire hundreds.
"These are huge opportunities in aerospace, from administrative to engineers, this is an opportunity to grow Colorado's position as a leader in this space," Polis said at Maxar Technologies (NYSE: MAXR) in Westminster. The company is hiring more than 200.
Polis, with Lt. Gov. Dianne Primavera, also visited Sierra Space, formerly of Sierra Nevada Corp. in Louisville on Monday afternoon as part of the administration's "Powering the Comeback" tour of thriving Colorado businesses.
Maxar's CEO Dan Jablonsky showed Polis the robotic arm the company built for NASA's Mars rover and for satellites to work on "orbital services assembly and manufacturing." Maxar has six robotic arms working in space — "more than any other nation," he said.
Jablonsky said the company hired some 600 people to work through the pandemic, and never shut down any operations. It has 1,200 Colorado-based employees, and more than 4,400 company-wide.
When Polis asked how the administration, or state government, could help, Jablonsky said, "Colorado is a great place to be" and noted "how well Colorado works together, among multiple jurisdictions."
"We've got a great ecosystem," Polis said. "We're one mile above sea level, so we're closer to space. It's a natural fit. Whether it's commercial or military, we've become thought leaders."
The company recently delivered the SXM-8 satellite to SiriusXM, the satellite-based radio company, after in-orbit testing. It's expected to last 15 years. Officials showed Polis a 1/8 scale model of its most recent satellite, the WorldView Legion, which can see people, vehicles and road signs from space.
They showed Polis detailed satellite images of Glenwood Canyon, where flooding has closed I-70.
At Sierra Space, CEO Tom Vice and Steve Lindsay, senior vice president of strategy and former space shuttle astronaut, showed Polis a Dream Chaser space craft (which they call a "space plane") under construction and its cargo modular service "shooting star" that burns up upon re-entry.
"Colorado is powering the future of space exploration," Polis said. "This is incredible, the next-generation space shuttle for cargo and people. It's being built right here in Colorado."
The company recently broke off from Sierra Nevada Corp. to become its own entity. It has about 1,200 employees, 700 of which are in Colorado. The company is looking to hire more than 170 more in Colorado.
"We're unlocking a lot of value by putting all our space business together," said Vice of Sierra Space.
More than 290 "direct aerospace related businesses" are located in Colorado, according to stats from the Colorado Office of Economic Development and International Trade. Those businesses employ more than 33,100, with more than $4.3 billion in annual payroll.
Polis' aerospace-focused business tour is in advance of the 36th Space Symposium coming to the Broadmoor in Colorado Springs Aug. 23-26.