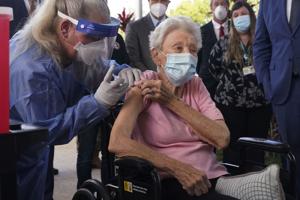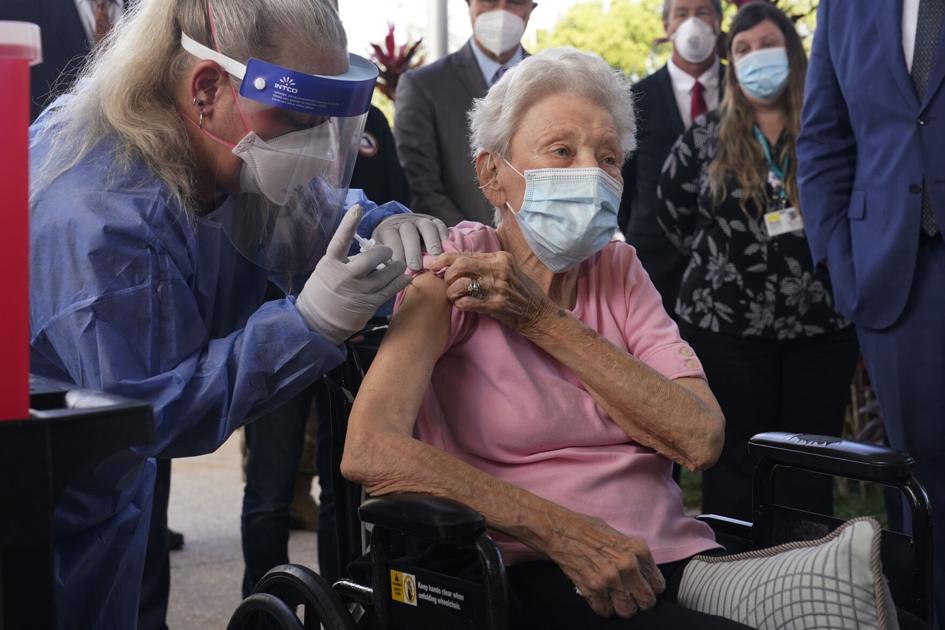 After Gov. Jared Polis' update Wednesday, Coloradans age 70 and up are now a part of Phase 1B of the COVID-19 vaccine distribution plan, joining moderate risk health care workers, first responders and frontline essential workers.
Coloradans age 70 and older represent 78% of all COVID-19 deaths in the state, making it vital for them to receive vaccinations as early as possible. Here's how the vaccination process will work:
When?
Colorado is currently in Phase 1A for vaccine distribution. However, distribution is on a county-by-county basis depending on how quickly counties finish Phase 1A, which includes front line COVID-19 hospital workers and residents and staff of long-term care facilities.
The Colorado Department of Public Health and Environment said it expects the state will finish the majority of Phase 1A by Jan. 15, meaning most people in Phase 1B will begin receiving vaccinations in late January or early February.
In addition, CDPHE said "many people" in Phase 1B will have the opportunity to begin getting vaccinated "in the next few days" as some counties complete Phase 1A early with an abundance of federal supplies.
Specific information about when members of Phase 1B can receive vaccines will be provided when it's available.
Updates for the statewide distribution phase are available at covid19.colorado.gov/vaccine.
Where?
The state is working to coordinate with public health agencies, health care providers, pharmacies and community partners to distribute the vaccine to people in Phase 1A and 1B.
Many in Phase 1 will receive the vaccine through their employer, long-term care facility, local public health agency or enrolled COVID-19 vaccine provider. For those who won't get the vaccine through these options, the state is working to determine additional providers.
In Denver County, officials are currently working to coordinate vaccine distributions for Phase 1A and 1B in local Safeways.
CDPHE said several counties are planning to hold mass vaccination clinics for community members in Phase 1A and 1B. Those plans will be announced at a later date.
CDPHE will publish additional vaccine distribution locations on the state's websites in the coming days and as more locations become finalized.
For more information on vaccine distribution locations, residents can call COHELP at 303-389-1687 or 877-462-2911, Monday through Friday from 9 a.m. to 10 p.m. and Saturday and Sunday from 9 a.m. to 5 p.m.
How?
As the state gets closer to completing Phase 1A around Jan. 15, CDPHE said it will provide more information on the next steps for individuals in Phase 1B.
When residents receive the vaccine it will be free. Medicare, Medicaid and private insurance will cover the cost of the COVID-19 vaccine and uninsured residents will receive the vaccine for free.
Vaccine providers may not turn anyone away for the vaccine because of an inability to pay or medical coverage status.
There are two vaccines available, the Pfizer and Moderna vaccines, which both require two doses. Pfizer's doses must be 21 days apart and Moderna's must be 28 days apart. Both doses must be of the same vaccine.
At the vaccine appointment, patients will receive an FDA fact sheet about the risks and benefits of the specific COVID-19 vaccine being received.
Patients will also receive a vaccination card or printout that says which COVID-19 vaccine they received, the date they received it and the location they received it. The card will serve as a reminder of when patients need to get their second dose.
More information is available on CDPHE's frequently asked questions page at covid19.colorado.gov/vaccine-faq.