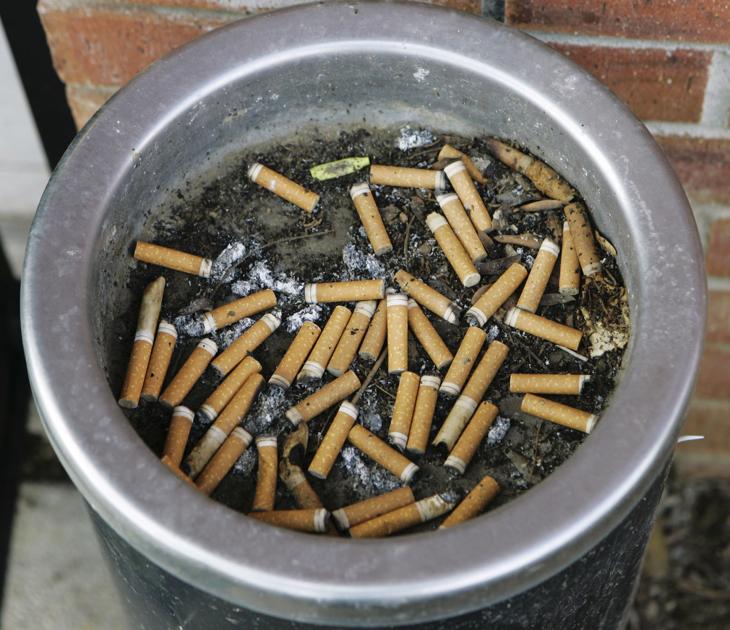 A tobacco tax that couldn't get untangled from last year's legislative session looked pretty wound up in amendments well into Saturday night.
The Senate debated the referred measure to the November ballot, including how to divide up the windfall.
Voters in November could decide whether to raise taxes on tobacco and nicotine products, as well as electronic cigarettes, vaping devices and nicotine liquids. The money will pay for K-12 schools and early childhood education, health care and housing.
Voters will be asked to increase the "per cigarette" tax from 1 cent to 6.5 cents until July 1, 2024, then to 8 cents until July 1, 2027, and 10 cents after that.
That would raise the taxes on a pack of cigarettes from 84 cents to $1.94 next year and ratchet up to $2.84 a pack in July 2027. The tax on e-cigarettes and vaping nicotine liquids, the first on those products, that would start at 10% and increase to 22% by 2027. Other tobacco products would see an increase in taxes from 40% to 62% of the manufacturer's list price.
Simultaneously, the proposed Initiative 292 was already in the works for the November ballot, but the lawmakers referral gives it a green light for a statewide vote.
House Bill 1427 was sponsored in the House by Reps. Yadira Caraveo of Thornton and Julie McCluskie of Dillon, with Sens. Rhonda Fields of Aurora and Dominick Moreno of Commerce City.
The measure referring the question to the ballot passed on a 40-20 vote Friday. The Senate put it to an initial voice vote, meaning it still must pass a roll call in the upper chamber and then return to the House to consider amendments tacked on by the Senate. Monday is expected to be the last day of the session.
A resolution to refer a question to the ballot, however, doesn't need the governor's approval.
Fields said Saturday night that the bill would put $25 million next year, $30 million the year after and $35 million annually after that, as well as put $82 million in the state operating budget and ratchet up from there.
"If the voters approve this at the ballot box this November, it will relieve an incredible amount of stress on the state budget," said Moreno, a member of the legislative budget-writing committee. "It will help us balance it next year. It will mean a variety of programs won't be facing as deep of cuts as they would otherwise."
Most Republicans weren't on board.
"It was argued in committee that this bill is about public health," said Sen. Paul Lundeen, a Republican from Monument. "It was argued this was about public education. What it clearly is, this bill is about creating a sustainable source of revenue and wandering people through the front doors of convenience stores as if they were sheep at a price government controls as opposed to a price those people deserve to be able to pay."
Sen. Faith Winters, a Democrat from Westminster, ran an amendment to steer 10% of the proceeds into housing, including $1.5 million for rural areas.
A similar bill with the backing of Gov. Jared Polis and philanthropist Kent Thiry couldn't get out of the Legislature at the end of the session last year. Statewide ballot questions to raise taxes don't have a record of success in Colorado.
"As a pediatrician, I've seen firsthand how youth nicotine use is devastating the health of our kids," Caraveo said in a statement. "The people of our state should have the opportunity to take meaningful action to reduce our highest-in the-nation youth vaping rates and invest in the future of our children. I'm grateful for the work of so many who came together to craft this proposal and send it to the people for approval."