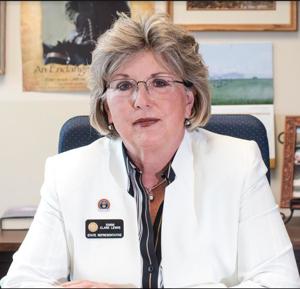 Republican State Rep. Kimmi Clark Lewis of Kim has died after a long battle with breast cancer.
In a statement, the Lewis family said Friday that "With heavy hearts, we share that Kimmi Clark Lewis entered God's Kingdom this morning following her third and valiant battle with cancer. She was at home on her ranch surrounded by family and loved ones. She will be greatly missed by all who knew her. Kimmi was many things throughout her life – daughter, wife, mother, grandmother, sister, rancher, business owner, advocate, devout follower of Christ, and proud representative of her rural district in the State Legislature. But the common threads throughout her time on earth were her strong ties to the land she was born and raised on and her unwavering principles.
"To her constituents, she was their voice in the state capitol; to her colleagues, an inexhaustible resource for all matters related to agriculture and property rights; to her neighbors and community, a resolute and unflagging defender of their rights and way of life; but to us, she was the epitome of a strong, passionate, and heroic American who was committed to her family while faithfully serving her community. Her patriotism, strength, and resolve were unmatched and we pray her character lives on in all of us.
"We sincerely thank all for their prayers and words of encouragement to Kimmi throughout her long and hard-fought battle. She never let cancer hold her back from reaching her goals and the job at hand. We know her memory will live on in the people whose lives she so generously impacted, and in the land and way of life she worked so hard to protect."
Services are pending.
For three years, Lewis represented House District 64, a district that spans nine counties stretching from Washington County in northeastern Colorado to the Kansas and New Mexico state lines. She was first elected to the House in 2016, defeating incumbent Republican Rep. Tim Dore of Elizabeth in the primary. She handily won the general election later that year and re-election in 2018.
Kimmi Clark was born in 1957, the youngest of four daughters of Ken and Jewell Clark, who moved to the Muddy Valley Ranch in Kim when she was a year old.
She and her husband, Dave, whom she married in 1977, bought the 13,0000-acre Muddy Valley from her father in 1992. She and Dave had six children, including twins. He passed away from leukemia in 2000. All six of her children graduated from college; two now operate the family trucking business.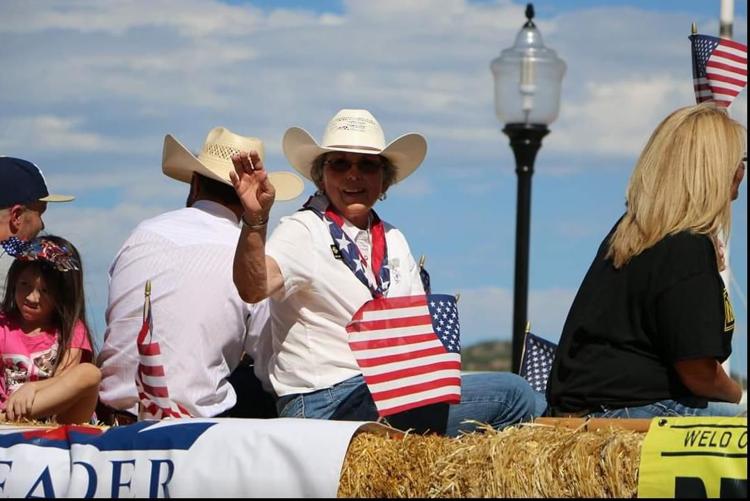 U.S. Rep. Ken Buck of Windsor, chairman of the Colorado Republican Party, said "Kimmi has been a strong advocate for our state's farmers and ranchers. She will be remembered as a treasured member of the community who worked tirelessly to improve the lives of Coloradans."
"My thoughts are with Rep. Kimmi Lewis, her six children and her friends and loved ones today," said Speaker of the House KC Becker of Boulder. "I am saddened and shocked to hear of her passing. Kimmi was an effective lawmaker, a caring teacher and a passionate representative for her community. She will be remembered for her spirit, tenacity, and the results she delivered for her district and rural communities across Colorado. Her legacy will carry on in the halls of the Capitol, in the laws she helped enshrine, and in the memory of everyone who had the privilege to serve alongside her."
House Minority Leader Patrick Neville of Castle Rock said "Our prayers are with Rep. Lewis' family. I have no doubt that Representative Lewis was secure in her salvation and is present with our Lord. Her tenacity for protecting, freedom, property rights and her personal courage is irreplaceable. Her legacy will be that of unmoving integrity and fortitude in the face of all adversity."
Lewis was a fierce advocate for rural Colorado, especially on issues like "country of origin" beef labeling and conservation easements. She also was a leader in the successful effort to fight the Defense Department over its efforts to expand the Piñon Canyon Maneuver Site in southeastern Colorado more than a decade ago. That expansion was canceled due to landowner opposition in 2013.
Lewis was recognized several times for those efforts, including with the La Junta Chamber of Commerce's Agriculture Award and the R-CALF (Ranchers-Cattlemen Action Legal Fund) USA Director's Award.
In a statement, R-CALF CEO Bill Bullard said, "Our U.S. cattle industry suffered a great loss today upon the passing of a true cattle industry champion. … She demonstrated to the entire industry how to succeed on challenging issues by maintaining steadfast resolve, irreproachable integrity and dignity, and professionalism. Kimmi will be sorely missed, not only as a true champion for independent cattle producers, but as a dear friend and colleague to the thousands of R-CALF USA members across the United States."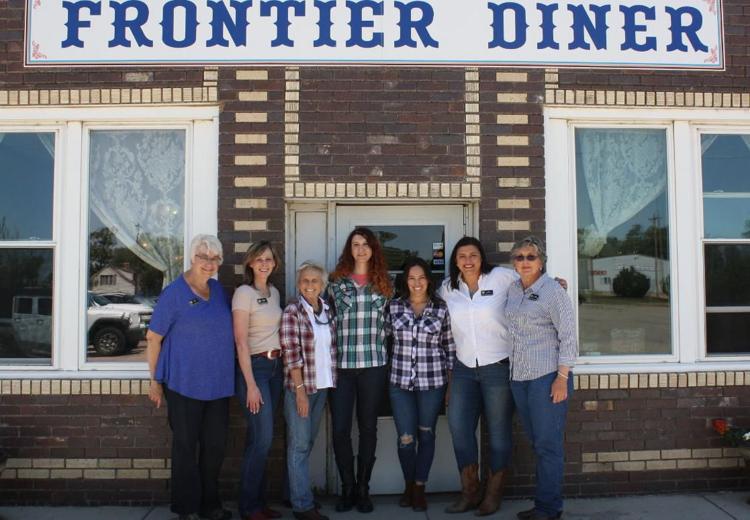 At the time of her passing, Lewis was readying a fight against the reintroduction of wolves in Colorado, which she said would endanger livestock and ranching. She announced in August she would run for a third term in the House.
Erik Glenn, executive director of the Colorado Cattlemen's Agricultural Land Trust, knew Lewis through her passion for fixing the state's conservation easement program.
"Her passion and advocacy on behalf of Southeastern Colorado landowners moved this program forward in a positive way," Glenn said. "She might not have always agreed, but her work led to positive regulatory and transparency reforms. I hope it's a legacy that she can be proud of. She was a force. We need more people with that kind of passion who can move legislation forward.
"Her passing leaves big hole in southeastern Colorado. Our prayers are with the family."
Former Commissioner of Agriculture Don Brown said he admired Lewis' pioneer spirit.
"Everything came from her heart. The agriculture industry will greatly miss Lewis," he said, "who was a tenacious advocate for agriculture. When I worked with her, I always knew where I stood with her and didn't have to read between the lines. I respected her greatly for that."
State Sen. Jerry Sonnenberg, R-Sterling, added that Lewis was "a true patriot, and represented her district and agriculture well." Her advocacy for rural Colorado will be missed at the Capitol, he said.
"I considered her a friend and a fellow spokesperson for those who have been wronged by the government. Kimmi had an incredible work ethic — if you didn't know she wasn't feeling well, you couldn't tell. "She came to the office and worked hard, took chemo treatments and then came back to do more work. Those people are few and far between. My thoughts and condolences go out to her family."
A lifelong Republican, Lewis registered to vote at 18 and in the same year served as an election clerk. She held every office except treasurer in the Las Animas County Republican Party, and served as president of the Trinidad/Las Animas County Republican Women's Club and as chair of the GOP Senate District 2 committee.
She reportedly told a gathering of the Elbert County Republican Party in August that "the people of Colorado, not the politicians, have made this state great, and I will always side with them to protect our rights and expand our economy. Whether it's parental rights, business rights, the freedom of religion, property rights, or the individual rights that our country was founded upon, I will continue to stand with my fellow Coloradans against out-of-control, big-government overreach."
There was no more poignant moment in the 2018 session than on April 17, when Lewis joined Reps. Dominique Jackson and Dafna Michaelson Jenet in the well of the House. Jackson had been targeted the day before by the spokesman for the state GOP, allegedly for sleeping at her House seat. Jackson, who was battling health issues, said she was awake but was suffering ill effects from surgery and side effects from medication (the spokesman later apologized and removed the post).
"There are three incredibly strong women in this chamber," Jackson said. "Three women who have been dealing with cancer or cancer scares. I'm one of them. We come here every day to do the people's work and we do a really good job, all of us. … People don't always know what's going on in other people's lives."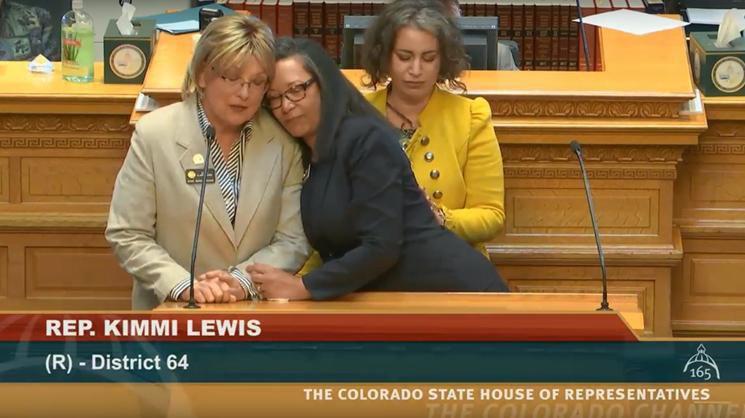 Lewis told the House that day that when she walked in with the wig, after shaving her head with horse-clippers, she told the group she sits with in the House — which she dubbed "Freedom Row" — that "this is my new look. Cost me about $200. Get over it." To Michaelson Jenet and Jackson, she said, "Time to cowgirl up and get through this. … Cancer is big, and the first time I took the treatment, I fought it. Lost my husband to cancer," she said through tears. "God bless you all."
Michaelson Jenet said she and Lewis "had a very special relationship. She was a fighter and I'm sure she fought to the end. She will be deeply missed." Michaelson Jenet added that while Lewis probably didn't vote for any of her bills, "we all worked to make life better in Colorado. She embodied that."
"My heart aches for her loss and for her family," she said.
Jackson said Friday that the "moment was an example for all that we're all human, similar humans. Same fears, same strengths, and we face similar challenges. It was comforting to have two women that I greatly respect standing by my side." She stood up for her community and constituents, Jackson added, and "I respected that."
Lewis' campaign page includes this quote: "In truth, any success we have is not because of me alone. The thousands of citizens like us who get involved and stand up against out-of-control government deserve all the credit."