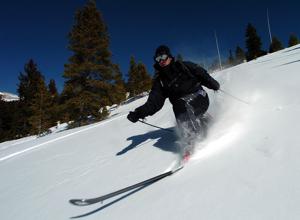 Did you ever think you could ski for free?
If you bring non-perishable food items or cash donations to Monarch Mountain, you'll get a free lift ticket for Monday, Dec. 9.
As part of celebrating the community and the ski area's 80th anniversary, Monarch Mountain is offering free skiing and snowboarding in exchange for the donations. Please note, a day pass is usually $94, so please be generous with your donations.
Fireworks and Christmas morning is how we feel when we announce our SKI FOR FREE DAY! Come celebrate our community and our 80th anniversary Monday, December 9th by donating your non-perishable food items and cash… https://t.co/v5YJNiTvlu

— Monarch Mountain (@MonarchMountain) December 3, 2019
All non-perishable food items will be shared between Salida's Grainery and 1st Presbyterian Church food banks. Cash contributions will be donated directly to the Boys and Girls Club of Chaffee County.
Monarch Mountain is situated at 10,790 feet on Monarch Pass along the Continental Divide, just minutes from the mountain town of Salida. The high altitude resort, best known for its natural powdery slopes and tree skiing, offers 1,162 vertical feet of diverse terrain for all levels of skiers and riders. The ski season typically runs from late November to early April, with the average snowfall of 350 inches per year. Monarch Mountain is now open seven days a week with the average base depth of snow at 33 inches.