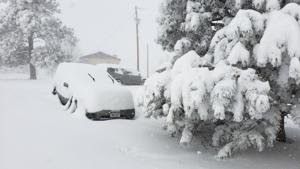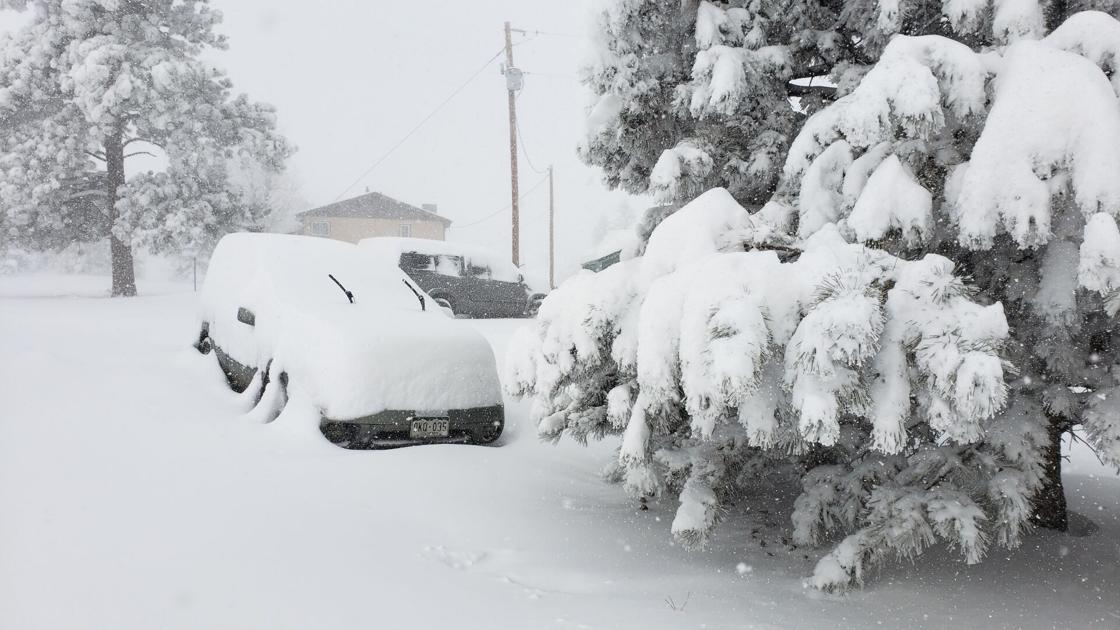 A powerful storm that became a blizzard dropped several inches of snow across the Colorado Springs area, the Front Range and the state on Saturday into Sunday.
The snow let up late Sunday night into early Monday morning, but not before several feet of snow fell in several locations, making for one of the biggest storms in recorded Denver history.
RELATED:
Colorado Springs-area snowstorm delays and key information
Road updates; welcome to melt-off Monday
---
Totals storm varied as reported by the National Weather Service and its trained weather spotters. Not all locations have reporting stations.
Updated: 6:30 a.m. Monday
Air Force Academy: 13.6 inches
Allenspark: 22 inches
Arapahoe Park: 22 inches
Arvada: 28.5 inches
Aspen Park: 26.5 inches
Aspen Springs: 40.3 inches
Aurora: 25 inches
Bailey: 20 inches
Barr Lake: 21.2 inches
Bellvue: 28.5 inches
Bennett: 8.9 inches
Bergan Park: 23 inches
Berthoud: 22.8 inches
Beulah: 9.3 inches
Black Forest: 16 inches
Boulder: 24.4 inches
Breckenridge: 13.7 inches
Brighton: 23.2 inches
Brookvale: 16.3 inches
Broomfield: 24 inches
Buckhorn Mountain: 42 inches
Buckley Air Force Base: 19.5 inches
Byers: 4 inches
Campion: 16 inches
Carter Lake: 9.5 inches
Castle Pines: 20.2 inches
Castle Rock: 15.4 inches
Chatfield Reservoir: 6.5 inches
Cheesman Reservoir: 9 inches
Cherry Creek Reservoir: 26 inches
Cherry Hills Village: 15.3 inches
Colorado Springs: 5-14 inches
Commerce City: 6 inches
Conifer: 35 inches
Crescent Village: 28 inches
Dacono: 11.7 inches
Denver: 19 inches
Denver International Airport: 27.1 inches
Divide: 15 inches
Drake: 17.3 inches
Edgewater: 17.2 inches
Englewood: 24 inches
Elizabeth: 22.5 inches
Erie: 24.5 inches
Estes Park: 22.5 inches
Evergreen: 23.5 inches
Falcon: 12 inches
Federal Heights: 24 inches
Firestone: 23,3 inches
Florissant: 7.9 inches
Fort Collins: 24 inches
Fort Morgan: 5 inches
Foxfield: 9 inches
Franktown: 9.8 inches
Frederick: 23.8 inches
Genesee: 29 inches
Glen Haven: 22 inches
Golden: 25 inches
Greeley: 18 inches
Greenwood Village: 15.4 inches
Highlands Ranch: 15.6 inches
Horsetooth Mountain: 27 inches
Hygiene: 8 inches
Idaho Springs: 18.8 inches
Jamestown: 28.6 inches
Kittredge: 17.2 inches
Ken Caryl: 20 inches
Lafayette: 10.5 inches
Lakewood: 25 inches
Laporte: 18 inches
La Salle: 8.5 inches
Leadville: 10.1 inches
Littleton: 15 inches
Livermore: 25 inches
Lone Tree: 17.5 inches
Longmont: 19 inches
Louisville: 22.9 inches
Loveland: 26 inches
Marshall: 13.5 inches
Mead: 21 inches
Meeker Park: 14.9 inches
Milliken: 9.5 inches
Monument: 19 inches
Nederland: 36 inches
Niwot: 10 inches
Northglenn: 22.5 inches
Palmer Lake: 24 inches (from KKTV)
Parker: 26.5 inches
Peterson Air Force Base: 8.2 inches
Pinecliffe: 35.9 inches
Pine Junction: 11.7 inches
Pinewood Springs: 16.5 inches
Ponderosa Park: 20 inches
Pueblo: 5.7 inches
Pueblo West: 5 inches
Red Feather Lakes: 25 inches
Rocky Flats: 25.5 inches
Rollinsville: 19 inches
Roxborough Park: 22.3 inches
Rye: 8 inches
Saint Mary's Glacier: 30 inches
Severance: 10.7 inches
Shaffers Crossing: 13 inches
Sheridan: 18.5 inches
Silver Plume: 24.2 inches
Sunshine: 11.8 inches
The Pinery: 8.4 inches
Thornton: 22 inches
Timnath: 17.4 inches
Tiny Town: 15 inches
Virginia Dale: 26 inches
Ward: 28.6 inches
Wellington: 18.8 inches
Westcliffe: 10 inches
Westminster: 25.9 inches
Wheat Ridge: 7.3 inches
Woodland Park: 23 inches