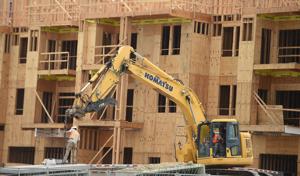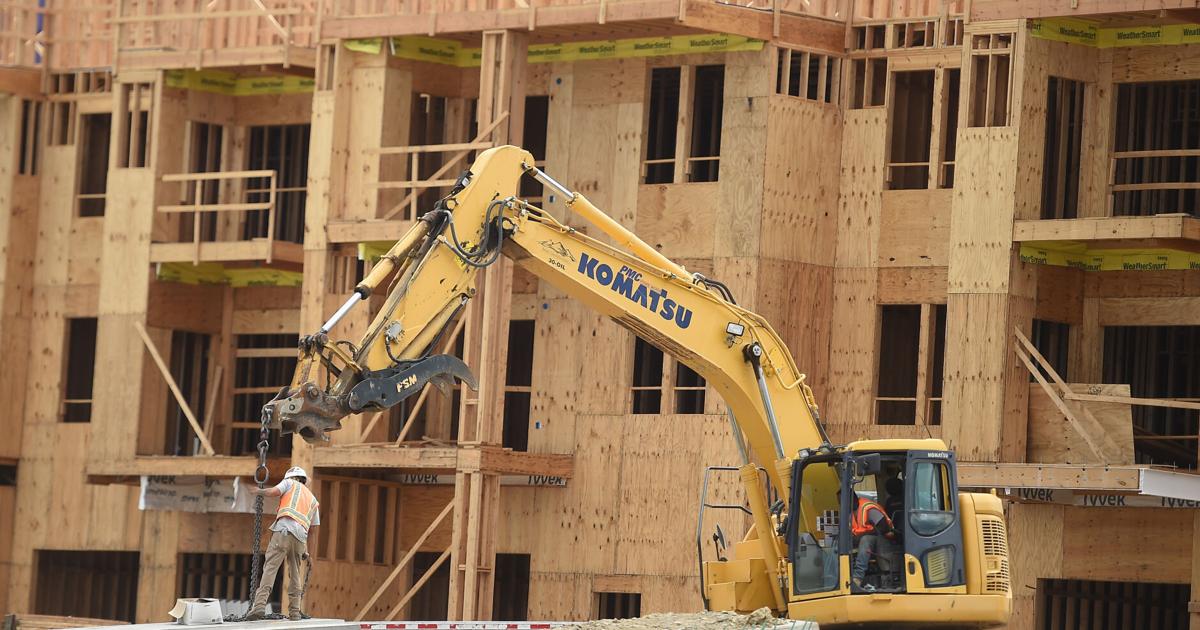 Apartment construction isn't just booming in the Pikes Peak region; it's exploding.
Since the start of 2021 and through the first half of this year, developers pulled building permits to construct 6,937 apartments in Colorado Springs and El Paso County — one of the biggest waves of multifamily development over at least the last 20 years, Pikes Peak Regional Building Department records show.
In fact, developers have planned almost as many apartments in just 18 months as the 6,974 units they proposed during a much longer, five-year stretch from 2016 through 2020, according to Regional Building Department figures. And while it's possible some projects could be delayed or shelved altogether, the final number is sure to be a big one.
"They see a need," said Gary Winegar, investment services president for Griffis/Blessing, the Colorado Springs real estate company that manages thousands of apartments and pulls together investors to buy multifamily projects. "In this market that we're in, and have been in, we didn't build a lot once the Great Recession hit. So, things were slowed down. But our population was growing."
El Paso County's population of 738,000 in 2021 — the majority of whom live in Colorado Springs — swelled by more than 115,000 since 2010, a nearly 19% jump, according to U.S. Census Bureau estimates.
Yet apartment construction hardly kept pace. In 2009, no new apartments were proposed in El Paso County, Regional Building Department figures show. The next year, developers planned just 80 units.
Apartment construction picked up and averaged just over 660 units a year from 2011 through 2015, according to Regional Building Department reports, though industry experts say many of those units filled up quickly as the population grew.
Homebuilding, likewise, also lagged in the years after the Great Recession.
Only 1,105 permits were pulled in 2009 for the construction of single-family, detached homes in El Paso County, followed by 1,404 in 2010 and 1,399 in 2011. It wasn't until 2012 that single-family building permits began to top 2,000 annually.
Sluggish apartment and home construction coming out of the Great Recession contributed to today's housing shortage and failed to keep pace with the Springs-area population and economic growth, real estate industry experts have said. Meanwhile, historically low mortgage rates spurred a furious demand for single-family homes.
Now, apartment developers are catching up in a big way, and they have plenty of reasons to build in Colorado Springs, industry experts say.
Among them: lifestyle choices by today's renters.
Some younger people don't want to be tied to a mortgage, while many empty nesters are choosing to downsize. Renters in general like maintenance-free living and pools, fitness centers, barbecue pits, dog runs and other amenities that come with apartment living.
Other would-be homebuyers, meanwhile, either couldn't qualify for a mortgage or afford a down payment for homes that were escalating in price because of the strong demand for housing and a tight supply of properties on the market.
"A lot of people have been pushed to apartments or delayed home purchasing just because they couldn't afford the entry prices," said Ron Throupe, an associate business professor at the University of Denver, who co-authors a quarterly report on apartment rents and vacancy rates in the Springs and elsewhere.
Now, as long-term mortgage rates have spiked beyond 5%, even more homebuyers might be priced out of the market and will wind up renting, which will create more demand for apartments, experts say.
That demand for apartments and the relative slow pace at which units were built before the last few years helped push rents to record highs, Throupe's reports shows.
In this year's first quarter, Colorado Springs rents averaged close to $1,498 a month, the latest in a string of record highs. Just 5% of apartments were vacant.
When rents rise and vacancies are tight, developers see an opportunity for profit, while some large institutional investors look to apartments and real estate for a safer, less volatile return on their investment, said Winegar, of Griffis/Blessing.
Some developers, he said, have decided there's less risk and more upside in apartments than, for example, constructing an office building at a time when businesses have downsized or reconsidered their need for office space because of employees working remotely.
Colorado Springs also gained an edge with developers over some other markets because of characteristics all its own, industry experts and community leaders say.
Land costs are cheaper in the Springs area when compared with Denver, and developers have taken advantage of that, along with cheaper borrowing costs, to launch projects in the Pikes Peak region, Throupe said.
The Springs also has gained national recognition for its quality of life — and developers have noticed, Throupe said.
In May, U.S. News & World Report gave Colorado Springs its No. 1 ranking as the nation's Most Desirable Place to Live; in a companion report, the magazine ranked the Springs as No. 2 on its annual Best Places to Live list.
Crowne Partners, a national apartment builder with offices in Atlanta and Birmingham, Ala., is one of several out-of-state development companies that have discovered Colorado Springs.
The company is constructing a 285-unit complex along Rio Vista Drive, southwest of Powers Boulevard and Barnes Road, on the city's northeast side. Crowne at Rio Vista, as it will be called, is targeted to open its first units in March, said Alan Levow, a Crowne principal.
The project will be Crowne's second in the Springs; it also developed the 276-unit Crowne at Briargate complex, east of Powers and north of Research Parkway.
Other large, national developers that have or are building multiple apartment projects in Colorado Springs include Greystar Real Estate Partners of South Carolina, Weidner Apartment Homes of suburban Seattle, the Garrett Cos. of Indiana and Continental Properties of suburban Milwaukee.
Levow said he's watched Colorado Springs grow over the years to become a far more attractive market for apartments.
"Colorado Springs, when I first got in the business in the late '70s, early 80s, was sort of a sleepier town," he said. "It wasn't Denver. A little bit of an outpost, it didn't have a very dynamic apartment market."
Now, as some people have sought to move from the East Coast and other areas in favor of working remotely, they're attracted to places such as Colorado's Front Range and Colorado Springs in particular, Levow said.
"They like the lifestyle, the moderate climate, the cost of living and those kinds of things," he said. "So, they are coming out of school, the millennials are looking for a new place to start."
Colorado Springs' military presence, meanwhile, has spawned high-tech jobs, while cybersecurity is a burgeoning local industry, Levow said.
"We think it's become a market that's at an inflection point, where it's going to be viewed differently in the future," he said of Colorado Springs. "It won't be Denver. But it will no longer be a military retirement community or a military town. It will have a stronger economy, more diverse. Its connection to Denver will become even more important.
"We build to own," Levow added. "We think, as a long-term play, Colorado Springs is positive."
But as developers continue their surge of apartment construction, could they risk overbuilding?
Yes, and Levow, of Crowne Partners, said the tipping point might occur within three years.
"We are concerned about an oversupply in the next 18 to 24 months, maybe 36 months," Levow said. "I sent a letter to my investors. "I said, 'Look, I think national developers have figured out that Colorado Springs is a place to look at.' That wasn't the case 15 years ago on any scale at all. Yes, the market, it's going to fall from its current mid to high 90s (percent) occupancy in 36 months. Rents will moderate. There'll be more specials. It's just supply and demand."
Throupe, of the University of Denver, said he can't say for sure if the market might get overbuilt and he first needs to look at more data on population forecasts. But it could happen, he said.
"Eventually, we always do," Throupe said. "Some of it is just because we're so far down the road as far as the process of building, we don't stop. That's essentially how we get overbuilt. We've gotten better the last couple cycles of not overbuilding too much. But it's hard to see the cliff when you're not at it and we tend to go forward anyway."
If there is a glut of apartments, severe rent declines won't necessarily be a sure thing, he added.
"When we do get into a bad economic scenario, it tends to be a situation where we don't have rent crashes," Throupe said. "We have basically rent lulls, where the rent ends up being flat for a series of years. Maybe some (rent) concessions and stuff, so maybe effective rents are down some. But we don't crash. We just level out."