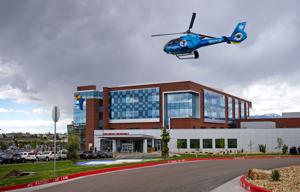 Eight months after opening the 99-room Children's Hospital in Colorado Springs, the pediatric health care giant is launching a series of expansions to accommodate faster-than-expected patient growth.
The expansions will happen by early 2021. They include completing 16 unfinished patient rooms at its hospital on the UCHealth Memorial North campus in Briargate, opening a third outpatient location offering urgent care in the downtown area, expanding its Briargate outpatient and specialty care clinic with 27 additional exam rooms and replacing its Printers Park outpatient clinic with a therapy clinic in Briargate that will offer daytime behavioral health and developmental pediatric services.
The cost of the four projects totals $20 million and increases Children's investment in the Springs area to more than $200 million. The expansions are part of a "strategic vision" that included building the hospital and have been in the planning stages for about two years, said Greg Raymond, Children's chief operating officer for its southern region. Most of the projects expand the hospital's outpatient facilities, reflecting a nationwide trend of treating more patients outside hospitals, he said.
"Since opening our hospital in May 2019, we have experienced significant growth and have realized a tremendous need for specialty and hospital-based pediatric expertise beyond even our own expectations," Margaret Sabin, president of Children's Hospital Colorado's southern region, said Thursday in a news release. "We are humbled to serve more kids and meet the growing needs of our community with the addition of urgent care services that bring a higher level of care closer to children in an area that was lacking specialized pediatric care."
The 8,500-square-foot downtown outpatient and urgent care clinic is expected to open late this year at 421 S. Tejon St. The urgent care clinic is expected to include orthopedics and specialists in ear, nose and throat, digestive issues, cardiology, neurology and diagnostic imaging, the release said. Urgent care services will be available from noon to 10 p.m. Monday through Friday and 10 a.m. to 8 p.m. Saturday, Sunday and holidays.
Children's also plans to replace its Printers Park therapy clinic, shifting services from there and some services at its outpatient clinic at 4125 Briargate Parkway to a new therapy clinic it plans to open in mid-2021 at 2375 Telestar Drive in the Briargate Business Campus. The 25,608-square-foot clinic will offer daytime behavioral health and pediatric developmental services that include audiology, speech and learning as well as rehabilitation, physical and occupational therapy. The clinic will also have a sports medicine therapy gym and outdoor playground recreation area.
Raymond said the hospital is moving the clinic closer to the hospital to reduce travel time for its therapy staff so they can spend more time treating patients.
Children's plans to renovate the Briargate outpatient clinic to add 27 exam rooms — a 25% expansion — that are expected to be completed by midyear and in use by year's end. The project includes completing an unfinished third floor of the 83,463-square-foot building and remodeling office space and clinic space from operations moved to the hospital and the Telestar Drive location. That expansion will allow the hospital to expand its Breathing Institute, gastroenterology, neurology, endocrinology, the Barbara Davis Center for Juvenile Diabetes and a new pediatric dermatology clinic.
The hospital plans to begin construction soon on 16 inpatient beds that were left unfinished when it opened, boosting the number of beds to 115. Children's also is in the design phase of completing three operating rooms and 16 recovery rooms with construction planned sometime in the next 1½ years, based on patient demand, Raymond said. Those projects should meet patient demand for the next few years, but the hospital has room to build a future addition as the area grows, he said.
"The volumes we have seen since opening our Colorado Springs hospital have demonstrated the need for more rooms in the hospital and expansions across a variety of locations," Raymond said in the release.
"With our average hospital capacity at approximately 80% full, we recognize the continued and growing need for high-level pediatric care close to home."
Contact Wayne Heilman 636-0234 Facebook www.facebook.com/wayne.heilman Twitter twitter.com/wayneheilman