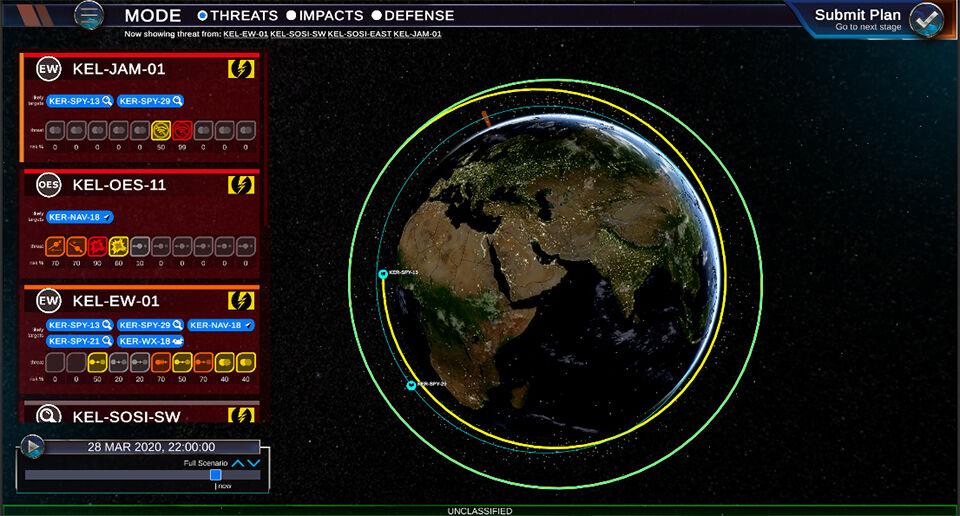 A Colorado Springs defense contractor wants to use a gaming-based training system it developed, with a name chosen from one of Star Trek's most feared villains, to prepare U.S. Space Force personnel for their next assignment.
The Battle Space Operational Readiness Game, or BORG, was designed by Boecore to replace lengthy and ponderous Microsoft PowerPoint slide decks as the primary method of training satellite operators and other personnel for the nation's newest military branch.
The Borg have appeared in several Star Trek episodes, series and movies as a collective, robot-like army that relentlessly attacks and enslaves other species. The name should appeal to the year-old Space Force, which organizes, trains and equips the military's satellite troops and whose Space Operations Command is known as "SPOC" after Star Trek's famous half-human, half-Vulcan Mr. Spock.
"Training doesn't have to be futile," said Patty Bonvallet, Boecore's innovation and technology development director. "BORG helps students assimilate knowledge in an engaging way" — references to the Borg's ominous warning that "resistance is futile; you will be assimilated."
"Training has often resulted in students' eyes glazing over from hours of rote memorization," Bonvallet said. "We are taking gaming methods and psychology, and applying them in a way to make training more engaging. It makes training more intuitive" and visual for students.
Boecore developed the game-based training system with a partner under a series of Department of Defense grants totaling $1.5 million. The grants were used to come up with a more efficient and effective method to train military personnel, where students would retain more of what they learned.
The system was first used with Missile Defense Agency personnel stationed at Schriever Air Force Base just east of Colorado Springs and has since been adapted for potential use by Space Force, said Boecore founder and CEO Kathy Boe.
"We would like to expand this across Space Force for training in orbital dynamics and eventually take it to other units and commands within Space Force," Boe said.
The system allows instructors to create scenarios and requires students to show they understand the objectives of the training and can do it against the clock with a scoreboard that shows which students are learning the most.
The BORG training system is part of a Boecore innovation initiative that also has developed several cybersecurity software platforms designed to help commanders make decisions faster to defend against cyber attacks, and automate mundane and tedious tasks to allow personnel defending military networks to focus their efforts on hunting for hackers.
The first platform, called the Cyber Readiness Strategic Innovation Program, was developed with the Air Force Academy's Cyberworx program, which encourages cadets to find creative solutions for some of the military's toughest problems.
The platform assesses military and national security networks for vulnerabilities to cyber attacks, issues that affect the network's operation and abnormal use of the network and then feeds its results to a dashboard used by commanders.
The platform first will be used by U.S. Northern Command and the North American Aerospace Defense Command — both headquartered at Peterson Air Force Base in the Springs — but could eventually be expanded to the U.S. Cyber Command, the U.S. Department of Homeland Security and intelligence agencies.
Boecore is developing the second platform, called Risk Management Framework Automation Tool, as a subcontractor under an Air Force contract to automate documenting cyber policies and procedures.
The platform also assesses the cybersecurity risk of computer networks and is designed to free up military personnel to focus more on stopping and preventing threats and finding vulnerabilities rather than repetitive tasks like documentation, Bonvallet said.
Revenue generated by the innovation operation was on track to triple in 2020 to $2 million and is expected to double again in 2021 to between $4 million and $5 million, Boe said.
While the initiative is producing a greater share of Boecore's revenue, the size of that share is unknown since the privately held company doesn't disclose its overall revenue numbers.
Boecore launched the initiative nearly five years ago using "agile development" methods to develop software more quickly and efficiently that will help the company win more government contracts.
Those efforts have paid off; Boecore plans to add 100 employees this year to its 275-person work force, or nearly double the staff expansion the company experienced in 2020.
Like many defense contractors, Boecore has mostly avoided hardships caused by the COVID-19 pandemic, adding about 50 staff amid widespread job losses across the U.S. economy. The company, headquartered in downtown Colorado Springs, also recently opened a second location near Interstate 25 and South Circle Drive for testing.
Boecore holds more than 25 Department of Defense contracts, mostly for software development, systems engineering, cyber operations and specialized space and missile defense operations.
The company, which recently celebrated its 20th anniversary, also operates a regional office in Huntsville, Ala., and has other operations in Albuquerque, N.M.; Los Angeles and Washington, D.C.