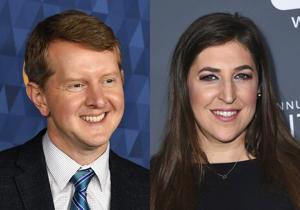 A Colorado Springs resident who became "Jeopardy!" champion Tuesday night had a short stint in the winner's seat after earning second place on Wednesday.
Defending her title on day two, Lynn Di Vito, a retired museum educator, answered 16 questions correctly by the end of Double Jeopardy!, erring on three, and finished in second place after Final Jeopardy! stumped all three contestants.
Ed Petersen, a planning technician from Orlando, Fla., started out with zero dollars after the Jeopardy! Round and climbed to a close second place going into Final Jeopardy! Petersen bet low on the last question and came out on top with $7,999; Di Vito finished with $1,400, and retired lawyer Joyce Sun with $300.
The defeat followed a controversial win for Di Vito Tuesday evening after opponent Ben Chan got one letter wrong in his Final Jeopardy! answer, putting an end to his nine-day winning streak.
Di Vito incorrectly wrote "Romeo and Juliet" to answer the Shakespeare's Characters category: "Both of the names of these two lovers in a Shakespeare play come from Latin words for blessed."
Chan answered Beatrice and Benedict, which host Mayim Bialik deemed incorrect. The correct response was Beatrice and Benedick, putting Di Vito in first place with $11,800, ahead of Chan's $5,199.
"Written responses to the Final Jeopardy! clue do not have to be spelled correctly, but they must be phonetically correct and not add or subtract any extraneous sounds or syllables," states the game show's rules on the "Jeopardy" website.
While "Jeopardy!" fans were displeased with Bialik's ruling and took to social media and other online sites to mount a revolution, Chan went out on a respectful note.
"1: Benedict is incorrect. The character's name is Benedick," he wrote in an online Reddit thread. "… there is no partial credit on Jeopardy! (Yes, I was sooo close!)"