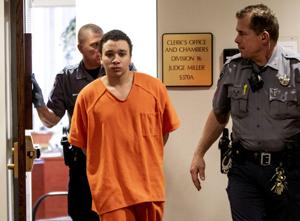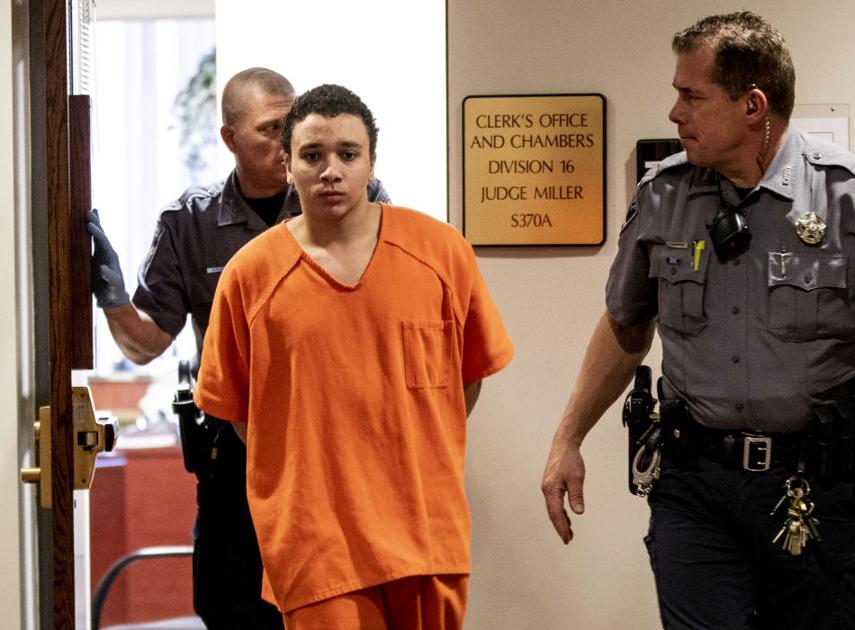 A 22-year-old Colorado Springs man was sentenced to 96 years in prison Friday after he pleaded guilty to fatally stabbing his two younger siblings in their bed nearly two years ago.
Malik Murphy was ordered to serve two consecutive terms of 48 years in prison for second-degree murder after admitting he killed his 7-year-old brother, Noah, and 5-year-old sister, Sophia, in October 2017. If he is released, he would be on parole for five years afterward.
Under the plea agreement, a judge also ordered him to a 16-year sentence, to be served concurrently, for first-degree attempted murder of his father, who authorities say awoke to the screams of his youngest children before disarming his son, saving himself and preventing further attacks.
Before the hearing, about a dozen family members and friends, including Noah's teachers, huddled alongside Murphy's parents outside the courtroom and prayed.
Melissa Murphy gasped and placed her hands over her mouth to muffle her sobs as her eldest son, Malik, pleaded guilty to the killing of her two youngest children.
At the front of the courtroom, she addressed her eldest son with her back toward him. Her husband, Jefferson "Vinnie" Murphy stood next to her with his arm tightly around her shoulder.
"How dare you, Malik, commit the most unspeakable act ever toward your own little brother and sister and father?" she said, her voice wavering. "This sentence of 96 years is most appropriate for you. You do not deserve life outside of prison. You stole Noah and Sophia's life. You kill, you go to jail."
"I believe evil and mental illness is responsible for what Malik did. Malik has a real mental illness that somehow was able to go either diagnosed incorrectly, or diagnosed at all. And it is a terrible damn shame, sincerely," she said.
She remembered her daughter, Sophia, who had recently started kindergarten, as "an easy, sweet little girl" who "made life worth living." Noah, who was killed two months before his 8th birthday, always looked out for Sophia, was witty and "full of life," she said.
She urged society to pay more attention to youths in the community struggling with mental health issues.
"Mental health providers — they need to take much more seriously their role in the lives of not only their patients, but the people that they live with. There is so much wrong with all of this," she said.
According to previous testimony in the case, the night of the fatal stabbings was not the first time Malik Murphy, now 22, had thought about hurting others. Two years earlier, he hid out in a bathroom at his high school in Lincoln, Neb., waiting to strangle the next person who walked through the door.
In court Friday, his mother described him as a "quiet, mild-mannered child" who started to experience issues with his mental health when he was 15. Through his teenage years, he went to mental health counseling, was hospitalized in a mental facility, and for a time, stayed at a group home, Melissa Murphy said.
"I do hope that this is a wake-up call for, number one, the mental health community in this state," said Vinnie Murphy. "That in regards to Malik, that there were professionals there who oversaw their care that we trusted, relied upon on their professional opinion."
"I hope this is also an eye-opener for lawmakers, that just because someone reaches legal age of an adult, that they might not be fully capable for taking responsibility of their care. His mother, Melissa, was extremely hands-on and involved in his mental health care and when he reached adult age, we were cut off from that and things definitely did not get better from that point on," he said.
Malik Murphy's plea comes after more than two years of attempts to prove claims of insanity and that he did not know right from wrong when he grabbed a hunting knife and killed his brother and sister. In March, a state psychiatric evaluation determined that Murphy was "completely sane."
One of his attorneys, public defender Adam Steigerwald, said he didn't think the killings would have happened if not for mental illness.
"That is not an excuse, that is not a defense. … What happened was horrifying, what happened was evil, but I don't believe this to be an evil man," Steigerwald said.
Fourth Judicial District Judge G. David Miller called the murders "the most tragic thing" he's seen in a courtroom. He applauded Vince and Melissa Murphy for their commitment to faith as they experience what he called "incomprehensible pain."
"I don't know what demons possessed you on that occasion," Miller said, addressing Malik, "but it has to be some form of a mental health issue.
"From a positive perspective, you gave closure to your family today and I think that was probably the best thing you could do to provide that closure — as angry and upset as your family continues to be — to bring this to a close is a big first step."
Reach Olivia at olivia.prentzel@gazette.com. Twitter: @oliviaprentzel