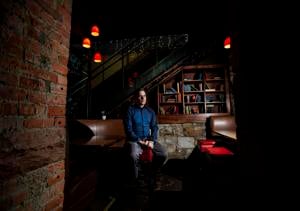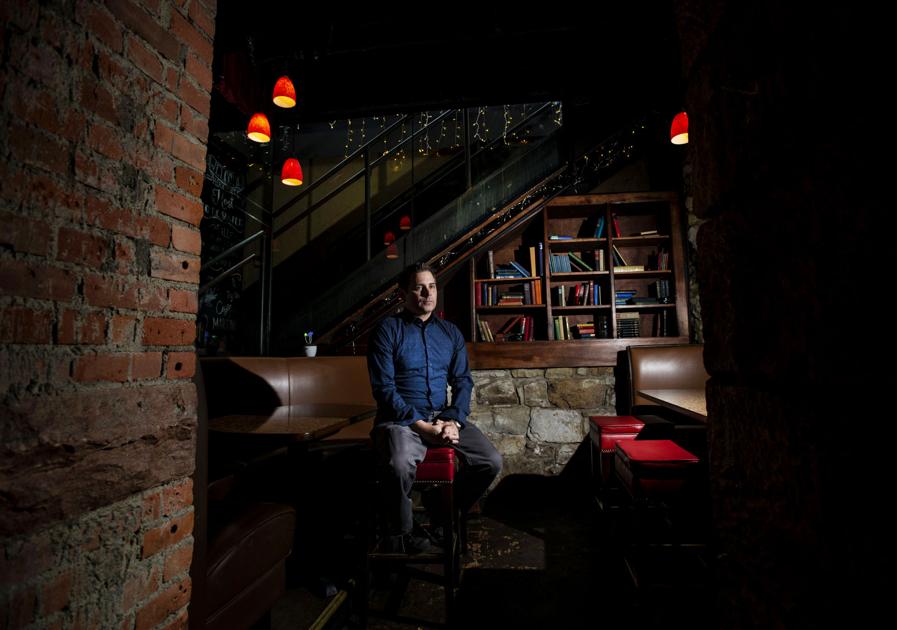 Joseph Campana will be the first to tell you that "90% of restaurants fail in the first three years." But the restaurateur has never let a little thing like that stop him.
At 46, Campana, with more than 30 years' experience bartending and cooking, has amassed a list of themed eateries over the past eight years that include The Rabbit Hole, SuperNova, Bonny and Read, Stir Coffee & Cocktails, Cork & Cask and Shame & Regret. A second SuperNova is scheduled to open in Old Colorado City, and a tiki bar is under construction downtown.
He rules where others have lost their shirts following a dream. But it hasn't all been an uphill sprint for Campana. Memory lane came with its highs and lows.
Early years
Campana was born in Boston, but his family moved to Florida when he was 1.
"So, I'm basically a Florida native," he said. "My mom was a bartender in country clubs. When I was 11, I got a job at one of the clubs in the dish pit."
At 19, he left Florida to return to the Boston area.
"I worked as a cook at dozens of restaurants," he said, "corporate places like Red Lobster, TGI Friday's and Houlihan's."
In his late 20s, a job at Phantom Canyon brought Campana to Colorado Springs. A brief partnership led to the opening of the Metropolitan. After it fell apart, a new partner came along.
"My friend's dad, Jerry Flesher, had faith in me and invested with me to take over the Metropolitan's space," he said. "We called it The Rabbit Hole."
A healthy work environment
It was at The Rabbit Hole where Campana's system for a successful restaurant was born: "The more we do for our employees, the harder they work for us." He strives to create a healthy work environment for his staff, which helps him retain employees.
"My staff has been consistent," he said. "The general manager, Sophie Mark, does an amazing job keeping a $3 million company operational and she just turned 25. The key to a successful restaurant is keeping staff. I think I have a talent for picking the right people and watching the mechanics of how they work."
He offers his staff health care — almost unheard of in the restaurant industry, especially for independent eateries.
"I want a happy staff," he said. "I give my managers three days off in a row a week; they are more productive working four days instead of five. That's huge to have three days off in the restaurant business. I prefer having full-time employees to part time. We don't write schedules either; we give you your scheduled for the year and if you want time off just get your shift covered."
He's interested in helping his employees be financially stable.
"I bring in a financial adviser to talk to the staff about how to handle their money," he said, adding that he also talks to them about saving and not spending money by, for example, dining out. He offers staff 50% off meals at the restaurants where they work and 25% off meals at his other eateries.
"I brought in a Realtor to tell them how to buy a house," he added. "I have more than 20 employees that have purchased houses and five that I have made partners in other restaurants."
"Joe is a family-oriented owner," said Josh Kelly, corporate chef for Campana's restaurant group, who has worked for Campana nine years. "We are much more of a family than employees. Joe develops a personal relationship and investment in all of his employees. He assists in financial planning and housing for all of his employees. Joe has assisted multiple employees in buying their first home. He personally assisted myself and my wife, another great Campana employee, in buying our first home."
Lucas Frye has known Campana more than 21 years. They worked together at Phantom Canyon Brewing Co. He has great praise for his business partner and friend.
"He trusts his people to make good decisions," said Frye, who co-owns Cork and Cast with Campana. "He'll bend over backwards for an employee that needs some help. I've seen him empty his wallet in an instant for an employee that was having a difficult time. If you work hard for him, he'll take care of you. … It promotes loyalty and honesty within the ranks. Combine that with a good work ethic and integrity, and you have a recipe that will be a success more times than not."
As for his own working relationship with Campana, Frye says: "He's a great partner in the fact that he trusts my opinion and lets me operate Cork how I think it should be run. He's always there if I need an opinion or have a problem, but he knows how to not micromanage a place."
Jered Wilkerson, executive chef at The Rabbit Hole for about eight years, finds Campana to be an inspiration.
"Joe impresses me by never giving up even through all his medical ups and down," Wilkerson said. "He always pushes to be an inspiration for his employees. He's the best boss I've ever had an opportunity to work for. He takes care of his staff no matter what in my opinion. The qualities that lead him to his restaurant success is putting the right people in the right spots and always striving to be the best."
Overcoming challenges
Campana said he hit bottom in 2000 after having hernia surgery. "I was 33ish when I was diagnosed with avascular necrosis," he said. "It's a condition of a shortage of blood to the bones. I had double hip replacements. I was out of work for six months and ended up with $100,000 in debt from mounting medical bills. I lost my business, my house, 401(k), savings, addicted to pain killers and then my health failed."
He was determined to get back in the game.
"I was not going out like this," he said. "I started reading self-help books and doing physical therapy to learn to walk again. I worked for a nonprofit and gradually got back to bartending."
Campana has had a third hip replacement, two shoulder replacements and four hernia surgeries. But you'd never know it. He hardly sits still. He is always thinking about his next new restaurant, always asking himself, "What does Colorado Springs need more of downtown? Something that would get 80% of the people in the door."
His next few ideas are authentic Italian or fresh sushi for downtown. His team is waiting on the space for the sushi by next October.
"For sure we need more retail," he said. "Downtown needs an anchor. The soccer stadium is a good start. We need five to six thousand people coming downtown regularly."
Frye would probably say Campana's the right guy for the job, citing his attention to detail on some of the important aspects of hospitality.
"For example, lighting, layout, colors, menu design," Frye says. "He's really good at sizing up a problem and offering instant solutions."
Campana is also good at selecting the right location. He looks at the surrounding area for parking and foot traffic.
"Demographics is key," he said. "And not making a restaurant so big."
And he keeps investing: "Every time I make a profit, I invest in another restaurant. I am excited to be a part of the growth of this funky, lovable town."
Kelly summed up saying, "This is as grassroots as it comes. Twelve years ago, Joe was just a bartender in this town. He employs close to 100 Colorado Springs residents and has turned five of his employees into restaurant owners. There is no corporate backing, he is using his own money for all of this. He has built this on his own."
Culinary community leaders admire and respect Campana too.
"I've known Joe Campana for close to 20 years," said Johnathan Shankland, territory manager for US Foods, a former manager for The Famous Steakhouse and a past vice president of the Pikes Peak Chapter of the Colorado Restaurant Association. "I've always been impressed by his ability to identify the missing piece of the puzzle with the business concepts that he's conceived. None of them are particularly ego-driven or vanity projects. He has a rare ability to see what the public needs, perhaps even before they realize they need it."
Shankland gives a nod to Campana's winning restaurant concepts.
Joe has almost single-handedly raised the bar for dining and nightlife in Colorado Springs, especially downtown. I have a great respect for his success and I'm always excited to hear about his new concepts. He never seems to rest on his laurels, rather always looking for the next exciting opportunity.
Campana's personality impresses Shankland.
"Personally, he's one of most hilarious people that I've ever had the good fortune to spend time with," he said. "Much of his humor is frankly unprintable, but it speaks to his true nature of his good cheer; enjoying it himself and spreading it to others."
Another restaurant veteran, Greg Howard, says much the same about Campana.
"I've known Joe since he moved here from Boston," Howard said, who founded How2Hospitality Consulting, runs the bar and grill at Patty Jewett Golf Course and is the former co-owner of McCabes Tavern. "I hired him as a bartender when I was with Phantom Canyon and I had him as a bartender at McCabes. I've always admired his work ethic. His greatest success is how he takes care of his employees. He's getting ready to open a place across from Tony's on Tejon and he's doing it with one of his current employees. He has helped several employees get set up in their own business. I can say nothing bad about Joe. He's a good man."