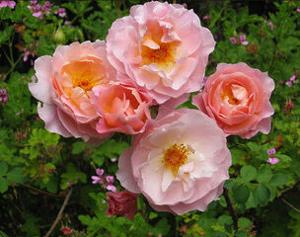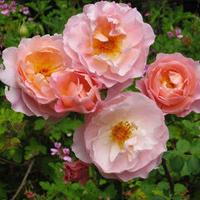 A dozen years ago, Peggy Beasley became a rose person.
Until then, she hadn't given much thought to the popular garden staple, maybe due to its reputation as a notoriously picky plant to grow. But when she met a member of the Pikes Peak Rose Society at the Horticultural Art Society's annual plant sale at its Demonstration Garden in Monument Valley Park, the veil lifted.
"People think roses are difficult to grow," Beasley said. "It's changed completely. The breeding has improved like you cannot believe. And they're going after fragrance now, and disease resistance, which is so important, because people normally think they're fussy and difficult and you have to spray."
Nowadays you can say nay to the chemical spray, and instead use worms and worm castings, alfalfa meal and other natural additions to help build the soil. That's one of the tidbits you might learn at the Pikes Peak Rose Society's free Peaks to Prairies Rose Show June 18-19 at 1515 N. Cascade Ave. At least 1,000 roses from society members, as well as Denver Rose Society members, will be on display.
PPRS formed in 1996 and held its first show that year. The group, now at 46 members, usually meets monthly at East Library. A slide show, lecture or some educational component is often featured.
At 20, Jackson Schram is PPRS' youngest member, an anomaly in the group of mostly older women. He was not a rose fanatic earlier in life, when their thorns constantly drew his blood as he moved them around the California nursery where he worked. But after moving to Colorado Springs and taking a job at Phelan Gardens as manager of product installation, he spent more time with the prickly plant and became a devotee.
"Despite being something a lot of people view as a hard to care for plant, or one that's only for specific people, it's actually for everyone," Schram said. "You just have to get the right one for you. A lot can do great in our soils and temperatures. It can be a good complementary plant to fit in your landscape. It doesn't need to be treated as such a specialty."
Over the past decade, roses have become easier to care for, thanks to a rose breeder named Will Radler, who's known as the father of The Knock Out Rose, a variety prized for its low maintenance and resistance to pests.
"He changed the rose industry," Beasley said. "He realized he had an uncanny ability to recognize different varieties of roses. He could see details. He said I'm going to make them easy and bloom constantly, and started breeding one rose with another and another. He comes up with this rose and now it's all over the nation."
Beasley, a lover of the pink Brick House variety, goes for color and fragrance in her garden, but with more than 3,000 varieties to choose from, there's a rose for everybody's palate. Want a ton of blooms? Done. Want one that perfumes an entire house? Done. What about spectacular foliage? Yep, there's one for you, too.
And you can grow them pretty much anywhere you can get a shovel in the ground. Avoid using too much of the native soil, said Beasley, and use amendments, such as mushroom compost, to fill up the hole alongside the rose bush. You might not even need full sun for your bushes these days, as many varieties now being bred don't require it.
Rugosa rose shrub is Schram's favorite variety.
"They're a tough rose that comes in so many different types, " he said. "Some have high petal counts that make them look like camellias, and others that have less, and look like wild roses. They're really hardy. They do fantastic out here."
Contact the writer: 636-0270