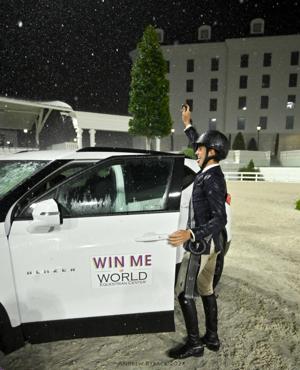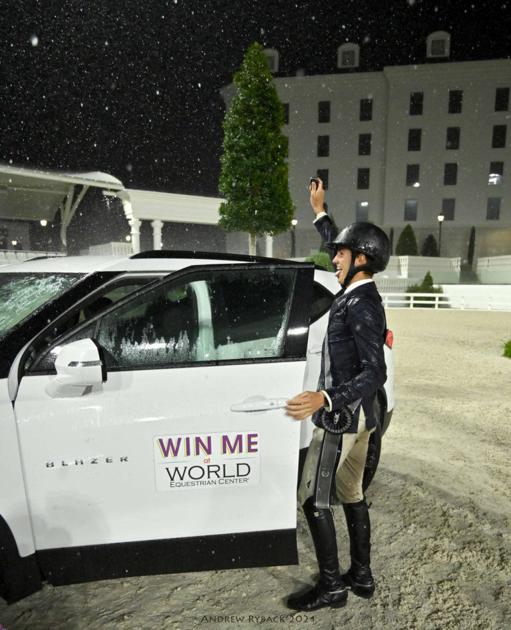 Dominic Gibbs began a show-jumping competition astride his 13-year-old horse. By the end of the contest, he was behind the wheel of a brand new car.
Gibbs, 17, of Colorado Springs, recently won the World Equestrian Center Premier Cup Equitation championship, besting a field of 58 talented junior riders to take the primary spot on the podium in Ocala, Fla.
The prize? A 2021 Chevrolet Blazer.
The victory came just a few months after Gibbs defeated 260 other riders to win the ASPCA Maclay National Championship, the country's preeminent competition for show jumpers younger than 18. Gibbs is the first Coloradan to win the Maclay in the 87-year history of the event.
The Premier Cup win was a stirring victory against elite competition, but it was more than that to Gibbs. And it could not have come at a better time.
"My old car is falling apart," he said of his hail-damaged Mini Countryman. "It's got a lot of miles on it, and it seems like I find a new problem with it every day. So this was unbelievable timing."
Gibbs' trainer, Stacia Madden, won $40,000 — the lion's share of the trainer bonuses, which totaled $100,000.
Gibbs' natural affinity for the sport and impressive string of victories don't mean it's been easy. Show jumping is a highly competitive sport, and he's got some promising young riders nipping at his heels.
One of those riders is 16-year-old Grace Debney of Hampden, Mass., whose nearly flawless final round in Ocala forced Gibbs to raise his game even higher.
"She is fierce," he said of Debney. "It seems like she and I are neck-and-neck in every competition we do together."
Gibbs, who turns 18 in March, is making the most of his final year as a junior rider. Last week, he was able to test himself against some of the best riders in the world at the FEI Hermès U25 Grand Prix in Wellington, Fla. Gibbs did well in his first top-level international contest, but his mother, Erin Gibbs, says a "rookie mistake" cost him a place at the podium.
Still, he managed to place ninth out of 60 entries.
"He was in it to win it," said his mother, a former rider herself. "To finish top 10 and in the money is tremendous!"
While Gibbs enjoys the rush of competition, he is looking forward to taking a break from the road when the current riding circuit wraps up in March. Then he'll be able to concentrate on picking a college. He is currently weighing several scholarship offers.
He'll also have a little down time to relax -– and to take the occasional drive in his new Blazer.
"It's pretty nice," Gibbs said of his four-wheeled prize. "I am just over the moon."