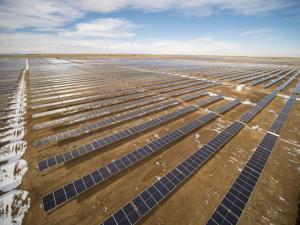 Colorado Springs Utilities Board voted this week to give cost and environmental impact equal weight when deciding on a mix of future energy projects, such as new natural gas generation and solar and wind arrays.
The Utilities Board, a group that also serves as Colorado Springs City Council, approved the priorities for determining the future energy generation and settled on energy reliability as the most important, followed by cost-effectiveness and environmental stewardship as equal priorities. The plans for future energy generation will also be evaluated for flexibility, diversity and innovation.
The board voted 6-3 to approve the criteria. Voting no were Don Knight, Andy Pico and Wayne Williams.
Knight said he opposed giving cost and environmental factors the same weight because it did not align with the survey data showing customers valued cost as the most important factor.
"We are not listening to our ratepayers," he said.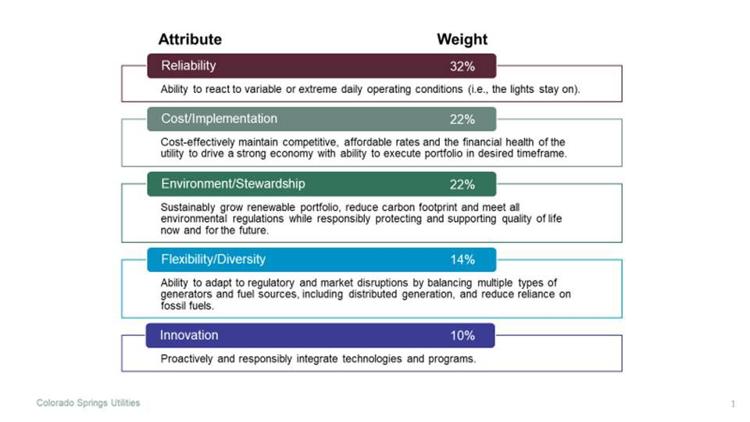 Colorado Springs resident Lindsay Facknitz said she saw the vote as a win because it showed city leaders are listening to residents who have asked the utility to be responsible for its impact on the environment locally and globally.
The falling cost of renewables and the increasing price of coal power have also eliminated the choice between cheap electricity and the environment, she said.
"We can prioritize both cost and environment equally and still have clean, affordable power for our community," said Facknitz, a member of the Sierra Club, a group that promotes clean energy.
Facknitz said she is particularly interested in cleaner air and shutting down Martin Drake Power Plant because her 3-year-old son has asthma and must use an inhaler.
"I am concerned about my son's asthma being exacerbated by poor air quality as he gets older. Just because he hasn't had an asthma attack during a high ozone day doesn't mean it won't happen as he gets older," she said.
Long-time Colorado Springs clean air advocate Lee Milner said he thought the vote could signal support among board members for future energy generation plans that would shut down coal-fired generation at Martin Drake and the Ray D. Nixon Power Plant in Fountain sooner rather than later.
"It's symbolic," he said.
Utilities Manager of Energy Planning and Innovation Michael Avanzi said he expected the new weighting criteria would help energy generation plans that offered flexible, diverse and innovative generation to rise to the top.
A diverse energy mix would rely less on large power plants and more on distributed generation such as solar arrays that could be placed through the community, he said.
Opportunities for innovation could include partnering with businesses and individuals interested in having their own solar panels and providing them opportunities to store their own power in batteries, Avanzi said.
While the newly selected rating criteria will play a role in selecting the future power mix, the board will also consider community input, he said.
The community can comment on five possible visions for future energy generation through an online survey. The options outline dates for closing down the Drake and Nixon power plants.
The survey results will be presented to Utilities Board members in June before they vote on a future energy mix potentially.
The survey can be found at csu.org.