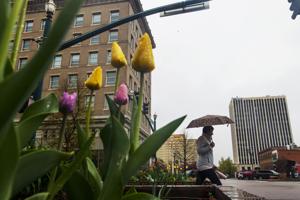 Pikes Peak region residents should prepare for potentially strong to severe thunderstorms Sunday afternoon and into the evening that could bring moderate to heavy rain, hail and high winds to the area, according to the National Weather Service in Pueblo.
Sunday's weather will be part of a stormy pattern that could continue for the next few days.
"There's plenty of low-level moisture that provides the fuel for storm activity," said Makoto Moore, a Weather Service meteorologist. "There is a threat of some larger hail later this afternoon and evening along with potentially damaging wind gusts of up to 60 miles an hour."
Weather conditions could begin to change after 2 p.m. Sunday, and affect Colorado Springs and El Paso County. The storms will begin over higher elevations before moving to the east and northeast, Moore said.
Activity will continue into the evening, though could weaken after sunset, he said.
"Once the sun goes down, you start losing that heating and storm activity starts to diminish," Moore said. "It doesn't mean it's going to entirely end right away, but a lot of times, things start to weaken a little bit, and then the focus area really starts shifting to the east. So you start looking more to the eastern border, moving into Nebraska and Kansas."
Monday could see similar conditions, but with storm activity centered more in the foothills areas on Colorado Springs' west edge and creating the threat of flash flooding in burn scar areas, Moore said.
"Instead of the large hail and wind threat, we can't discount that, but tomorrow our eyes really start turning toward the burn scars and that flash flood potential," he said.
"It's been active and it's going to be an active period here for probably the next three to four days," Moore added. "Just be aware of changing situations outside and just know the potential. There's going to be some storm activity and just kind of keep an eye to the sky."