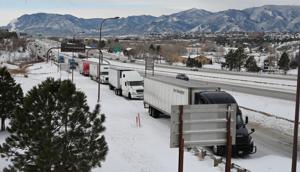 • Refresh this for the latest on Front Range conditions Monday
The Storm: Parts of Colorado saw feet of snow from a winter storm that hit Saturday and roared through Sunday.
Monday is all about melting. With high temperatures in the high 40s across much of the Front Range, ice-bound roads will eventually get slushy then clear up.
RELATED:
Latest snow totals in Colorado
But Tuesday could bring more trouble. Another storm is on the way that will bring mountain snows and could add a top cover to what isn't melted Monday.
2 p.m.: Colorado Springs' plow crews could start plowing residential streets, where six or more inches of snow fell, starting this evening, the city said in a tweet.
11:55 a.m.: A fast-moving system could bring another round of snow to the Pikes Peak region this week.
Between 2 to 4 inches is possible in the Pikes Peak region as rain turns to snow Tuesday night and continues through Wednesday morning, said Kyle Mozley, a meteorologist with the National Weather Service in Pueblo.
More snow is possible along the Palmer Divide, but likely won't exceed five inches based on current weather models, Mozley said. The biggest snow totals are expected in southern Colorado, near the New Mexico border, where between 10 inches to a foot of snow is possible, he said.
11:30 a.m.: The National Weather Service's official snowfall report says Woodland Park received 23 inches of snow from Saturday into Monday. But between 2 feet and 3 feet of snow fell in parts of Teller County, said commissioners who rode along with plow crews, which ran day and night shifts to clear roads.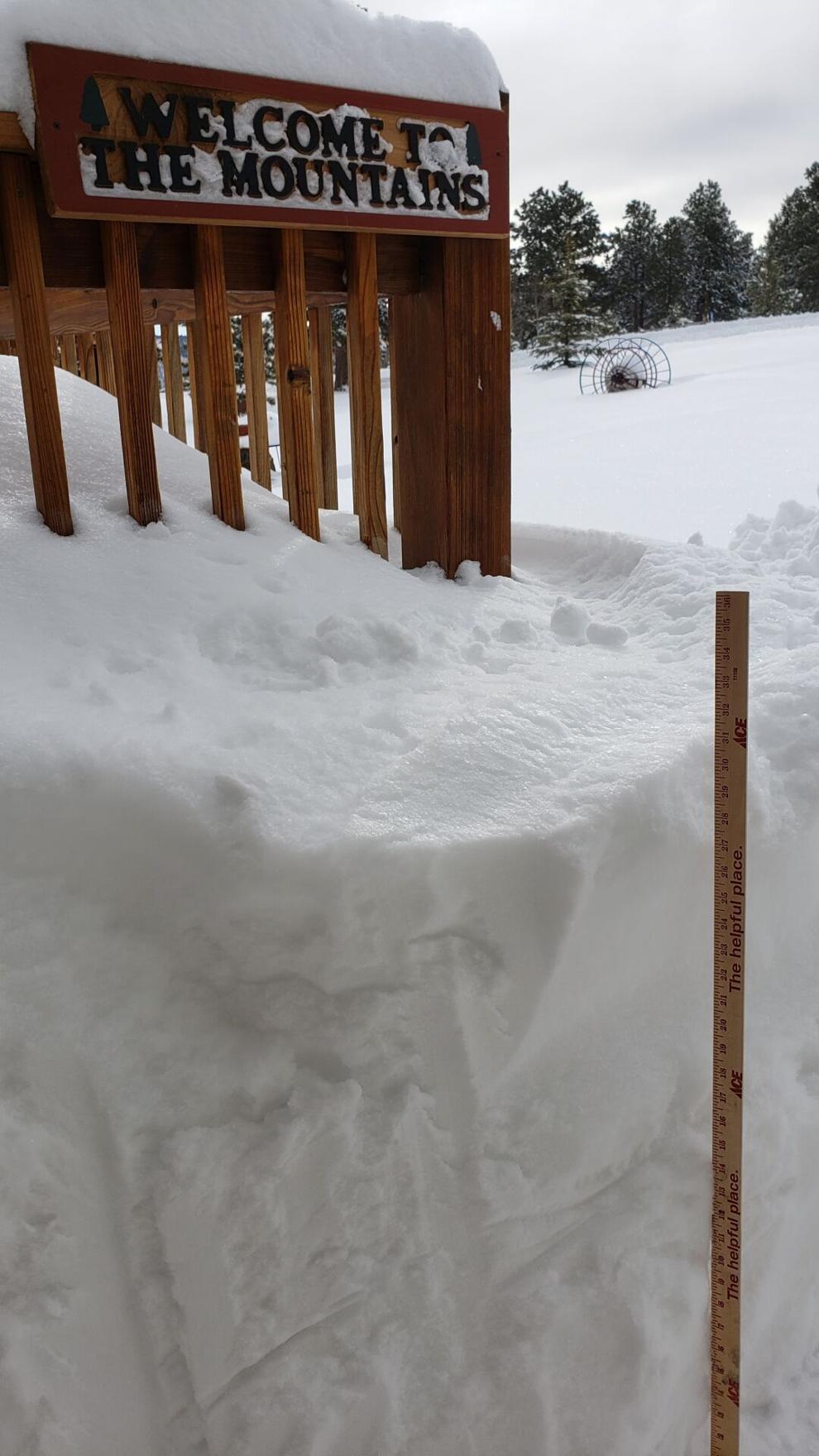 The Teller County Sheriff's Office responded to many vehicles that slid off the roadways and got stuck, said spokesman Lt. Wes Walter. There were no serious rescue situations reported, he said, and the county did not request assistance from the National Guard.
County law enforcement owns a fleet of snowmobiles that are dispatched as needed during severe weather, Walter said. They were not activated during the weekend storm, he added.
Ute Pass and Highway 24 West were kept open, although "it was slow going," Walter said. A steady stream of cars thought to be skiers returning from the slopes crawled along the highway on Sunday, he said.
Residents were shoveling and plowing their properties Monday morning, as the skies cleared, the sun came out and the snow started to melt.
More snow is forecast for Tuesday, with 1-3 inches predicted for Teller County.
9:05 a.m.: Your mail may be delayed today as some mail carriers are unable to access their routes due to road closures in the Pikes Peak region, the U.S. Postal Service said. Delivery will resume when it becomes safe to do so. Customers who want to pick up their mail at the post office must bring a photo ID.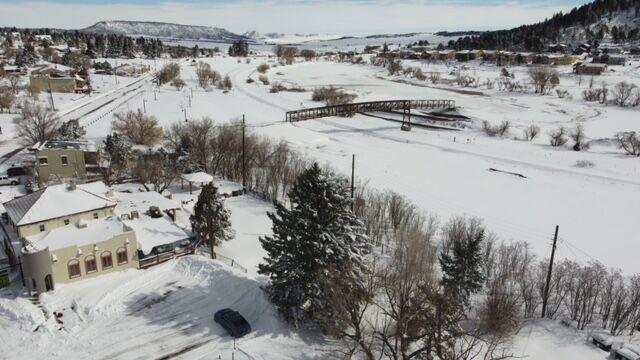 9:00 a.m.: All runways at Denver International Airport will remain closed until 2 p.m. No flights will arrive or depart before then, while crews continue to treat the runways for ice and snow. Some flights Monday at Colorado Springs Airport also are canceled Monday. Click or tap here for the latest Colorado Springs flight updates.
All runways will remain closed until 2 p.m. today – no flights will arrive or depart before that time while crews continue to treat the airfield for ice and snow. If you're scheduled to fly into or out of DEN today, check your flight status with your airline pic.twitter.com/I5z4Kt9jii

— Denver Int'l Airport (@DENAirport) March 15, 2021
8:45 a.m.: Highway 83 is open in both directions.
8:20 a.m.: Peterson Air Force Base and Cheyenne Mountain Air Force Station will open two hours late today for all non-mission essential personnel. Schriever Air Force Base is closed to all personnel.
8:15 a.m.: Southbound I-25 between Castle Rock and Briargate Parkway is now open. U.S. 24 opened Monday morning from Colorado Springs to Calhan.
8:00 a.m.: Several major roads in Colorado Springs and along the Front Range remained closed:
– Northbound Interstate 25 between Interquest Parkway and Castle Rock
– Southbound Interstate 25 between Castle Rock and Monument
– U.S. 24 in both directions from Calhan to Limon
– Colorado 94 in both directions from the Space Village area of east Colorado Springs to Limon
– Colorado 105 in both directions from Monument to Sedalia
– Colorado 83 in both directions between Franktown and the El Paso County line
– Colorado 94 both directions from Colorado Springs to Punkin Center
Plow crews continue to clear the roads this morning, with a focus on areas north of Woodmen Road and east of Powers Boulevard, the city said in a tweet.
Key links and statewide travel information
7:30 a.m.: The El Paso County Combined Courts will open at 10 a.m. Jurors do not need to report to the court today.
7:15 a.m.: Crews were at work to clear runways at Denver International Airport where officials hoped to resume flights late in the day. If you planned to fly to or from Denver this morning, you'll want to contact your airline to make sure it is still happening.
Want to fly today? Try Colorado Springs, where some flights were cancelled Monday, but most were still flying.
7 a.m.: Before you head out this morning, make sure you can get to your destination. Stretches of Interstates 25 and 70 were closed Monday morning, and smaller highways were shuttered too.
Most of the closures are expected to be lifted sometime today. But meanwhile, get another cup of coffee and let the sun clear the roads a bit before you venture out.
Some good news for El Paso County commuters: Highway 24 was reopened to Calhan. The highway remained closed from Calhan to Limon.
6:30 a.m.: Even with school districts ready for online learning, kids caught a break Monday. It's the first snow day in a year for some of Colorado's largest school districts including Colorado Springs School District 11. Let them sleep in then grab the sleds.