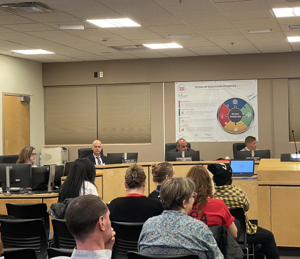 Surveys that collect data on students' personal thoughts and experiences will require prior written consent from parents in Colorado Springs School District 11.
The school board voted 4-2 on Wednesday to revise its policy governing research projects, studies and experiments. Surveys were previously distributed with "passive consent," meaning they were automatically given to students unless a parent or guardian chose to opt their child out.
Under the revised policy, parents and guardians must instead provide written consent to opt their child into — rather than out of — surveys that collect information on the following:
– Political affiliations
– Mental and psychological problems potentially embarrassing to the student or his family
– Sex behavior and attitudes
– Illegal, anti-social, self-incriminating and demeaning behavior
– Critical appraisals of other individuals with whom respondents have close family relationships
– Legally-recognized privileged and analogous relationships such as those of lawyers, physicians and ministers
– Income other than that required by law to determine eligibility for participation in a program or for receiving financial assistance under such program
"As a father, I'm choosing to protect the innocence of our children. That's my choice I am making now," Board President Parth Melpakam said at the March 8 board meeting where the policy was earlier discussed. "We are trying to build trust and transparency."
All researchers must explain in writing the purpose of their surveys, provide research questions and "study content, risks, benefits, procedures, results and intended uses of the project in understandable terms" with a district-level subject matter expert. Information about the project will be shared with parents and guardians in advance.
The policy notes one exception. A majority of the board can give permission to conduct surveys soliciting feedback on the student experience in District 11 without requiring students to opt-in. The district would still be required to share the purpose and content of the surveys in advance, and parents could still opt their children out if they wished.
The revision caught the attention of El Paso County Coroner Dr. Leon Kelly, who wrote an open letter urging the board to reconsider the change due to its impact on wide scale surveys such as Healthy Kids Colorado. Agencies use the information from Healthy Kids Colorado to obtain funding for programs to address identified problems and to track behaviors, health indicators and trends.
In the past decade, El Paso County twice experienced survey participation so low among its 15 public school districts that it did not have statistically significant data to share. Board members Darleen Daniels and Julie Ott shared Kelly's concern that revising D-11's policy would only further decrease participation and hinder the county's ability to address issues among youth.
Melpakam said he and Superintendent Michael Gaal have since met with Kelly and shared their concerns that some survey questions are too intrusive. Kelly said he will work with the Department of Health, according to Melpakam, to see if questions can be limited to mental health and bullying rather than delving into other topics, which include sexual behavior and access to guns.
"I look forward to that conversation with Dr. Kelly in the future and collaborating with him, and hopefully we can find a survey that works for all of our students," Melpakam said. "In the meantime, as (the revision) is adopted, it is parent choice at this time."
The district this summer will also work with new health plan vendor Kaiser Permanente, which already represents 46 school districts and more than 54,000 members. The board voted to approve a contract with Kaiser Permanente that will begin July 1. The contract does not have a term limit and will be up for renewal on an annual basis.
The Benefits and Insurance Committee presented several options to the board at a March 8 meeting. Under the selected health care plan option, all district employees and their families who choose to enroll will have copays on medications and $0 copays for primary care at PeakMed. Those who choose to enroll in the buy-up plan will have lower copays in general, lower deductibles and lower out-of-pocket pay in addition to massage therapy.
There will be "little to no" member disruption under Kaiser's expanded network, which includes UCHealth, Centura and PeakMed Direct Primary Care. Each member will also have 10 out-of-network visits per plan year. The district's cost will increase by approximately $2.63 million.
"This is a win-win-win situation for our staff," Melpakam said.
Open enrollment for employees will run online from April 24 through May 5. There will be multiple in-person information sessions at district and provider locations during this time frame.
The board also discussed revisions to the policy governing the renaming of district facilities, properties and assets. The topic was first broached in February when two facility renaming proposals were brought to the board, which later approved one proposal and voted down another while calling for more clarity in the policy.
Under the revision, "special consideration will be given to those names that will have special meaning to students and citizens of the community and the District." Individuals must have been retired or deceased for at least 6 years in order for district property to be named or renamed in their honor.
After hosting at least one publicly announced community meeting to solicit feedback and ensure a broad base of support, people can submit a naming nomination proposal form. All proposals must be submitted by the end of September or February for consideration during the first or second semester of each school year, respectively. Late submissions will be considered the following semester.
Although a naming committee will lead the evaluation process and issue a recommendation, the school board holds the final say on a naming or renaming of district facilities, properties and assets.
An official vote will take place at a future meeting.
The board took time to recognize the loss of a student earlier Wednesday morning who was struck by a vehicle outside of Doherty High School. Melpakam, whose daughter participated in extracurriculars with the student, said they were "just full of life."
"Unfortunately a tragedy such as this is now the catalyst for action," Melpakam said. "Absolutely senseless. I am heartbroken today, loss for words. Just hug your kids a little tighter this evening, and we'll get through this."
Melpakam said contacting City Council and working with the city to make sure their roads and intersections are safe is high on his priority list moving forward.