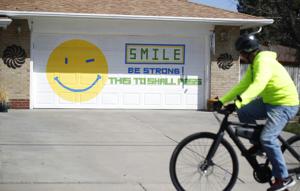 This roundup from Wednesday, April 1, is updated multiple times a day with coronavirus news from Colorado Springs, the Pikes Peak region and elsewhere in Colorado.
– LlST: What's open, what's closed
– MAP: Coronavirus cases in Colorado
– By The Numbers: Coronavirus in Colorado
– Updates from around the state Tuesday, March 31
---
The latest around Colorado and the world
WEDNESDAY
– U.S. reports 869 new deaths today, the most in one day so far. The death toll has doubled in three days.
– Colorado case summary, from Colorado.gov. Only includes data through Tuesday and does not reflect cases since then.
3,342 cases*
620 hospitalized
50 counties
18,645 people tested
80 deaths
17 outbreaks at residential and non-hospital health care facilities
– CDOT, looking to take advantage of fewer people on the roads due to coronavirus, aims to complete complicated road projects and more aggressive plans. The hope is to get a head start on major upgrades like the Central 70 Project and I-25 Gap project near Colorado Springs.
– Colorado Springs Hobby Lobby stores defying of public health orders now closed. More here.
– Historic downtown Colorado Springs auditorium to become isolation shelter for homeless. Full story here.
– Costco announced that effective Friday, April 3, only two people per membership card will be allowed to enter and will have special hours for members 60 and older and those "with physical impairments" during 8 – 9 a.m. on Tuesdays, Wednesday and Thursdays. The pharmacy is will be open at that time.
– Closure of all schools extended through April 30, Gov. Polis says.
– The state needs to increase Tier 1 level beds from 1,800 to 5,000 by April 18. Tier 3 surge beds need to increase from 0 to 2,000 by April 18. Tier 4 beds need to be increased from 0 to 10,000 by May 15. A patient transportation unit needs to be created and implemented by April 10. If these goals are accomplished, the surge should not overwhelm the state's resources, Bookman said.
– Patients will need to be stepped down as soon as possible to free up resources for the sickest patients, Bookman said. Arenas, stadiums may be able to house 2,000 additional beds by April 18 for less severe patients who are healing. Efforts will look similar to what you see in Central Park in New York City right now.
– Models are telling us we'll see a surge that may overwhelm hospitals between April and July. It is estimated we'll need 5,000 additional beds by April 18.
– 3,338 cases in Colorado, 612 people currently hospitalized, 77 deaths.
– The number of layoffs across Colorado due to the coronavirus pandemic has ballooned to nearly 5,000 from 37 employers, according to notices filed in the past two weeks with the state. The numbers are from hotels, restaurants, movie theaters and car dealers. Nearly 2,000 of those employees were furloughed from The Broadmoor and the Great Wolf Lodge. Read more here.
– The Salvation Army in El Paso County, COSILoveYou, Pikes Peak United Way and Care and Share Food Bank of Southern Colorado have created a new food box delivery program for seniors 60 and older without transportation. Read more here.
– Denver International Airport said 90% fewer people moved through TSA security last week compared to the same time a year prior, and that's consistent with other airports across the country. Read more here.
– Vice President Mike Pence says the White House's models for the coronavirus outbreak show the country on a trajectory akin to hard-hit Italy. Read more here.
– Wimbledon was canceled on Wednesday because of the coronavirus pandemic, the first time since World War II that the oldest Grand Slam tennis tournament won't be played.
It is with great regret that the AELTC has today decided that The Championships 2020 will be cancelled due to public health concerns linked to the coronavirus epidemic.The 134th Championships will instead be staged from 28 June to 11 July 2021.https://t.co/c0QV2ymGAt

— Wimbledon (@Wimbledon) April 1, 2020
– Data from the state's health department showed that more than 500 Coloradans have been hospitalized with coronavirus, with nearly 3,000 infected. There were also two more reported deaths in El Paso County. Read more here.
– El Paso County is leading the state with 11 reported coronavirus deaths, but county public health officials say that shouldn't be a surprise due to the county's large population and because many elderly players in a bridge tournament were exposed to the virus early on. Read more here.
– The Air Force Academy plans to hold graduation ahead of schedule this year due to worries of the coronavirus in the Pikes Peak region, the academy announced late Tuesday. Read more here.
– A former hardware store in Woodland Park has become the Pikes Peak region's first "surge site" that will be used for a potential overflow of hospital patients in Teller County. Read more here.
– Colorado Politics has obtained the list of 14 non-hospital health care facilities that the Colorado Department of Public Health and Environment identified in daily reports as having outbreaks of COVID-19. Read more here.
– A survey of 423 business leaders registered even lower levels of economic confidence than during the 2008 recession, the University of Colorado's Leeds Business Research Division found in its quarterly report. Read more here.
– Colorado Springs-area school districts are partnering to offer free breakfast and lunch to children, regardless of which district they attend, during extended school closures. Find more information and a map here.
TUESDAY
– Gov. Jared Polis asked the Department of Homeland Security on Tuesday for automatic extensions of work authorizations to be given to Deferred Action for Childhood Arrivals (DACA) recipients. Read more here.
– An El Paso County prosecutor tested positive Tuesday for COVID-19, becoming at least the second attorney in Colorado Springs to contract the fast-spreading disease. Read more here.
– Cases of COVID-19 by county: Denver has the most at 539 followed by Arapahoe at 333. Jefferson is third at 304. El Paso has the fourth highest amount of cases at 286.
– Deaths in Colo. by sex: female-42.03%; male-57.97%
– Cases in Colo by sex: female-51.62%; male-47.94%; unknown-0.44%
– Sen. Cory Gardner is asking the Federal Emergency Management Agency (FEMA) for additional COVID-19 test kits for the Ute Mountain Ute and Southern Ute Indian tribes.
– Colorado Springs health officials support use of homemade masks in public, but with caution. Full story here.
– World Health Organization reports 140,640 cases in the U.S., 2,398 deaths.
– 754,948 cases worldwide, 36,571 deaths.
– Colorado bike shops are open as essential services.
– Age group with most cases in Colo. is 50-59 years at 18.04%.
– Case counts by county: Denver has the most at 539, followed by Arapahoe at 333, and Jefferson at 304. El Paso has 286.
– Colorado case summary, from Colorado.gov, shows 69 more deaths. Only includes data through Monday and does not reflect cases since then.
2,966 cases*
509 hospitalized
50 counties
16,849 people tested
69 deaths
16 outbreaks at residential and non-hospital health care facilities
– The Social Security Administration sent a reminder today that Social Security and Supplemental Security Income (SSI) benefit payments will continue to be paid on time during the COVID-19 pandemic.
– 754,948 cases worldwide, 36,571 deaths.
– Stay-at-home orders in Colorado have been clarified. More here.
– The U.S. reports 770-plus new deaths today, the most in one day, as the country's hospitals in desperate need of supplies.
– As theaters, gyms, and casinos close, find out what businesses are to stay open here.
– Participating McDonald's restaurants in Colorado are extending the deadline for free combo meals for first responders and hospital workers until April 30. Healthcare workers must have an official identification.
– Colorado Springs will glow after dark thanks in part to local school districts that have pledged to leave their stadium lights on in an effort to stand in solidarity as the area battles the COVID-19 pandemic. More here.
– Coronavirus may derail plans for historic Engine No. 168. Full story here.
– Governor Jared Polis said on MSNBC Saturday night that each Colo. Coronavirus patient is spreading the disease to as many as four people. He also emphasized that because of a lack of testing he believes there are thousands more cases than what has been accounted for.
Based on the data collected, Polis stated that projections for deaths in Colo. by June 1 without adhering to social distancing guidelines can be dismal.
With no social distancing it is estimated that deaths may reach 33,000. With 40% social distancing that number would drop to 26,000. At 50% social distancing we would see about 19,900 deaths. And at 60% social distancing practices 11,500 deaths in Colo. can be expected in total.
In consideration of those numbers, Polis went on to implore people to do all they can to stay home. Only workers who need to go out to keep society functioning should do so. He suggested that if you go outside to walk your dog, go grocery shopping, etc., do it less.
– There is a "significant effort" to identify sites for and prepare temporary hospitals throughout Colorado in anticipation of a potential coronavirus surge. Potential sites include the Budweiser Events Center in Loveland and other facilities across the state. Read more here.
– A coronavirus testing site will open to first responders and health care workers from across the region Tuesday to help ensure front line workers aren't spreading the virus. The testing site will be at South Parkside Drive and KidsKare Point in Colorado Springs. Read more here.
– The Pike Peak Community Foundation's Emergency Relief Fund has awarded 22 grants totaling $429,000 to Colorado Springs-area nonprofits since March 20, officials announced Tuesday.
The fund, operated in conjunction with Pikes Peak United Way and the Pikes Peak Office of Emergency Management, is activated during emergencies and is awarding grants to agencies that are addressing immediate human needs related to food, shelter, safety and health care to vulnerable populations.
Donations have topped $580,000 for El Paso and Teller Counties, and nonprofit requests for funding total more than $3 million.
Contributions can be made at PPCF.org.
– A Colorado College campus "community member" has tested positive for a COVID-19, students and staff learned Monday, the first day a remote learning model for students and faculty began. Read more here.
– The popular King's Chef Diner is one of several local restaurants to close after a 2-week-old state order to shutter dining rooms as a way to halt public gatherings and help contain the spread of the novel coronavirus. It is uncertain whether the closure is temporary or permanent. Read more here.
– After two cadet suicides in less than a week, Air Force Academy leaders are easing social distancing policies that some complained made the school prison-like for the nearly 1,000 seniors who remain on campus. Read more here.
– Potential gun buyers are facing extended waiting times for background checks, according to the Colorado Bureau of Investigation. The CBI received 12,266 background check requests last week, nearly double the number received during the same time frame a year ago.
– A Colorado Springs King Soopers employee has tested positive for COVID-19, the El Paso County Public Health department reported Monday. The employee last worked at the 6930 N. Academy Blvd. location on March 28. The department is alerting those who shopped at the store on March 19, March 21-25 and March 28. Read more here.
– The University of Colorado at Colorado Springs will join other campuses in the CU system and hold a virtual commencement ceremony for spring graduates. Read more here.
KEY LINKS
– More full coverage of coronavirus in Colorado.
– LIST: Stores offering special shopping hours for seniors during the pandemic.
The Associated Press contributed to this report.