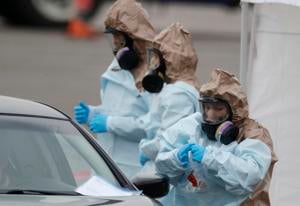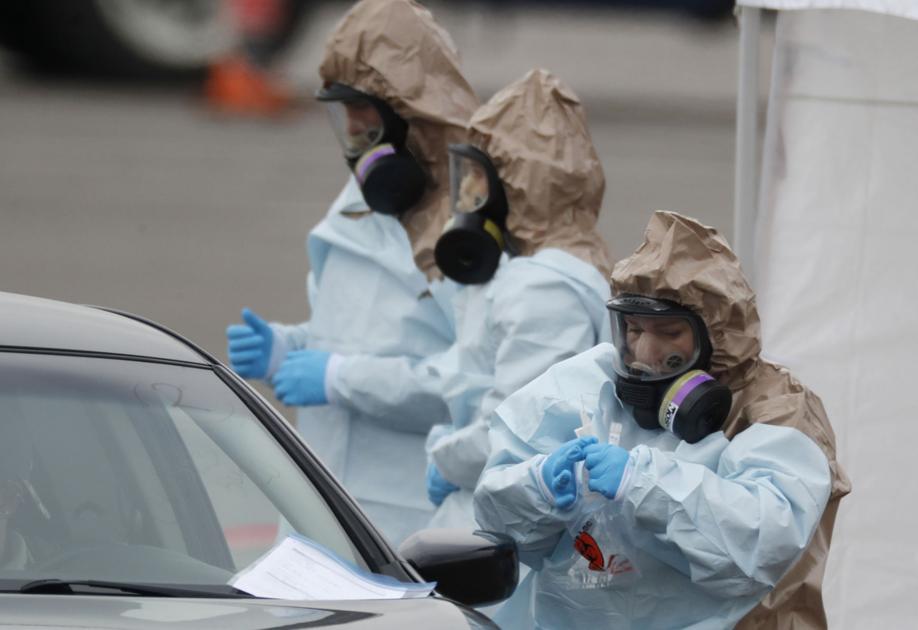 New coronavirus numbers released Sunday showed no slowdown in the spread of the disease in Colorado, with 116 new cases pushing the statewide total to 591 in 29 counties, and a second death in Weld County.
The cases include 58 people hospitalized and five outbreaks at residential and health care facilities outside of hospitals, the Colorado Department of Public Health and Environment reported. The number of deaths across Colorado rose to seven, with 5,436 people tested for the virus.
State officials expect the number of cases to eventually reach "thousands" as the state ramps up testing across Colorado.
In announcing new restrictions, Colorado Gov. Jared Polis pledged Sunday to "whatever is in my power to protect health care workers" and limit the spread of the disease.
"If we do not do more, the health care system will be overwhelmed and we could be faced with having to make the decision on who lives and who doesn't," he said during a news conference.
Polis ordered "noncritical" employers statewide to reduce their in-person workforce by half to slow the spread of the COVID-19 virus across the state.
Employers should allow employees to work remotely or stagger their shifts to minimize the number of people working at any one time, he said. That will allow employers to increase the distance between remaining employees that he said will help slow the spread of the virus. He also asked that employers keep their employees on the payroll.
The order doesn't apply to health care, "critical" retailers such as grocery stores and pharmacies, manufacturers, critical infrastructure providers such as water and electricity, construction, defense, public safety, news media and vendors to those businesses and organizations.
Polis said the state, even though it provides critical services, will have more than half of its employees working remotely by Monday, not including prison guards and others who cannot work from home.
Polis also urged Colorado residents to shop no more than once a week and not go anywhere with friends. He also said those who are most vulnerable to the virus, which include older residents or those with medical issues should not leave their homes unless to seek "critical" medical care.
The governor earlier ordered ski areas, bars, restaurants, casinos, movie theaters, gyms and any business that have direct physical contact with customers such as barbers, salons and massage therapists, to close.
He also banned gatherings larger than 50 people, which he reduced Sunday to 10, which triggered cancellation or postponement of concerts, theatrical performances, church services, conventions and business meetings.
Those closures have resulted in thousands of workers filing for unemployment benefits over the past two weeks, numbers that are expected to grow rapidly.
Travel has slowed to a crawl, prompting temporary shutdowns of several high-profile local hotels, including The Broadmoor and Cheyenne Mountain Resort.
In other developments Sunday:
• An El Paso County sheriff's deputy tested positive for COVID-19, the Sheriff's Office said. The deputy has been isolated for nearly a week and is improving at home. All employees who had contact with the deputy have been notified and are taking appropriate precautions, the office said.
The Sheriff's Office lobby at 27 E. Vermijo Ave. remains closed and the lobby at the El Paso County jail remains open only for bonding and use of the online kiosk. The office said video visitation is closed, but friends and family of prisoners can have online visits at visitation.epcsheriffsoffice.com/StartPage/index.php.
• Fort Carson said its has a second case of COVID-19 case: A civilian who works at Evans Army Community Hospital who is now in isolation at home. The post said the female health care worker is in her 60s and had limited contact with patients and staff, who have been notified and are being monitored by Fort Carson Public Health.
The civilian worker will remain in isolation in accordance with the Centers for Disease Control and Prevention and Fort Carson Public Health guidelines. Fort Carson also said she is in good spirits and does not require hospitalization at this time.
• Colorado Attorney General Phil Weiser called on the state court system to put evictions statewide on hold during Colorado's COVID-19 state of emergency
"In this emergency, evicting any Coloradan from their home would exacerbate the public health and economic crisis we are fighting together, Wesier said in a statement. "So far, courts in Denver, Mesa County, Weld County and Boulder County, among others, have taken this important step.
"I urge all Colorado courts to join in recognizing the urgent need to pause all eviction orders during this emergency. Nobody should be without their home as we all grapple with this crisis."
READ MORE:
–Gov. Polis extends suspension of Colorado ski operations, further limits gatherings amid coronavirus spread
–Kroger, King Soopers to provide employee bonuses, expand emergency leave guidelines
–Colorado health department changes social distancing orders