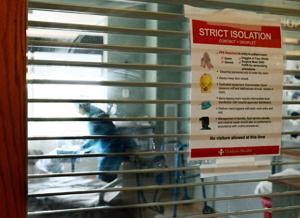 COVID-19 hospitalizations have declined for several days for the first time in weeks, but officials urged caution in celebrating the dip, as it's still unclear what impact Thanksgiving will have on the current surge and a lag from the holiday means some data will be backfilled in the coming days.
"I have learned to be cautious in making predictions," Jon Samet, the dean of the Colorado School of Public Health, said in an email Monday, "but at least there are a few encouraging indicators at the moment."
The number of Coloradans hospitalized with confirmed COVID-19 infections has fallen by 103 since Nov. 23, from 1,576 then to 1,473 on Monday. The state hasn't seen a drop anywhere close to that degree since September, data published Monday shows. What's more, the average number of COVID-19 patients admitted each day has fallen for more than two weeks. On Nov. 12, the seven-day average peaked at 222 per day. As of Monday, that figure had dropped to 139.
Beth Carlton, epidemiologist with the Colorado School of Public Health, said that datapoint is the one she finds "most encouraging." Hospitals statewide have been significantly strained over the past month, thanks in part to COVID-19, but more critically to burnout-driven staffing shortages statewide.
Still, officials warned it's "too early to say" if the recent trend is a blip, a sustained downturn or the beginnings of a plateau, said Cara Welch, spokeswoman for the Colorado Hospital Association. Hospitalizations held relatively stable for three weeks between mid-September and early October but shot upward after.
Bed space remains tight. According to state data, 94% of intensive care beds have been in use on average over the past week, with 110 left statewide Monday. The acute care occupancy average is 92%, an improvement of two percentage points from Nov. 24. In all, 793 acute care beds remain available statewide. Those numbers can fluctuate quickly, on a daily or even hourly basis.
Thanksgiving adds a significant wrinkle, experts said. Holidays typically lead to an increase in cases, which, roughly two weeks later, can equate to more patients in the hospital. On top of that, the number of hospitals reporting their data dips around the holiday, too. For instance, 89% of hospitals reported their statuses on Nov. 19. As of Monday, it was 66%.
"I'm sure the state — we are as well — is anticipating a bump following the holiday," she added.
Carlton said that though the recent decline is "good news," there's still "a lot of severe disease (in Colorado) and a lot of people infected right now." The full impact of Thanksgiving won't be known for another week or two, she said.
Last week, Eric France, the state's chief medical officer, told reporters that cases may be beginning to plateau statewide and that the positivity rate had dropped. But, given Thanksgiving and how new the data was, he said it was not time to breathe a sigh of relief.
Samet agreed.
"(L)ast week's plateau is encouraging as is the dropping test positivity rate and what looks like a decline in cases," he wrote. "Travel and gatherings over Thanksgiving may have an adverse impact, although too early to know."
A further potential wrinkle, Samet noted, is the omicron variant. Other than its multitude of mutations, little is definitively known about the latest variant, including whether it's more severe, more transmissible and its capability to dull vaccine efficacy.