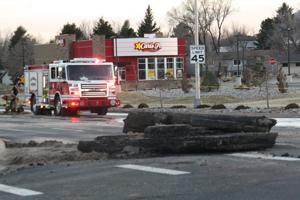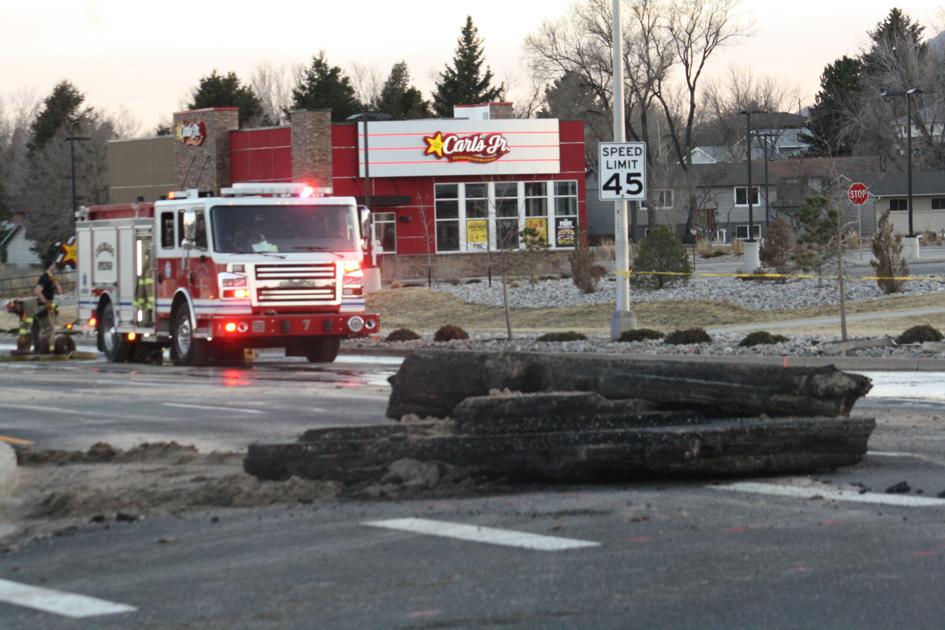 Colorado Springs Utilities workers and road crews continued Saturday to repair the damage wrought by a Friday afternoon water main rupture that caused a deluge at the intersection of North Academy Boulevard and Maizeland Road, creating multiple gushing fissures.
But repair efforts were delayed for several hours when a large piece of asphalt from the edge of an excavation fell into the hole and hit a 4-inch gas line, breaking it and causing a leak.
Fire crews arrived at the scene just after 4 p.m. and set up a wide perimeter while gas crews worked to fix the gas leak.
"The asphalt in that area has been weakened by all that water," said Utilities spokeswoman Natalie Watts.
Businesses on the southeast corner of the intersection that have been without water since Friday afternoon were now also without gas, Watts said.
The broken water main is buried beneath the gas line, so the gas line needed to be repaired before crews could continue digging to the broken water pipe, which was still leaking.
The utilities agency had begun building an above-ground bypass of the gas line to restore service.
"Our top priority right now is to get gas back to our customers," said Utilities official Jared Miller. "Once we've done that, then we'll get back to work on the water main."
In order to bypass the gas line, which was still trapped beneath large, heavy pieces of asphalt, an excavator had to dig another large hole in the street, dashing any hopes of opening the roads by Monday.
When asked when the roads would be open, Miller said, "It will be several days. That's all I can say at this point."
The Academy-Maizeland intersection is a nexus of utility lines, many of which are buried beneath the asphalt, Miller said, so crews were digging carefully to avoid cutting off any additional services to nearby customers.
Prior to the gas line rupture, a site that Friday resembled a four-lane, southward-flowing river looked more like a construction area Saturday, with heavy equipment scooping discolored water from a gaping excavated hole on the southbound lanes of the intersection, and trucks repaving the northbound lanes.
"We're gaining on it," said a Colorado Springs Utilities employee who was one of the first on scene Friday. "We've got to clear the water, asphalt and dirt from the hole before we can assess the pipe."
The 30-inch pipe that burst is approximately 60 years old, according to Watts.
"We have a lot of aging infrastructure in our water system, which we are in the process of actively replacing as budget allows," Watts wrote in a release.
The utility agency deployed tanker trucks filled with water to help provide affected customers with water for drinking, cooking and septic functions, Watts said.
Homes and businesses north of the intersection appear to have been unaffected by the main break, while the south side has been without water since Friday afternoon, according to several residents and employees.
At Hooked on Books, a secondhand bookstore in the Maizeland Moors shopping center on the northeast corner of the intersection, the water and sewage systems were functioning normally, according to owner David Satin.
"I live just north of here, and I haven't had any problems at home," Satin said, adding that his parents, who live south and west of the main break, were getting discolored water.
"I guess we're the lucky ones," said an employee at the Boost Mobile store in the same complex.
On the south side of Maizeland, a convenience store was closed until further notice, and the open businesses either had discolored water or none, according to employees.
"I don't know how businesses are supposed to run without water," she said.
Once the ruptured pipe is repaired, it will have to be tested by flushing nearby lines and fire hydrants, Watts said. This could agitate sediment in the lines and cause discolored water in nearby residents and businesses.
Watts said residents with discolored water should try flushing their water service lines by running a spigot closest to the main (generally an outside hose tap) for 15 minutes, and repeating the process if the water doesn't clear up.
"The discoloration you see is not dirt, but rather iron that is in the line and has been stirred up," Watts said.
The utilities company also recommends that customers wait a day or two to do laundry, and drain their water heaters.
"It is recommended that you do this once a year as part of a preventative maintenance schedule anyway, so now would be a good time to drain it," Watts said.
Any affected customers with specific water quality concerns should call the Utilities laboratory at (719) 668-4560.
It is not yet known when the ruptured pipe will be repaired, but residents should expect the Academy and Maizeland intersection to be closed for several days and plan accordingly, Watts said. The utilities agency is asking motorists to avoid the area if possible.