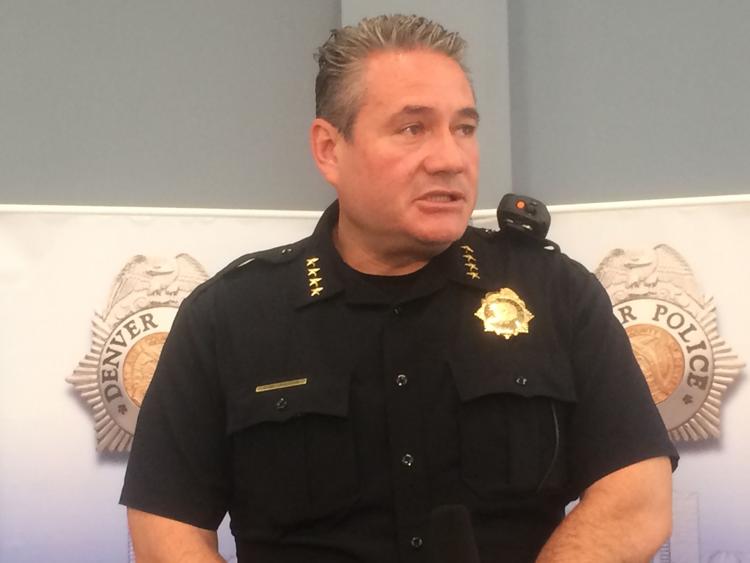 Denver is re-examining how it addresses mental health and public safety.
In May, Denver police and community service providers visited Eugene, Ore., to shadow the city's mobile crisis intervention organization. The program, Crisis Assistance Helping Out On The Streets, works closely with police so that community service providers, not city cops, are dispatched to the scene when 911 operators receive a mental health-related call.
In 2018, nearly 70% of Denver voters OK'd a 0.25% sales tax increase to fund mental health and substance abuse treatment in Denver. The Caring for Denver Foundation is the nonprofit corporation that will direct the spending of at least $35 million for mental health programs.
Becoming a major city's public safety director after being another major city's police chief is pretty much like leaping from the frying pan into the fire. Troy Riggs has served in both capacities.
The 30-year-old Oregon program is known as CAHOOTS, a nod to working closely with local law enforcement. Denver is one of at least eight other cities, including Portland and Olympia, Wash., working to adopt a similar program.
Earlier this month, findings from the Eugene trip and Denver's plan to implement a similar community-led program were presented to members of City Council during a safety committee meeting.
Leading the conversation was Denver Police Chief Paul Pazen.
First and foremost, "this is not replacing co-responders," Pazen made clear. Rather, it's an expansion of that model, which he said has made "great progress," and will only continue to "enhance (Denver's) ability to help people."
Since 2016, the police department has worked side-by-side with behavioral health clinicians through its Crisis Intervention Response Unit to co-respond to calls that involve a person experiencing mental distress and treat them more like a patient rather than a prisoner.
One of the key differences between the co-responder program and the CAHOOTS-inspired model that Denver's weighed for at least the last six months is that co-responders are addressing a higher level of crisis where safety is a potential issue and an individual may have access to a weapon.
Another major difference is that the CAHOOTS model would not just involve licensed clinicians. It would bring together substance use navigators, paramedics, peers with shared lived experiences like homelessness and substance use, and even wilderness first responders — but, most notably, no police officers.
Sure, that leaves the crisis intervention team vulnerable, Denver Justice Project's Roshan Bliss said, but they're glad to be the only responders on scene when it's a matter of mental health.
"They know that as soon as a man with a badge and a gun shows up, their chance to help that person goes out the window," he said.
Bliss was one of several stakeholders on the trip to Eugene. His organization, which focuses on police accountability, helped coordinate the visit and has been advocating for a CAHOOTS-style program for the past three years.
In the first six months of 2019, Denver's health-related calls were up 17% against the three-year average. Pazen said the spike speaks to the need for pushing the city toward "a better model" of handling mental health crises.
If the call load was reduced by just 5%, he said, 11 officers could be freed up to focus on violent crime issues instead of people that are in crisis.
"We see tremendous value all the way around: better outcomes for our community as well as opportunities to be more effective and efficient," Pazen said.
Lisa Raville of Denver's Harm Reduction Action Center was another stakeholder who visited Eugene to observe the de-escalation initiative. She was able to ride along with the team and gain a firsthand understanding of how the program worked.
When out with the crisis intervention team, Raville said they responded to several situations at overnight shelters. From there, people in need were taken to crisis centers or to the emergency department, where CAHOOTS would pick them back up once treated and return them to the shelter to make sure they could keep their bed for the evening.
"What I appreciated about this, and especially the ride-alongs, is that we get law enforcement out of the way," Raville said. "We get mental health professionals that are trained, we have a paramedic there in case there's a health issue, and we talk about what safety looks like for you right now, today.
"That's not going to happen in five minutes," she said, "but that can happen in 45 minutes."
Bliss saw another benefit from taking cops out of the picture.
"A huge proportion of police shootings involve people currently suffering from mental health issues," he said, "and it's because police officers — as well-trained as they might be — aren't mental health practitioners.
"We see this as an initiative to practice preventative medicine for police shootings," he said.
To help fund the program, Pazen said they are seeking assistance from the Caring for Denver Foundation, which launched Friday, and will provide $35 million a year for mental health and substance misuse treatment in Denver.
The foundation results from overwhelming voter support last November to put 25 cents from every hundred dollars spent into a community fund for mental health and substance use issues. The measure was championed by Democratic state Rep. Leslie Herod, who now serves as Chair of the Caring for Denver Board.
But Bliss also said the program would be looking for additional help from City Council.
Councilwoman Robin Kniech, who is "very supportive" of the idea, said the council won't be able to initiative a budget supplemental — that would have to come from Mayor Michael Hancock's administration — but hopes that the city funds that went toward Caring for Denver could help.
"I think this [program] should be prioritized for funds that were set aside for the city in that ballot measure rather than having to go to the competitive pool," she said, hoping Hancock's office would "be ready to step in" to supplement the piece that may come from grant funding.
Kniech also raised concerns about having too many cooks in the kitchen with so many stakeholders involved, including Servicios de la Raza and Denver Alliance for Street Health Response.
"I very much see a need for this, but I see the risk of overlap and the potential of overlap – both of those things could be good, could be bad," she said.
She nevertheless thought it was a good idea to keep the program's leadership out of the city's hands and the hands of the Mental Health Center of Denver.
"Finding a way to blend those resources and keep that community leadership seems important," she said.
Councilwoman Amanda Sawyer asked about the program's logistics, particularly around the budget for training 911 operators, the possibility of creating a non-emergency line and ensuring these first responders are kept safe.
Pazen said Denver's 911 division already has the ability to do this and understands how it works, but he and other stakeholders agreed that they would like to see a non-emergency line created as well.
Regarding responders' safety, Bliss said that in Eugene the most defensive tools the team has is a heavy flashlight, but they are trained to know when to pull back and call for help if a situation escalates.
As part of their uniform — a hoodie and steel-toed boots — team members each carry their own radio to keep closely in touch with 911 operators for backup.
The plan in Denver is to have the community-led program rolled out conservatively, at least at first, Pazen said. The initial focus will be on areas where the team can make the biggest impact.
The CAHOOTS program was difficult, complicated and expensive to get up and running, Bliss said, and costs about $8 million annually. He expects the ramp-up process will be similar for Denver.
Still, safety committee chairman Paul Kashmann said in closing, "This appears to be a life-saving program that will serve our city very well."