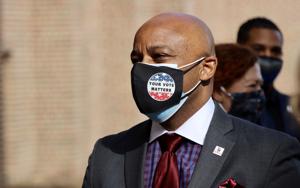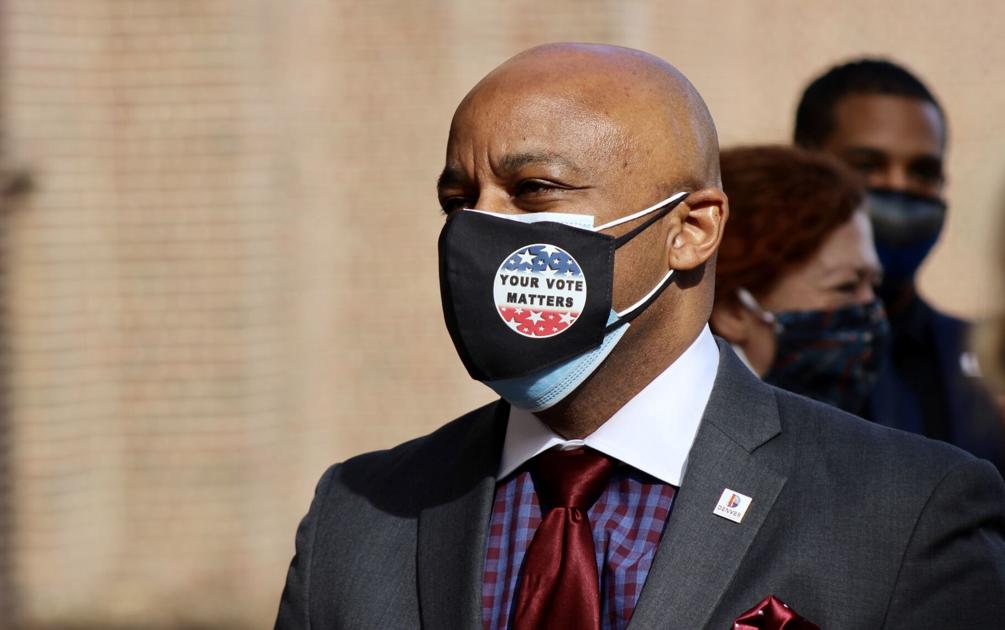 Many in the Denver community are furious as — after urging his residents to stay home and not gather with family — Mayor Michael Hancock flew to Houston Wednesday, then traveled to Mississippi to spend Thanksgiving with his daughter.
Gazette partner 9News broke the story Wednesday morning. A spokesperson for Hancock confirmed that the mayor was traveling to see his daughter and wife, who was already in Mississippi.
"I'm shocked and saddened by this behavior and I don't understand it," said Councilwoman Amanda Sandoval of Denver's District 1.
Hancock has regularly told Denverites to refrain from unnecessary travel and gatherings to slow the spread of COVID-19. A week ago, Denver was placed under Level Red COVID-19 restrictions, the state's second most severe level. Under Level Red, all personal gatherings beyond immediate households are prohibited, including Thanksgiving celebrations.
After warnings to avoid travel, Denver Mayor Hancock flies to visit family for Thanksgiving
Just seven days ago, Hancock sent an email to city staff that read, "with the continued rise in cases, I'm urging you to refrain from travel this Thanksgiving holiday. For my family that means cancelling our traditional gathering of our extended family."
The email went on to say that anyone who travels out of state should quarantine for 14 days and will need to use paid time off for the leave if they're unable to work from home.
"Mayor Michael Hancock made the personal decision to travel for Thanksgiving," said City Council President Stacie Gilmore. "I expect the mayor will follow and comply with the directives he issued to all City of Denver employees and quarantine for 14 days upon his return."
Despite Hancock's decision to travel out of state, Gilmore is still urging Denver residents to stay home for the holidays.
"Travel is strongly discouraged by all the leading health experts," Gilmore said. "Protect yourselves and the people you care about by continuing to diligently follow all safety guidelines."
Gov. Jared Polis has spent weeks spreading this sentiment, begging Coloradans not to gather for the holiday.
Hancock pleads with residents to follow health orders to avoid shutdown
At a Nov. 13 conference, Polis said visiting family for the holidays without quarantining for two weeks prior is akin to holding "a loaded pistol to Grandma's head," adding that one in 20 hospitalized with COVID-19 will die.
On Tuesday, Polis said one in 41 Coloradans are infected with COVID-19, the highest level since the pandemic began.
Polis said during a news conference on Wednesday that he was unaware of Hancock's plan to travel for Thanksgiving and that he had not spoken to Hancock about it.
News of Hancock's traveling spread quickly through social media. A half-hour before his flight, Hancock's account tweeted, "Host virtual gatherings instead of in-person dinners. Avoid travel, if you can."
More than a thousand people had responded to Hancock's tweet within a few hours, pointing out the mayor's "hypocritical" actions.
Responses include, "This is selfish and a terrible example for the mayor," "Typical politics, do what as I say, not as I do" and "You're gonna come home to a lot of angry constituents who made sacrifices while you didn't."
Hancock joins Joe Biden and Kamala Harris in U.S. Conference of Mayors' discussion of COVID-19
In response to the news of Hancock's travel, Councilman Chris Hinds said on Twitter that he would be spending Thanksgiving at his Denver home with his dog.
Hinds also tweeted the definition of "unforced error" with no context, seemingly directed at Hancock. The definition was "a missed shot or lost point that is entirely the result of the player's own blunder…"
Republican Lauren Boebert, recently elected to Congress from Colorado's 3rd District, also addressed the controversy on Twitter, saying, "When Denver Mayor Michael Hancock goes against his own orders, Denver residents need to stop taking orders from Mayor Hancock."
In confirming the mayor's trip, Hancock's office released the following statement:
"As he has shared, the Mayor is not hosting his traditional large family dinner this year, but instead traveling alone to join his wife and daughter where the three of them will celebrate Thanksgiving at her residence instead of having them travel back to Denver. Upon return, he will follow all necessary health and safety guidance and quarantine."
Later Wednesday, Hancock issued this statement:
"I fully acknowledge that I have urged everyone to stay home and avoid unnecessary travel. I have shared how my family cancelled our plans for our traditional multi-household Thanksgiving celebration. What I did not share, but should have, is that my wife and my daughter have been in Mississippi, where my daughter recently took a job. As the holiday approached, I decided it would be safer for me to travel to see them than to have two family members travel back to Denver.
"I recognize that my decision has disappointed many who believe it would have been better to spend Thanksgiving alone. As a public official, whose conduct is rightly scrutinized for the message it sends to others, I apologize to the residents of Denver who see my decision as conflicting with the guidance to stay at home for all but essential travel. I made my decision as a husband and father, and for those who are angry and disappointed, I humbly ask you to forgive decisions that are borne of my heart and not my head."
Gazette partner 9News contributed to this story.