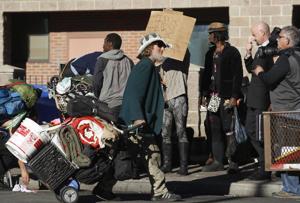 Denver officials plan an appeal after Denver County Court Judge Johnny Barajas ruled on Friday that the city's controversial camping ban is unconstitutional.
The ban was struck down under the Eighth Amendment, which prohibits "cruel and unusual punishment," along with the 14th Amendment's equal protection clause, due process clause and the Americans with Disabilities Act.
"We disagree with the ruling and plan to appeal to District Court," Denver City Attorney's Office spokesman Ryan Luby said.
Jerry Burton, who has experienced homelessness off and on in Denver for years, challenged the ban after being ticketed in late April after he set up camp near 29th Street and Arkins Court close to the North Platte River. His claim sparked a series of hearings before Barajas, which began in mid-October.
The law bans eating, sleeping or storing belongings on public property without permission and applies to anyone using any kind of shelter — even a blanket — other than clothing. Denver voters overwhelmingly refused to repeal the ban earlier this year in a vote 145,649 to 33,685.
In a written statement, Denver City Attorney's Office spokesman Ryan Luby said, "We disagree with the ruling and plan to appeal to District Court."
The ban and homelessness played prominently in the Denver mayor's race this year.
Denver police officers have maintained that their first priority is helping people experiencing homelessness, rather than ticketing them.
Denver City Councilwoman Candi CdeBaca expressed support in a tweet that the "judicial branch came through on Christmas for the most vulnerable in the face of the executive and legislative branches' failure."
The Denver County Court decision Friday ruled against the city's prohibition, throwing the city's rule into doubt, after a U.S. 9th Circuit Court of Appeals in San Francisco struck down a similar ban in Boise, Idaho, in 2018.
Such efforts to keep homeless people from setting up camps in public parks and along city sidewalks has prompted cities across the country to adopt such regulations. Advocates say it criminalizes being homeless, when proponents of the rules say they're trying to steer people into shelter and social services.
Burton was represented by Andy McNulty of the powerhouse civil liberties firm Killmer, Lane & Newman.
"Citing the fact that the homeless are a powerless group who have been subject to a long history of discrimination both in Denver and Colorado, and that homeless individuals in Denver cannot meaningfully access adequate shelter, the court held that the urban camping ban violates the 8th Amendment's prohibition against cruel and unusual punishment because it criminalizes homeless individuals, who have nowhere to go, for simply attempting to survive on Denver's streets," McNulty said in an email Friday.
Former state Rep. Joe Salazar fought for years to pass a state "right to rest" law, which would outlaw the urban camping bans across the state, until he left the legislature to run for attorney general last year. The correctness of that cause was reflected in Friday's ruling, he said.
"I'm disgusted that state elected officials like House Democrats and local officials like Mayor Michael Hancock refused to see the immorality of these laws," the Democrat from Thornton said in a text message with Colorado Politics.