Much has been debated about the speed of the Tyrannosaurus rex — or lack thereof.
Maybe 12 mph max, surmised researchers from a study last summer. That would support one side of a debate that sparked again this week, suggesting the apex predator strategically hunted in packs. In 2017, scientists figured leg bones would've crumbled under the beast's massive weight were it moving faster than 12 mph — fast, but well short of the fastest man's clip of 23 mph.
Read the National Geographic headline that year: "Actually, you could have outrun a T. rex."
But probably not the one recently spotted on the Manitou Incline.
That was Tayte Pollmann in the blowup suit. You know, that orange, oversized puffy that kids slip into every Halloween, their dinosaur head and tail bobbing about as they waddle more than run.
Inside this T. rex bubble, Pollmann bounded up the Incline in a time that would've made the disparaged species proud. He claimed a prehistoric feat: 26 minutes and six seconds, believed to be a record by a hiking dino.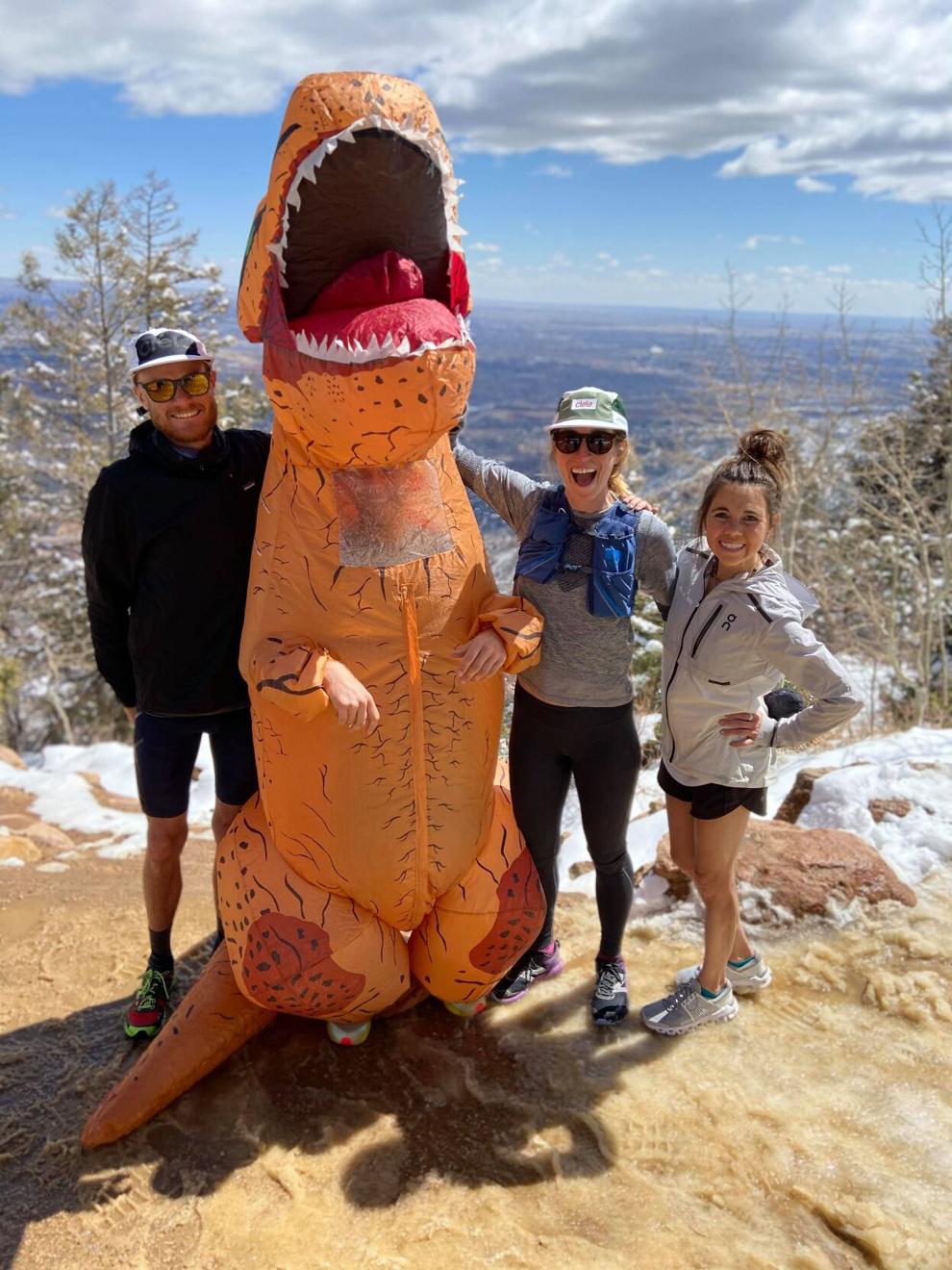 A formerly Nike-sponsored runner who works on a goat farm in Buena Vista, Pollmann said he was surprised.
"I don't know," he said. "Maybe there's some adrenaline involved in being a T. rex or something."
It's an impressive time for anyone without the clunky costume (sub-30 is respected among serious athletes on the timber steps gaining 2,000-plus feet in less than a mile). Making the mark even more impressive: Pollmann logged a 17-mile jog on the Sante Fe Trail before arriving to the Incline on Sunday morning.
Pollman, the fourth man to finish the Pikes Peak Marathon last year, came to meet a few friends for the fitness test. They included Allie McLaughlin, the world champion runner who owns a fastest known time of 20 minutes and seven seconds on the Incline.
"He's a great friend to run with, because he'll go whatever pace, and he's just happy all the time," she said. "But when he's on his own, there's like no slowing down."
That was the case Sunday. Since McLaughlin and a partner planned to take it easy, they suggested Pollmann wear the costume he keeps in his trunk ("for whenever I have a need to be a dinosaur"). He didn't need convincing; he had ran, sledded and dirtbiked as a dinosaur before to get a few laughs.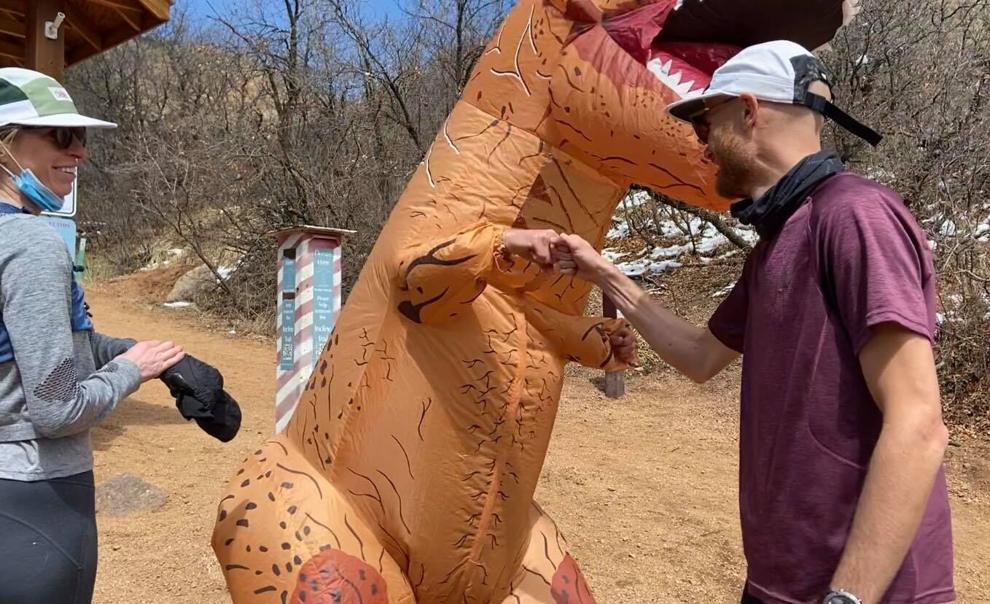 At the Incline base, he waddled over for a fist bump. Then he trotted up, leaving McLaughlin and company in his tracks.
"We knew he was going super fast," she said. "We watched him the whole way."
Watched as he pardoned himself, his lizard king hips occupying the entire width of the trail. People cheered and took photos. It was hot inside the suit. The view panel under the T. rex head kept fogging up, and since his arm movement was limited much like the real dinosaur's, Pollmann struggled to wipe it clear.
"Which got more complicated at the top," he said. A rip in the tail caused the suit to deflate and the Tyrannosaurus head to droop, further diminishing visibility.
Remarkably, Pollmann said, he only tripped once on his way to the top, where he posed for pictures with new fans.
"I guess that was the whole point," he said. "If I could make somebody's day, then it was all worth it."