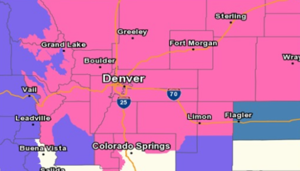 The National Weather Service has issued a warning with multiple major snowstorms bearing down on the state of Colorado. In a Facebook post, they urged "don't travel, and if you insist on traveling, don't expect to get very far very quickly."
The first storm to hit will land Monday night and last through Tuesday evening, likely dropping up to 30 inches of snow in parts of the Boulder County foothills.
Heavy snowfall will also land in other parts of the Front Range, including 8″ to 18″ in the Denver metro area, 6″ to 14″ in the Northeast Plains, and 12″ to 22″ inches in the Fort Collins, Boulder, and Greeley metro areas.
The downtown Colorado Springs area is looking at 1″ to 4″, with northern parts of the city expecting up to 6″ of fresh powder.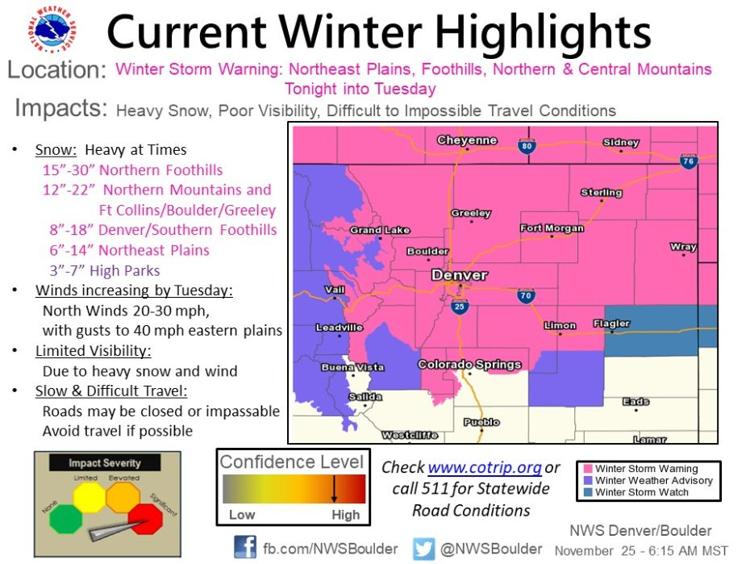 Strong winds are expected to accompany the heavy snow, with gusts reaching up to 40 miles per hour in low elevation areas and higher speeds on mountain peaks. This will greatly limit visibility on roads and could make some stretches completely impassable.
If you're traveling north today, keep in mind that snow is expected to start falling around 3 PM in the Boulder area, continuing into the evening on Tuesday. Snow is expected to start a little later in Denver at 5 p.m., lasting until 3 p.m. the following day.