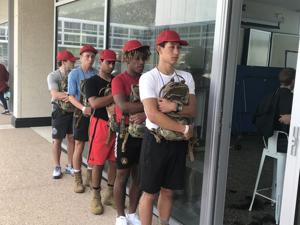 An Air Force Academy appointee walked up the steps to the Holaday Athletic Center, where her transformation from civilian to academy cadet would begin, and she paused for a moment. Behind her, sign-carrying upperclassmen were instructing her family to move their vehicle along to make room for the dozen or so cars that were queued behind it.
The offloading process was efficient and abrupt. Tearful goodbyes were restricted to the space inside the car.
"I wasn't expecting that," the freshman said before entering the building. Her day would get more frenetic, and much louder, very soon.
Grant Afman, a rising junior, called after the freshman, "Have a great Air Force day!"
"We're allowed to be nice to them up until they step on the bus," said Afman, who will assist in basic training. "It all changes when they step on the bus."
It was the beginning of In-Processing Day at the service academy, also known as "I-Day" or "Doolie Day," and over the next few hours, 1,100 members of the incoming Class of 2026 would undergo medical and administrative processing, turn over any contraband, and begin a journey that they hope will end with a graduation hat toss and a Thunderbirds flyover four years from now.
On Thursday, though, just a few weeks after graduating at or near the top of their respective high school classes, they were starting at the very bottom, and 2026 looked a long way off.
At the amnesty table, where any contraband was confiscated (a table held several knives and snuff cans), Marine Maj. Scott Jones, the school's USMC liaison, asked a freshman, "Do you have any drugs or weapons?"
"No," the doolie replied.
"No, SIR!" Jones corrected. "Start practicing now!"
Properly chastened, the doolie responded in kind and moved on.
"I can usually tell the ones who went to a military prep school or are military-affiliated, because they're already used to saying 'sir' or 'ma'am," Jones said. "That one didn't go to prep school. But he'll learn soon enough."
The doolies were next commanded to walk quickly — but not run — to the cadet gym, where they would take the oath of allegiance that would officially make them cadets.
As they waited for Lt. Gen. Richard Clark, the Academy superintendent, to visit with them, members of the cadet training cadre taught them the proper way to stand at attention and at ease, and ran them through a few facing movements.
"Obviously, for the last couple of years, we've had to adjust our plan and our techniques with regards to COVID," said Brig. Gen. Paul Moga, the commandant of cadets. "But for the most part, we are back to normal operations for I-Day and basic cadet training, so it will look very much like it did three or four years ago — with the exception of a couple of surprises we have in store for them."
Moga would not elaborate .
When Clark arrived, he allowed the doolies to sit on the gym floor as he spoke with them about the importance of teamwork, honor and integrity. He congratulated them on getting this far and congratulated their families.
"Please pass that on to them whenever you talk to them again," Clark said. "It might be a while."
In fact, it will be nearly a month before they will be able to speak with their parents.
After Moga administered the oath, the new cadet candidates were hustled out to "the bus," where they would have their first experience with the training cadre.
"Everyone on this bus: All eyes on me!" yelled Cadet Capt. Joy Metzler.
During the brief ride to the "footprints," where the doolies would meet the rest of the training cadre, Metzler and Cadet Master Sgt. Jackson King instructed them on the responsibility they were about to assume.
"One day, your choices will determine if people live or die," King barked. "The training that will help you make the correct choices starts here and now."
"If you're not ready to give yourself to something bigger than all of us, then please do not get off this bus," King said as the bus stopped. "But if you are ready … then GET OFF MY BUS!! Go! Go! Go!"
Things moved quickly from there.
The new cadets were ushered to the "footprints," where they learned to stand attention and respond properly to commands as instructors shouted instructions and commands at the top of their voices.
Master Sgt. Phillip Cao, a former Lackland Air Force Base drill instructor brought in to help train the cadre, said he used to have a sore throat and a hoarse voice at the end of a long day of yelling at recruits.
"But I've learned to project from the diaphragm," he said. "Now, I can do this all day."
After the initial meeting with the cadre, it was off to the haircut station.
A doolie stepped up to the barber's chair. His first day of basic training was less than 90 minutes old, but he seemed relieved to have a brief respite from all the yelling, even if it would cost him his curly locks.
"What's your name?" the barber asked cheerfully, as she placed a drape over the young man's shoulders.
"Rohan," he said quietly.
"Hi Rohan. I'm Diane," the barber said before she turned on the clippers.
Two minutes later, Rohan looked on the floor at the hair that had been attached to his scalp just seconds ago, and walked out, rubbing his head.
Diane Brooks said she expected to shave about 100 heads on Thursday.
"A lot of these kids are nervous when they come in," Brooks said. "But I try to calm them down and reassure them. I like the barbershop to be a place they can come for a little peace and quiet every now and then."
Peace and quiet will be at a premium over the next six weeks, as the staff and cadre give the doolies a crash course in Air Force history and tradition. Along the way, they'll learn the proper way to eat, march, wear their uniforms, and make their beds — not to mention the "surprises" Moga mentioned.
"For the next six weeks," the commandant warned the group, "you're all mine."