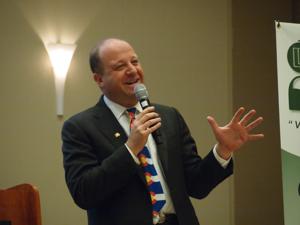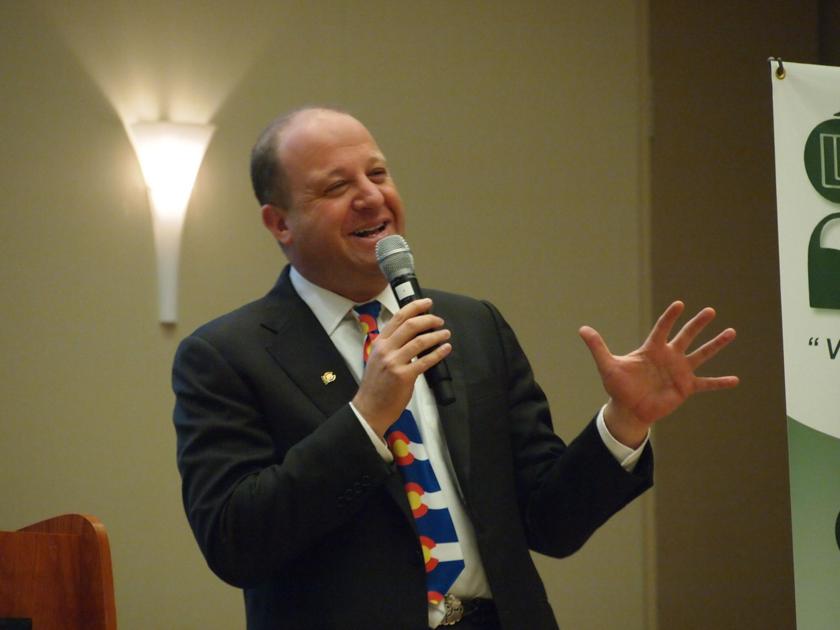 Coloradans want a better transportation network but aren't willing to foot the bill for it, Democratic Colorado Gov. Jared Polis told local government leaders from across the state Tuesday.
The governor made the point while addressing hundreds of county officials gathered in Colorado Springs as he called for a sustainable source of revenue to finance upgrades to the state's ailing infrastructure.
Over the past two November elections, Colorado voters have rejected three potential solutions: a sales tax increase, a bond issue that wouldn't increase taxes and a measure to allow the state to spend excess revenue on transportation and education.
"We know what voters don't want to do. Obviously the challenge is figuring out, well, what do they want to do?" Polis told attendees of Colorado Counties Inc. annual winter conference, held at the Hotel Eleganté. "What they want is to have great roads, no traffic, and not to have to pay for it."
El Paso County Commissioner Mark Waller, infuriated by the remark, said it "demonstrated just how completely out of touch this governor is with the people of the state of Colorado."
"I don't think citizens think that they're not paying for roads now — they are. They just want this governor to prioritize transportation in the state of Colorado. We have record budgets in the state of Colorado right now, and we should be spending some of that money — more of that money — on transportation," Waller, a Republican and former state lawmaker, told The Gazette after Polis' remarks.
Local residents pay two sales taxes specifically for road and infrastructure improvements: an 0.62% Colorado Springs sales tax known as 2C and a 1% sales tax authorized by the Pikes Peak Rural Transportation Authority, which includes the city, the county and other local member governments.
Many have argued, though, that another financial tool is needed to pay for transportation projects statewide as Colorado's population continues to grow.
"We have a good strong budget this year. The state is doing well. We have a record $605 million in our budget that we want to put toward transportation," Polis told the crowd. "But that's not a reliable source every year. That's only when we're in good economic times."
There were other signs of tension between the crowd of county leaders and Polis, who has been criticized as overly focused on the needs of the metro Denver area.
A Weld County commissioner said many rural residents feel "underappreciated" and "ignored" and referred to the state's "rural-urban divide" as "the 800-pound gorilla in this room."
A Garfield County commissioner said oil and gas reform meant to protect the public was hurting the county, which relies heavily on tax revenues from natural gas producers.
Republican El Paso County Commissioner Stan VanderWerf reiterated concerns that he expressed during a September meeting about legislative changes for which local governments will have to pay.
"We asked you at that time to be very sensitive to that and possibly just simply not sign bills that send unfunded mandates to the county," VanderWerf told Polis during a question-and-answer session that followed the governor's speech. "Whether we agree with those bills politically or not, unfunded mandates are a big issue for counties. Most of us operate on very very tight budget margins."
Polis said he's been in touch with some smaller counties about the costs of weekend court staffing, related to a new law that requires judicial districts to develop a plan for setting bond for all in-custody defendants within 48 hours of arrest.
He added that the 2020 legislative session is still to come, so it's not known what will be proposed and whether measures will lean on counties financially.
During the September meeting with Polis, El Paso County commissioners also said they were worried about a new law that reclassified a series of drug possession charges from felonies to misdemeanors, lightening potential sentences for offenders. Because those offenders will be serving time in county jails instead of state prisons, the reforms could cost the county $600,000 annually, county officials have estimated.
The commissioners also fear another measure, which expands election requirements, could cost the Clerk and Recorder's Office several hundred thousand dollars a year.
"(Polis) says he's working with us on one little area — I think the unfunded mandates are going to be incredibly significant this legislative session," Waller said. "They were bad last session. I think they're going to be even worse."
Citizens "just want this governor to prioritize transportation." Mark Waller, Republican
El Paso County commissioner