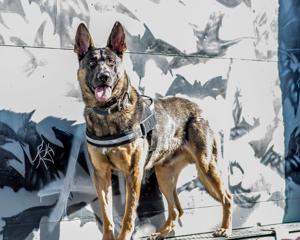 One of Colorado Springs Police Department's canine officers, Odin, is being provided a protective vest by donation of an El Paso County couple, according to the police department.
The vest is sponsored by Leslie and Dan May of Green Mountain Falls through a non-profit organization, Vested Interest in K9s, Inc of East Taunton, Mass. The vest will be embroidered with "Gifted by Leslie and Dan May with appreciation" and is expected to be delivered within eight to ten weeks.
The nonprofit's mission is to provide bullet and stab protective vests and other assistance to dogs of law enforcement and related agencies throughout the United States. To receive a vest the police dogs must be certified and at least 20 months old.
Colorado Springs Police Department added that the donation to provide one protected vest for a canine officer is $950. Each vest has a value between $1,744 and $2,283 as well as a five-year warranty. On average they weigh about 4-5 pounds.