Denver is known as a craft beer mecca and a leader in the wellness movement with unique spa treatments. But what happens when you combine the two?
You get a beer spa or, more appropriately, The Beer Spa, located conveniently near downtown Denver. While you can splurge on yourself, a visit to the spa also makes the perfect gift or surprise date.
You might be thinking: What in the world is a beer spa? Here's a rundown on one of the coolest wellness concepts in Denver.
What's a Beer Spa?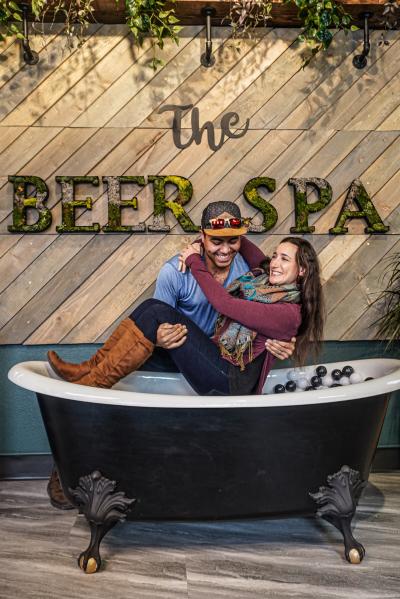 The Beer Spa is a modern-day wellness space that combines a day spa and a craft beer taproom into one. Singles and couples can benefit from The Beer Spa's services and beverages – including beer bath hydrotherapy, infrared saunas, zero-gravity massage chairs and a self-pour taproom.
Beer-infused therapy sessions at The Beer Spa are one-of-a-kind experiences where you can rest and de-stress. The Beer Spa offers a laidback spa environment paired with plenty of craft brews, which make it perfect for first-time spa-goers. That's why beer spa gift cards make such great gifts for significant others, family members and friends!
Here's a glimpse of the featured services:
Beer Bath Hydrotherapy
Have you ever dreamed of taking a beer bath? Well, now you can! Customers who book a beer bath hydrotherapy session will get the opportunity to soak in a cedar tub filled to the brim with an aromatic blend of hops, barley and medicinal herbs.
The herbal beer bath blends are carefully curated by The Beer Spa's on-staff master herbalist to treat the hair, skin and mind. This combination of natural herbs and hydrotherapy is known to increase circulation, alleviate muscle tension and joint pressure, smooth wrinkles and fine lines, and remove skin toxins and bacteria.
Full-Spectrum Infrared Sauna
There's nothing like a nice, detoxing sweat in a sauna. But The Beer Spa's unique infrared saunas aren't like standard saunas that are hot and suffocating. Their Sunlighten saunas emit infrared rays that penetrate the skin to increase core body temperature, release toxins and burn calories.
Infrared saunas are completely safe and healthy, allowing you to detoxify your body from the inside out. Those who regularly engage in infrared therapy have noticed weight loss, anti-aging effects such as reduced wrinkles, clearer skin, improved elasticity, pain relief, better immunity and improved muscle recovery.
Zero-Gravity Massage Chairs
Massage chairs are truly seats from heaven, and the zero-gravity ones at The Beer Spa are even better! Guests can enjoy 15- or 30-minute, high-tech, robotics-enabled massage sessions where they can choose from 10 pre-programmed options, from full-body to stretching.
The namesake zero-gravity position (legs above the heart) paired with massage offers plenty of benefits, such as reduced anxiety, tension and stress; pain relief; enhanced lymphatic circulation; boosted immunity; relaxed muscles; and improved posture.
Taproom
Guests can kick back and relax in The Beer Spa's warm and welcoming taproom, where they can choose from a variety of local beer, wine and cider options, in addition to an assortment of flavorful snacks and non-alcoholic beverages. Their house beer, Spa Sidekick, is always on tap. It's a refreshing gose-style sour infused with cucumber, lemon peel and Utah rock salt.
All drinks are self-serve using an RFID card, so guests can sample beverages at their leisure. Each month, The Beer Spa hosts a tap takeover with a different Colorado brewery, so there is always something new to try.
How Does It Work?
Visiting The Beer Spa is easy! The entire experience is intended to be stress-free, no matter what service you're enjoying. Simply check in, grab yourself a drink and head to your private Beer Therapy Room.
Once you enter the room, take some time to relax in your detoxifying infrared sauna. After you've sweated, take a quick, cold shower before soaking in your warm, bubbly beer bath. Then, dry yourself off and find a zero-gravity massage chair featuring NASA-inspired technology. Rest and relax as you enjoy a full-body massage (or whatever program you select), all with a cold beer in hand.
And once your muscles are feeling refreshed, your stress is gone and your mind is at ease, head to the taproom to chill out for as long as you like.
Longer Beer Therapy Sessions, New Add-Ons at The Beer Spa
Starting on July 5, 2021, The Beer Spa is launching 90-minute beer therapy sessions to offer customers longer relaxation times. Customers are also invited to take seats in the spa's zero-gravity massage chairs immediately following their sessions, which is normally offered as an add-on or stand-alone service.
Along with the longer beer therapy sessions, The Beer Spa is also offering guests a variety of new add-on services, such as:
CBD bath bombs
Charcuterie boxes
Tub-side bottles of sparkling wine
Celebration packages for anniversaries and birthdays (including a celebratory banner, a tray of gourmet chocolates and a handwritten congratulatory card from The Beer Spa team)