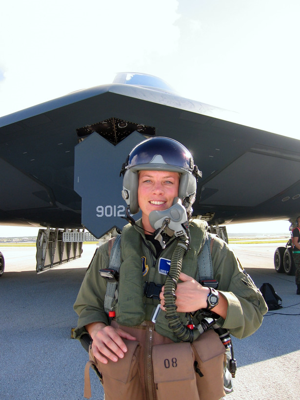 The former Air Force Academy commandant of cadets claims her firing last spring was due to a mutinous staff and homophobia.
But a Pentagon report sustained seven allegations against Brig. Gen. Kristin Goodwin, including that she charged personal travel to the government, billed the government for work when she was on vacation and lied to superiors, investigators and subordinates while creating what workers called a "toxic" environment in her office.
The nearly 200-page report obtained by The Gazette under the federal Freedom of Information Act, says Goodwin scheduled Tuesdays off so she could have "dates" with her wife, had a cadet cover a $831 hotel bill and undermined her colleagues and commander, academy Superintendent Lt. Gen. Jay Silveria, by spreading stories about their alleged incompetence.
Larry Youngner, a lawyer representing Goodwin, said she is filing paperwork to contest the report and denies claims that she lied. He contends the complaints against Goodwin stem from a disloyal staff.
"The toxic environment — to the extent there was one — was something Gen. Goodwin was placed in," said Youngner, who earlier issued a news release claiming Goodwin faced "bigotry, bias and discrimination," as the school's first lesbian general.
"In my view there was some toxic followership," Youngner said. "There was a mutiny."
At the academy, Goodwin was in charge of military training and character development for 4,000 cadets and led a staff of 200 officers and enlisted troops.
She was known at the academy for her tough standards, stripping out permissive policies of the past and cracking down on cadet misdeeds.
"One of her themes that applies to cadets, staff and all the agencies that support the mission of the academy is 'Don't walk past a problem,'" the school's civilian oversight board said. "Gen. Goodwin emphasized accountability is needed in the Cadet Wing and the permanent party. Training was the order of the day."
Goodwin was fired by Silveria on April 29, less than a month before she was scheduled to leave the academy for a Pentagon job as a top Air Force planning officer.
The removal so close to a change of command was unprecedented and sent shock waves through the campus.
The Pentagon report says Silveria acted after a dozen academy workers complained about Goodwin.
"Lt. Gen Silveria said it was 'pretty clear' to him the information he received was credible and legitimate because it came from 12 disparate people, a 'full range of rank dispersed around the Cadet Wing and not just one office, not just one tier, not just one rank,'" the report said.
Responding to Goodwin's allegations that she was unfairly fired, Silveria said he has no personal issue with Goodwin.
"I have the utmost respect for Brig. Gen. Goodwin and her family and wish them all the best," he said in an email. "Actions like these are not personal and they are never easy. It's never about me or the individual — it's about the organization."
Ceremony at the Pentagon
Goodwin hadn't pinned on her new stars when she first stepped out of line, investigators found.
The allegation involves her promotion ceremony, a rite involving pinning on new rank that's generally followed by cake.
Most officers hold their promotion ceremonies at the base where they work. Goodwin sought a higher profile for her honors.
Goodwin billed the government for a ceremony that allowed her to pin on her new stars at the Pentagon, investigators found.
In 2017, Goodwin added three days to an assigned trip to Washington for an orientation course for newly promoted generals to have now-retired Gen. Robin Rand pin on her rank before family and top brass in the Pentagon's Hall of Heroes.
Goodwin also sent an aide to D.C. to help with arrangements at government expense, and billed the Pentagon for extra travel and lodging for the ceremony, a forbidden move that Pentagon investigators said "constituted a waste of $1,448.02."
Goodwin's lawyer portrayed the promotion ceremony allegation and similar claims that she wasted travel money as mistakes, noting Goodwin reimbursed the Pentagon after the investigation was released and had vacation days deducted from her available leave.
"She owned the lessons learned in mistakes on travel and mistakes on leave," he said.
The promotion ceremony wasn't the only time Goodwin misused government money on a mission to rub elbows with Pentagon brass, investigators found.
In June, investigators said, Goodwin traveled to Washington, D.C., to give a speech at the National Reconnaissance Office, but extended her stay so she could attend a four-star general's retirement, billing the retirement party as official duty.
To cover the extra day, investigators found, Goodwin ordered her staff to set up meetings as "a facade" to make the travel expense appear legitimate. The report said Goodwin wasted $527 on personal business.
Other trips by Goodwin were questioned, including a four-day trip to Whiteman Air Force Base, Mo., that investigators say was a personal vacation billed as work.
On that trip, too, investigators found, Goodwin ordered staffers to set up a meeting, this time a half-hour gathering for academy parents, to make the trip appear to be official business.
One academy insider, who asked not to be identified, said covering what should be considered personal travel as business "happens all the time," when it comes to retirements, promotions and other military rites.
But one of the allegations against Goodwin stood out, he said: A jaunt to Hollywood in California.
Officers are forbidden to have their subordinates cover a bar tab, a long-standing rule that forbids leaders from pulling rank for financial gain.
In a world where officers have legal control over the lives over those in their command, appearances of bribery are just as likely as the perception of using rank for theft.
Difference in rank doesn't get much wider than the gulf between a general in a position confirmed by Congress and a cadet, who falls below the most junior airman on rank charts.
But Goodwin, investigators say, made a cadet cover a Hollywood hotel bill and then fibbed to investigators to make the major misstep appear to be caused by her step.
Goodwin was in California for the red-carpet premiere of the movie "Captain Marvel," which portrays a comic book heroine who gained superpowers after attending the Air Force Academy.
The trip itself was legitimate, investigators found. Having Goodwin and cadets at the premiere helped the Air Force polish public perception of the school.
The problem came in the hotel lobby. Goodwin, whose government travel charge card was in limbo over snarled paperwork, asked cadets to cover the bill for a room she shared with her wife, investigators found.
Goodwin said her staff had advised her to get a cadet to cover the bill, an allegation investigators said was not "credible."
Investigators also found that while Goodwin racked up a $831 tab on the cadet's credit card, she didn't come up with cash to cover the bill for four weeks — 10 days longer than it took the Air Force to reimburse her for the hotel expense.
Investigators found that not only did Goodwin break ethics rules, she also caused the cadet to violate Air Force rules by misusing her own travel card, which cannot be used to cover the expenses of others.
Goodwin was also cited for minor travel violations, including billing the government for unauthorized hotel expenses and saddling the government with unauthorized fees, including a bill for a rental car she didn't refill with gas.
Goodwin, through her lawyer, argues that the travel accusations involve mistakes, unintentional missteps that she paid back.
And, with the exception of the incident involving a cadet credit card, none of the travel violations were big enough to get a general fired, insiders have said.
But allegations of lying are a career killer.
Record 'tremendous'
The part of the report that Goodwin disputes are allegations that she's a liar and a caustic commander. The allegations of lies, big and small, are sprinkled throughout the report's pages, from allegations that she fibbed on travel to alleged lies to leaders.
Issues with truthfulness are especially serious for the Air Force Academy's commandant, who kicks out cadets who violate an honor code that forbids lying, cheating and stealing.
Investigators found that Goodwin was untruthful with a subordinate and with Silveria about an airman's job review.
Investigators also questioned her truthfulness to the school's Board of Visitors and to cadets in statements she made about spending time with cadet groups.
One alleged lie involves a celebration planned to mark the 60th anniversary of the Colorado Springs campus.
Silveria planned a march to recreate how cadets hiked from the school's northern gate to the cadet area of the campus.
At a meeting on the event, Goodwin told leaders "this is the first I'm hearing of it," the report said.
"The preponderance of the evidence indicated her statement was not an accurate representation of the truth because her staff had previously informed her," investigators wrote. "Due to this incident, and others, her staff lost trust in her."
Investigators say Goodwin lied when questioned after her firing, finding "multiple occasions when Brig. Gen. Goodwin's testimony was either not accurate or consistent with the facts, not credible or not truthful and honest."
Her lack of candor, investigators say, added to a toxic culture under her command.
So did apparent selfishness, investigators found.
Generals are granted wide discretion for how they use their time. There's no time clock for senior management and no prescribed days for the work week.
But Goodwin's Tuesdays triggered alarms for investigators.
Several members of Goodwin's staff told investigators that she demanded Tuesdays off to spend with her family.
Goodwin admitted the Tuesday habit in her testimony saying she wanted the weekday free to "keep my marriage."
Goodwin's time-off habits caused concern with workers, one of whom said they were forced to "scramble around her personal agenda."
It was more than Tuesdays. Investigators found that when Goodwin canceled scheduled trips for work, she would leave those out-of-office dates on her calendar.
That combined with the travel for personal purposes, investigators said, "created perceptions among her staff that Brig. Gen. Goodwin was focused on self above service."
Youngner, Goodwin's lawyer, described the claims of lying and selfishness as "character assassination."
He said Goodwin's time at the academy was marked by accomplishments born of long weeks and honest, hard work.
"In two years, it was just a tremendous record," he said.
Cadets, Youngner said, thrived under Goodwin's command.
Her staff was the problem, he maintains.
Thrown under the bus
That same staff told investigators they have tire marks on their backs from Goodwin. The issue was so pervasive in the report that an entire section of the document is entitled "Blaming the Staff — Throwing People Under the Bus."
Investigators found that when Goodwin rescheduled meetings, her staff was to blame. When she forgot what she'd been told or hadn't taken time to study issues of concern to her boss, her staff was to blame.
Goodwin's testimony on issues from using government money for personal travel to using a cadet's credit card blame members of her staff for the mistakes.
Investigators found "Brig. Gen. Goodwin not only blamed her subordinates, but she made untruthful statements about them regarding the reason for the shortcoming or failure."
One witness said "it's always everybody else's fault."
Everybody else included Silveria and the school's former dean, Brig. Gen. Andy Armacost, who witnesses said were two of Goodwin's favorite targets for blame.
Goodwin, witnesses said, excoriated Armacost as "not capable of making decisions."
She complained that Silvervia "hamstrings her," a witness said.
Goodwin spread the blame around, one witness said, noting Goodwin had insulting comments "about people all over the base."
Despite the scathing report, Goodwin isn't planning a quiet departure, Youngner said.
She will appeal the report's findings, first asking Silveria to change his mind about her firing.
"We believe that he is in the best position to right the wrong," Youngner said.
A 1993 academy graduate, Goodwin's first 25 years in uniform were a steady climb marked by top ratings and a series of positions that earned her a general's stars.
She's a former B-2 bomber pilot and has held top posts in Air Force Global Strike Command, which commands a stockpile of nuclear weapons.
"What you have here is an officer who has a fantastic record of service," Youngner said.
Goodwin has already considered and dismissed the idea of retirement.
"She has decided to continue serving honorably," Youngner said.
While Goodwin isn't facing criminal charges for actions outlined in the report, the damning assessment could lead to demotion and forced retirement.
Goodwin has repaid the more than $5,000 the government says she wasted on travel. She says she has learned from what happened at the academy.
But the closing line of the report is likely to stop any possibility of Goodwin's promotion if her appeal is unsuccessful.
"Brig. Gen Goodwin's conduct caused a significant lack of teamwork, cohesion and trust and thereby created an unhealthy command climate, with her subordinates questioning her truthfulness and her adherence to Air Force values."
And while Goodwin says she'll fight, her old boss Silveria isn't retreating.
"My priority must always be the safety and well-being of everyone at USAFA as well as the development of our 4,000 plus cadets into leaders of character," Silveria said in an email. "We hold our leaders to the highest standards and any allegation — no matter who it is against — is taken seriously and investigated thoroughly."
Contact Tom Roeder: 636-0240 Twitter: @xroederx
Contact Tom Roeder: 636-0240 Twitter: @xroederx
Contact Tom Roeder: 636-0240 Twitter: @xroederx