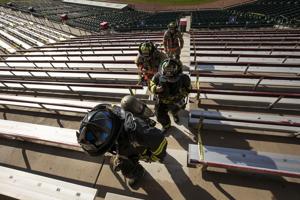 First responders from around El Paso County gathered at the UCHealth Park Friday to commemorate the lives of those lost in the 9/11 terrorist attacks.
More than 100 men and women, including firefighters and Fort Carson troops, ran eight laps through the steps of Security Service Field stands to parallel the 1,980 steps in the World Trade Center that first responders ascended as they tired to save the lives of people in the towers before the buildings collapsed.
"It really brings to light how hard they worked that day to save everybody and how they put their lives on the line. So it's was just really eye opening and humbling to be able to do this today," said Mekiah Hall, a soldier in a Fort Carson military police battalion.
The event's organizer Chad Otruba said the day was meant to commemorate and honor the first responders who sacrificed their lives during 9/11, and that the event was also meant to build a sense of community.
"I think it's important to show it's not just firefighters, its not just police officers, its not just EMS workers," Otruba said. "We're all one family."
Otruba joined other firefighters running through the stadium in full firefighting garb as pulsing rock music blasted.
Two women, Brittnee Brooks a radio DJ for 96.1 The Beat, and Laura Hall, a DJ for My 99.9, cheered as the firefighters trotted by. Laura Hall and Brooks also waved brightly colored signs that read "Thank you firefighters!"
"I think it's important to show support within your local community," Brooks said. "These men and women are fighting for us every single day, especially with the fires that are happening right now too, I think we just need to see what they go through in a typical day and what that looks like and how much they fight for us."
Even 19 years later Laura Hall said the attacks resonate.
"I think our memory — not that we ever forget — but our memory kind of fades and so this is a great way to just remember those men and women who lost their lives on that day and to make sure that their memory never dies," Hall said.